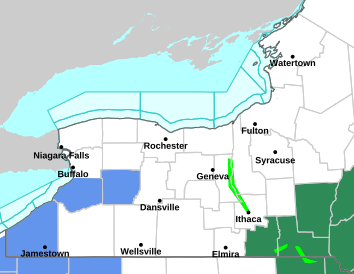 The Winter Weather Advisory that had been issued for the entire Finger Lakes region, will expire between 5 pm and 7 pm. In an update during the afternoon, forecasters with the National Weather Service said that the threat for snowfall had subsided, and the main risk was slight icing. While the icing will be minimal, it will make travel difficult throughout the region.
Numerous schools have cancelled after school activities. A few hundredths of an inch of ice is possible. However, accumulation beyond that should be minimal.
A Wind Advisory has also been issued by the National Weather Service for the entire region. Winds could gust between 40 and 50 mph during the day on Tuesday while the mix of precipitation falls. Scattered power outages are possible as the winds pick up during the late-afternoon and evening hours throughout the Finger Lakes.  High-profile vehicles should use caution on roadways tonight.
Local Weather Resources:
— FingerLakes1.com Weather Center
— Western FLX
— Eastern FLX
— Thruway Conditions
Send FingerLakes1.com photos of weather in YOUR neighborhood by sharing them on Facebook, Twitter, Instagram, or by email here.