The papers have been signed in triplicate, and the first of many checks — this one for $75,000 — has been passed to Penn Yan village authorities for the Keuka Moorings project planned for the former Penn Yan Marine property.
Keuka Outlet Development principal Chris Iversen says there are still a number of steps to complete before construction of 42 condominiums, a community center, private docks and a public pathway can commence. Among those steps are securing all the necessary permits to begin construction, he says.
But Yates County officials no longer own the 14.7 – acre property which had been seized for unpaid property taxes from Camille Properties, owners of Penn Yan Marine Manufacturing in May 1998.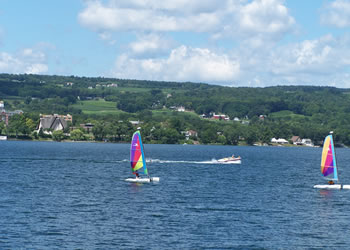 Douglas Paddock, Vice Chair of the Yates County Legislature, attended the closing session, which lasted about 45 minutes June 29, and called the event "somewhat anti-climactic." Paddock was joined by Legislators Jim Smith of Torrey (District 2) and Taylor Fitch of Jerusalem (District 1), and County Attorney Scott Falvey. Legislative Chairman Timothy Dennis, who was out of town, had signed the documents for the county prior to leaving for his trip. County Administrator Robert Lawton was also present.
Penn Yan Mayor Leigh MacKerchar, Village Clerk/Treasurer Gary Meeks and Attorney Ed Brockman represented the village.
Chronicle-Express:
Read More