Eric Dungey, as he had so often on Saturday, scanned the field from the pocket, made a decision, planted a foot and took off down the field.
He snaked easily past the line of scrimmage and into a pocket of space in the middle of the field. With every other player engaged, a safety stepped up, with a chance to save a touchdown, but a block materialized as Dungey rumbled forward.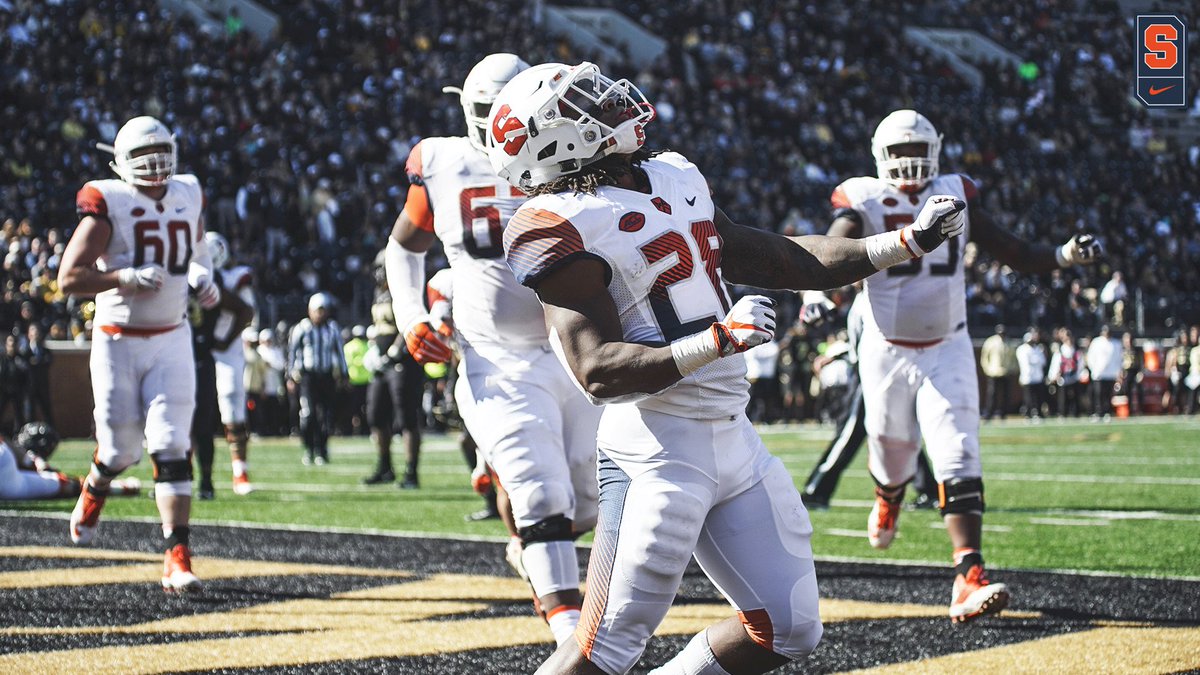 He slipped around the would-be tackler and onto the black field turf of the end zone.
Dungey's touchdown put Syracuse ahead by 18 in a game it could never quite put away. After starting slowly and climbing out hole, SU built a lead that constantly ebbed. But against an overmatched Wake Forest (4-5, 1-4 Atlantic Coast), No. 19 Syracuse (7-2, 4-2) overcame a slow start and set the pace offensively, winning 41-24 at BB&T Field.
HIGHLIGHTS:
COACH BABERS POST GAME:
MORE COVERAGE:
– Ryan Guthrie, Syracuse defense make enough plays to beat Wake Forest (Daily Orange)
– Syracuse football's 'surest way' to beat Wake Forest was running Eric Dungey (Syracuse.com)
– Ground and pound, turnover time and more from Syracuse's 41-24 win at Wake Forest (Daily Orange)
– Three takeaways from Syracuse's 41-24 win at Wake Forest (NunesMagician.com)
– Syracuse football offering $20 tickets for senior night vs. Louisville (Syracuse.com)
– Stage almost set for Syracuse to have golden moment against Notre Dame (commentary) (Syracuse.com)
– Syracuse DB Tyrone Perkins hospitalized after leg injury at Wake Forest (Syracuse.com)
---
PREVIEW:
The Syracuse University football team has solved its quarterback issue and has returned to the Top 25 rankings.
Can the Orange keep it rolling this week against the Wake Forest Demon Deacons on Saturday in North Carolina?
– Preview: #22 Syracuse, Wake Forest meet in Saturday matinee (Cuse.com)
– What channel is Syracuse football-Wake Forest on? TV, time, live stream info (Syracuse.com)
– Syracuse football opponent preview: What to know about Wake Forest (Daily Orange)
– Beat writers unanimous in picking Syracuse to beat Wake Forest on road (Daily Orange)
– Game day beer picks: Syracuse vs. Wake Forest (NunesMagician.com)
– Syracuse vs. Wake Forest: TNIAAM predictions & poll (NunesMagician.com)
– Together, Syracuse's wide receivers appear to be coming into their own (NunesMagician.com)
– What we talk about when we talk about Dino Babers (NunesMagician.com)
– Syracuse vs. Wake Forest: Orange wearing all-white uniforms (NunesMagician.com)
– Syracuse football K Andre Szmyt named Lou Groza Award semifinalist (Syracuse.com)
– Syracuse vs. Wake Forest preview: Five things to watch (NunesMagician.com)
– Syracuse football sells out ticket allotment for Notre Dame game (Syracuse.com)
– How Syracuse football stumbled into the country's best kicker (Syracuse.com)
– Eric Dungey, Tommy DeVito have stuck together during Syracuse's QB competition (Syracuse.com)