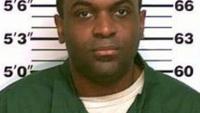 A former Auburn Correctional Facility inmate refused to appear in Cayuga County Court Thursday to face a charge of first-degree murder because he says there is no victim.
Rupert Alberga, 36, currently in custody at Great Meadow Correctional Facility, according to the state's Department of Corrections and Community Supervision, was arraigned in September in connection with the death of Daniel Wingate, a convicted sex offender.
In July 2017, ACF corrections officers found Wingate unresponsive in his cell, covered in blood. Wingate was transported to Auburn Community Hospital and died days later due to complications from blunt force injuries to the head, the Cayuga County District Attorney's office previously reported.
Following an investigation, Alberga and fellow inmate Ashton Bellamy, 32, both faced charges. Alberga was charged with two counts of first-degree murder, class A felonies, while Bellamy was charged with first-degree manslaughter, a class B felony, and second-degree assault, a class D felony.
Although both inmates were scheduled to appear in Cayuga County Criminal Court before Judge Thomas Leone Thursday morning, Alberga was absent.
The Auburn Citizen:
Read More