No. 10/8 Virginia Tech (16-3, 5-2 ACC) used 14 3-pointers to defeat Syracuse (14-6, 5-2 ACC), 78-56, Saturday evening in Cassell Coliseum. The Orange, who have been stellar from behind the arc in conference play, banked nine but could not find an answer for the Hokies' 24-of-46 shooting performance.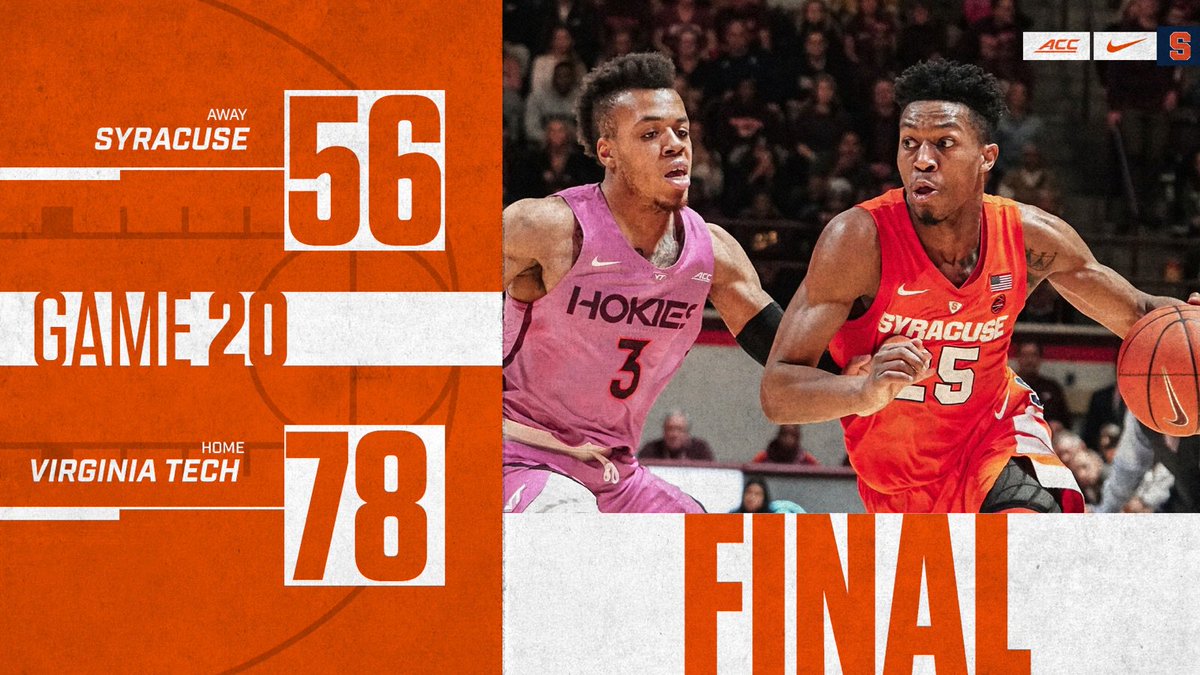 Oshae Brissett notched a team-high 16 points and seven rebounds. Frank Howard contributed 13 points and tied a season-high with four steals while Tyus Battle had his 12th consecutive game scoring in double-digits with 10 points.
Virginia Tech's Justin Robinson had a career-night with 35 points and eight assists, becoming Tech's all-time career assist leader with 548. Robinson was 7-of-8 from behind the arc in the first half and finished the night with nine trey's, a new Tech single-game record.
HIGHLIGHTS:
COACH BOEHEIM POSTGAME:
MORE POSTGAME COVERAGE:
– Syracuse can't find the edge, more takeaways from Virginia Tech's win over SU (Daily Orange)
– Best and worst from Syracuse basketball's loss at Virginia Tech (Syracuse.com)
– Box score: Syracuse basketball at Virginia Tech (Syracuse.com)
---
PREVIEW:
After posting its third consecutive victory on Thursday night, Syracuse has a quick turnaround as it returns to the court on Saturday to face No. 10/8 Virginia Tech in Blacksburg. The game is scheduled for an 8 p.m. tipoff. The game will be televised on ESPN2 and will be available on the Watch ESPN app. Fans can also listen to the action on the Syracuse IMG Radio Network.
Saturday's game is the first of three consecutive road games for the Orange. It's the longest road trip of the season. Syracuse is 3-0 in true road contests this season, which includes a win at No. 1 Duke.
– Orange start three-game road swing Saturday (Cuse.com)
– Syracuse vs. Virginia Tech: TV/streaming, time, odds, history & more (NunesMagician.com)
– What channel is Syracuse vs. Virginia Tech on? TV, live stream, tip time (Syracuse.com)
– Syracuse vs. Virginia Tech preview: Five things to watch (NunesMagician.com)
– SOLD OUT! Dome will be electric for 'Cuse vs. Duke (Cuse.com)
– Elijah Hughes is 'Cuse's 6'6" rim-protector (NunesMagician.com)
Virginia Tech takes on Syracuse at home Saturday night! Take a look at the preview and watch live at 8p.m. on ESPN! https://t.co/FfSTn6JEyq pic.twitter.com/F12FXSqDkO

— Josh Warner (@warnerj181) January 25, 2019
Duke-Syracuse game next month expected to set college basketball on-campus attendance record. https://t.co/dsChnftbs0 pic.twitter.com/RGZi7Kvxml

— AP Top 25 (@AP_Top25) January 25, 2019
#TBT Big East Hoops Syracuse at UConn John Wallace with the aggressive finish with Sean McDonough and @DickieV on the call. pic.twitter.com/YGasQMRhIk

— Big East Hoops 24/7 (@BigEastTourney) January 25, 2019