The New Orleans Saints began their rookie minicamp on Friday, and of the 74 players on the field, 48 are participating on a tryout basis.
After signing five draft picks and adding 17 undrafted rookies, the Saints have 82 players under contract, so they could sign some of the tryout players to fill the eight remaining slots on the 90-man roster.
One of those 17 undrafted rookies is former Newark Reds athletic standout Micah Wright who graduated from NHS in 2015 before becoming one of the top performers for the Maine Black Bears. In 2018, Wright, a wide receiver and punt returner, helped lead the Black Bears to the Division I-AA/FCS national semifinals and the most successful season in program history.
In high school, Micah Wright was the Finger Lakes East Player of the Year as a senior in 2013 for Newark. He totaled 33 catches for 790 yards and nine touchdowns, and also brought two kickoffs back to the house. Wright holds the Newark records for receiving touchdowns, receiving yards and interceptions.
Saints rookie minicamp wrapped up on Sunday and Wright's status with the team should be announced at some point early this week. Last week, Wright worked out for the Arizona Cardinals.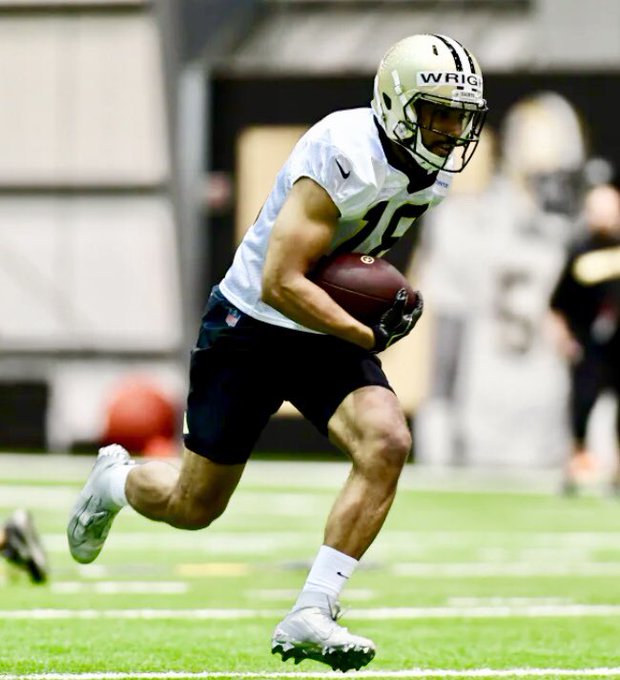 Below is a list of all the wide receivers competing for a roster spot (or a spot on the practice squad) in Saints rookie minicamp:
Emmanuel Butler, Northern Arizona, UDFA
Deonte Harris, Assumption, UDFA
Lil' Jordan Humphrey, Texas, UDFA
Brian Brown, Richmond, Tryout (veteran)
Dylan Collie, Hawaii, Tryout
Amba Etta-Tawo, Syracuse, Tryout (veteran)
Cyril Grayson, LSU, Tryout (veteran)
Francis Owusu, Stanford, Tryout (veteran)
Micah Wright, Maine, Tryout