Liam Haller waited his entire high school career to get his chance to be the starting goaltender for perennial boys' lacrosse powerhouse Victor who have now won four NYSPHSAA championships in the last five years.
And after standing on the sidelines watching one of the best goalies in Section V lacrosse history, Chayse Ierlan, lead the Blue Devils to three state championships in four years before moving on to Cornell, Haller finally got his opportunity, and now he has his state championship to savor.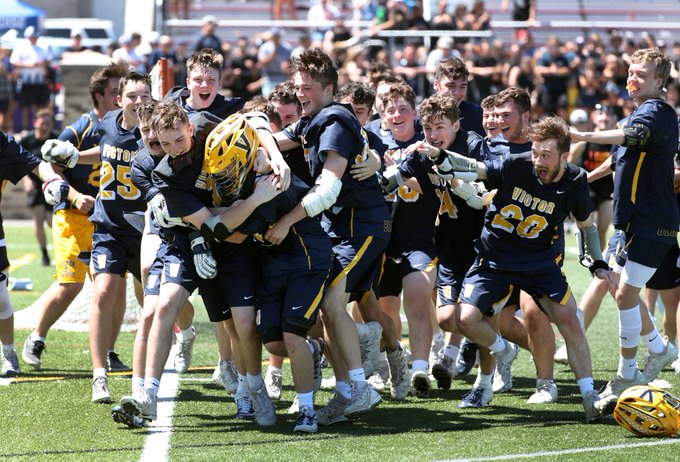 The senior took control of the crease this season for the Blue Devils, helped lead them to their sixth straight Section V crown, and then saved his best performance for the biggest game of the year, making 19 saves in Victor's 9-7 victory over John Jay Saturday afternoon in the state Class B title game at St. John Fisher College.
Read More: D&C
Final: @VictorLacrosse tops John Jay 9-7 to win 4th state title in 5 years! How to get it done @VictorBLDevils @Inside_Lacrosse pic.twitter.com/qrbWdFSJTg

— Bob Chavez (@MPN_bchavez) June 8, 2019
#NYSPHSAA BLAX Class B: Victor defeats John Jay with a final score of 9-7. pic.twitter.com/F7YWDwmKk8

— NYSPHSAA (@NYSPHSAA) June 8, 2019
2019 Class B State Champions! Victor Lacrosse! What a freaking game 💙💛 pic.twitter.com/DCayh9mp3m

— Kristin Kumpf (@KKumpf32) June 8, 2019
Victor goalie Liam Haller talks about the importance of team chemistry in today's #NYSPHSAA BLAX Class B Championship win. pic.twitter.com/WijsTVRlIN

— NYSPHSAA (@NYSPHSAA) June 8, 2019
Head Coach Jim Andre just lead the Victor Blue Devils to the 2019 #NYSPHSAA BLAX Class B Championship. He shares with us some of Victor's major keys to success. pic.twitter.com/tRLeisFgWL

— NYSPHSAA (@NYSPHSAA) June 8, 2019
The 2019 #NYSPHSAA class B state champs from Victor refuel with @chocolate_milk thanks to @intensemilk #nyaphsaarefuels pic.twitter.com/xwpJQac6bm

— NYSPHSAA (@NYSPHSAA) June 8, 2019