A trio of explosive innings proved to be the unraveling point for the Auburn Doubledays (14-17) as they fell to 11-0 to the Batavia Muckdogs (19-12) on Wednesday night at Dwyer Stadium. Auburn's three hits all came from the heart of the order with Caldioli Sanfler, Andrew Pratt and Jeremy Ydens picking up a base knock apiece.
The first big-run inning for Batavia came in the bottom of the first against Doubledays starter Tyler Dyson (2019 5th Round Pick out of Florida) who was making his New York-Penn League debut. J.D. Orr quickly got things started for Batavia by slapping a double down the left-field line to lead off the inning. After a Dalvy Rosario popout and a Troy Johnston hit-by-pitch, Nic Ready hammered his league-leading 16th double to left field, scoring Orr and moving Johnston to third.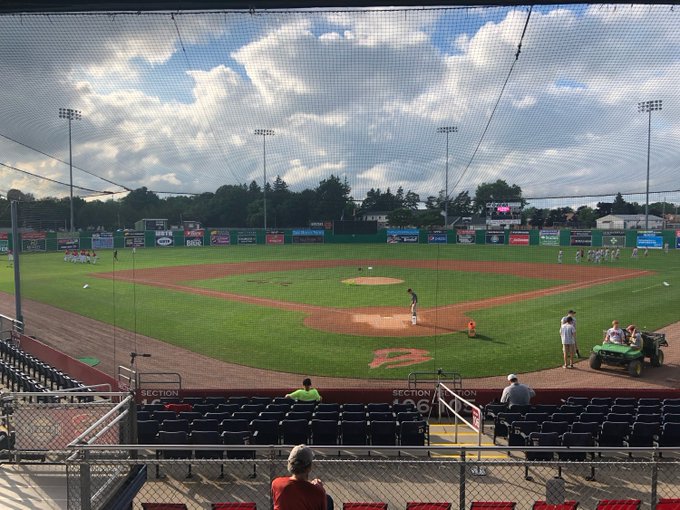 One batter later, Brayan Hernandez sent a hot-shot grounder to Doubledays third baseman Jack Dunn. Dunn misplayed the ball as it ricocheted off his leg and into left field, allowing both Johnston and Ready to score and giving Batavia a 3-0 lead in the process.
The scoring was silent for the next five innings on both sides as Muckdogs starter Easton Lucas allowed just one hit in three innings of work and struck out two. On the Auburn side, Dyson settled in nicely in the second before Gilberto Chu emerged from the bullpen and dominated to the tune of four one-hit innings of work while striking out four.
The Muckdogs did strike again in a big way, however, this time in the seventh against Nelson Galindez. After back-to-back walks from Andrew Turner and Dustin Skelton to begin in the inning, Keegan Fish roped a single into left field. Turner originally got the stop sign as he turned around third, but an errant throw from Auburn left fielder Eric Senior gave Turner the opportunity to scamper home for the first run of the frame. After an Orr walk loaded the bases, Rosario smashed a bases-clearing triple to deep center field. The 18-year-old would then come in to score on a Ready sacrifice fly and give the Muckdogs a dominant 8-0 advantage.
Batavia would add three more runs in the eighth against the combination of Galindez and Tyler Yankosky on the power of an Orr two-run triple and a Rosario RBI-groundout to complete the scoring and take an 11-0 win.
The Doubledays look to get back on the right track on Thursday night when they again take the trip to Dwyer Stadium to square off with the Muckdogs. RHP Niomar Gomez is scheduled to take the bump for Auburn. Listen LIVE to all the action on FingerLakes1.com Radio.
By JD Raucci / Auburn Doubledays