Syracuse improved to 2-2 on the season with a 52-33 victory of Western Michigan in the Dome on Saturday afternoon. Tommy Devito accounted for 5 touchdowns and the Orange defense forced 4 turnovers en route to the 19-point win. Full coverage, highlights and Coach Babers' post game press conference below…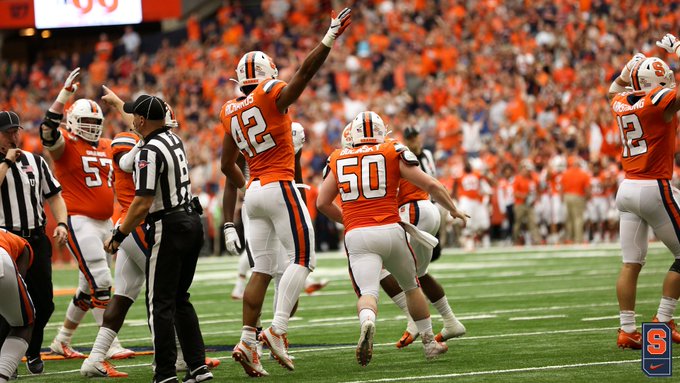 GAME RECAPS & ANALYSIS:
– Offense carries Syracuse to wild win over Western Michigan (Syracuse.com)
– 3 takeaways from Syracuse's 52-33 win (Daily Orange)
– They made this about as interesting as they could (TNIAAM)
HIGHLIGHTS:
COACH BABERS POST GAME:
CONDENSED GAME:
SOCIAL REACTION:
Dome Mood pic.twitter.com/3xPajHuYq2

— Syracuse Athletics (@Cuse) September 21, 2019
And that's a win!! Final score: SU 52 – WMU 33!! Who's hungry for some🍕🍕 pic.twitter.com/2jKESGr6NW

— Syracuse Athletic Bands (@SUAthleticBands) September 21, 2019
It's over at the Carrier Dome. Syracuse improves to 2-2 on the season with a 52-33 win over Western Michigan. Tommy DeVito finishes 27-of-35 for 287 yards and four touchdowns. Stats below. pic.twitter.com/2ExZ8b5m6I

— Brent Axe (@BrentAxeMedia) September 21, 2019
---
PREVIEW:
Syracuse (1-2 ) continues its three-week stretch of home games this Saturday by welcoming Western Michigan (2-1) to the Dome for the first time. Kickoff is set for noon and the game will mark the Orange's first appearance on the recently-launched ACC Network. It's Military Appreciation Day and recognition's of our servicemen and women for their many sacrifices will take place throughout the game.
The Orange are coming off their first home defeat in more than a calendar year, a 41-6 defeat at the hands of the top-ranked Clemson Tigers. Syracuse hung with the Tigers in the first half and trailed 17-6 at intermission. In the third quarter, the Orange defense created two turnovers, but Syracuse could not capitalize and Clemson eventually pulled away.
GAME WEEK LINKS:
– ORANGE SET THEIR SIGHTS ON WESTERN MICHIGAN (Cuse.com)
– Syracuse football is getting lucky in 2019 with Western Michigan matchup (Inside the Loud House)
– Syracuse football releases week 4 depth chart vs. Western Michigan (TNIAAM)
– Syracuse football opens as small favorite over Western Michigan (Syracuse.com)
– Syracuse Football: Early scouting report vs Western Michigan (Week 4) (Inside the Loud House)
– ORANGE EXTRA: FAMILIAR SURROUNDINGS (Cuse.com)
– Syracuse vs. Western Michigan: TV/streaming, time, odds, history & more (TNIAAM)
– Syracuse Football: Top 3 keys to victory vs Western Michigan in Week 4 (Inside the Loud House)
– Syracuse football's Tommy DeVito: 'We're eventually going to get rolling' (Syracuse.com)
The new Orange jersey 😍.

Debuting on Saturday. pic.twitter.com/Rz5UE5l28q

— Syracuse Football (@CuseFootball) September 18, 2019