For the third year in a row, a wonderfully-inspirational evening concert salute was performed for area veterans November 7th and it was attended by more than 500 people.
NHS instrumental music teacher Robert Humphrey and NHS vocal music teacher Kate Flock were delighted.
The concert featured American patriotic music performed by the NHS Concert Band and Wind Ensemble, directed by Humphrey and the NHS Mixed Choir and Chamber Choir, directed by Flock.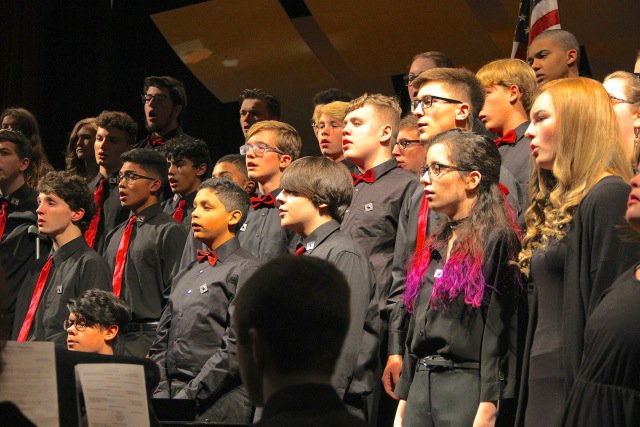 NHS senior Kayla Williams, who is a Civil Air Patrol Cadet, read 8 patriotic quotations during the concert. She was accompanied at the event with fellow members of the Newark Composite Squadron Civil Air Patrol. She is a candidate for and hopes to attend the U.S. Air Force Academy after graduation in June and hopes to pursue a career in aeronautical engineering.
As the concert neared its end, the various service branches' songs were played as part of "Armed Forces: The Pride of America!" and veterans were asked to stand and be recognized when their song was played.
A highlight of the evening was when Newark VFW  Post 2883 Commander Harry Gajan, on behalf of the Newark Veterans Council, thanked and presented the NHS Music Department with a plaque expressing its appreciation for its efforts to honor veterans.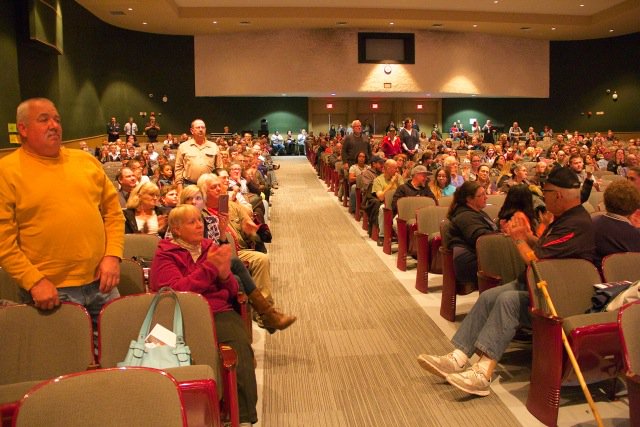 After the concert, veterans and their guests were feted at a reception in the NHS band room.
"I think it is so important that kids be given the opportunity each year to give back to people who have done so much for them," Humphrey said later.
Flock wholeheartedly agreed.
"This particular concert is so special. Our students are filled with pride and mention how moving it is to see our veterans stand during the song, "The Armed Forces: Pride of America."
---
To have the latest updates, information, and headlines delivered to your smartphone or tablet – download the FingerLakes1.com App for Android and iOS. Follow the links below to download the app now! – Android (All Android Devices) – iOS (iPhone, iPad)