The Hobart College football team ended the 2019 season with a 30-10 win over SUNY Cortland in the New York State Bowl this afternoon. First-year Rayshawn Boswell was named the game's MVP after posting 231 all purpose yards, including a 95-yard kickoff return for a touchdown.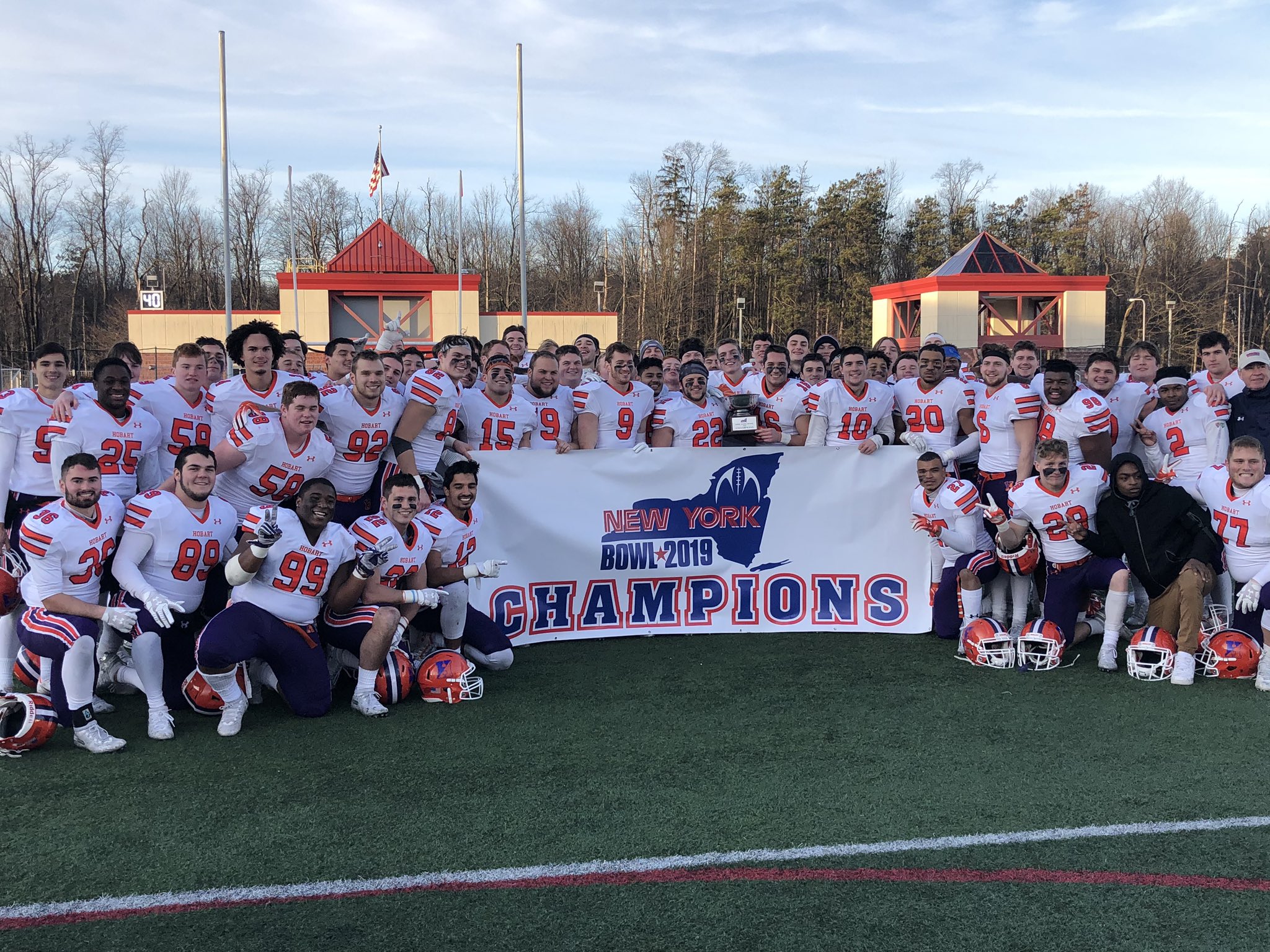 The Statesmen (9-2) never trailed in the contest, jumping out to a 10-0 lead in the first quarter and carrying a 10-7 edge into halftime. Hobart outscored their hosts 20-3 in the second half to break the game open. The Statesmen compiled 359 yards of offense while holding the Red Dragons to 284.
Senior linebacker David McCarthy ended Cortland's first possession of the game with his first interception of the season and fourth of his career. Seven plays later, junior Kyle Hackett kicked a 29-yard field goal to give Hobart the early lead. It was his 12th field goal of the year, breaking the season record set by Shawn Fazio in 1979.
New York State Bowl CHAMPIONS!
Final: @HobartFootball 30, Cortland 10
MVP: Rayshawn Boswell, 2 rec, 95 yds; 95 yds KOR, TD#GoStatesmen | #d3fb pic.twitter.com/LGNUDSfsAo

— HWS Athletics (@HWSAthletics) November 23, 2019
Meet your NY Bowl Champions. Hobart 30, Cortland 10. Outstanding season at 9-2. Very proud of these men. @SAAHobart @HWSAthletics @HobartFootball pic.twitter.com/NU0VAnQ5BJ

— Coach Miller (@coachmillsey) November 23, 2019
— Hobart Football (@HobartFootball) November 23, 2019
Great team victory: New York Bowl Champions #Team126. #TheHobartWay #FinisH pic.twitter.com/37WcCeqk6b

— Kevin DeWall (@Coach_DeWall) November 23, 2019
GAME HIGHLIGHTS:
Up 3-0 early. @HobartFootball @HWSAthletics pic.twitter.com/4yrKhY4REK

— Coach Miller (@coachmillsey) November 23, 2019
Big 3rd down conversion leads to a 10-0 Bart advantage. @HWSAthletics @HobartFootball pic.twitter.com/ucRFjSsdjc

— Coach Miller (@coachmillsey) November 23, 2019
👀👀👀
What a catch!
End of 1st quarter: @HobartFootball leads Cortland 10-0.#GoStatesmen #d3fb #SCtop10 @SportsCenter pic.twitter.com/ZbdmPFLd2n

— HWS Athletics (@HWSAthletics) November 23, 2019
Late Hail Mary is picked off. So at the half its 10-7 good guys. @HobartFootball @HWSAthletics pic.twitter.com/TwZEKyVmwO

— Coach Miller (@coachmillsey) November 23, 2019
Bullet slant after a long flea flicker puts us up 16-7 with 10 minutes left in the third. @HobartFootball @HWSAthletics @SAAHobart pic.twitter.com/60i8461Z75

— Coach Miller (@coachmillsey) November 23, 2019