Andrew Oglevie scored all three goals for his professional hat trick on his way to leading the Rochester Americans (13-3-2-2) to a thrilling 3-2 victory over the Cleveland Monsters (11-9-1-1) Saturday night at Rocket Mortgage FieldHouse.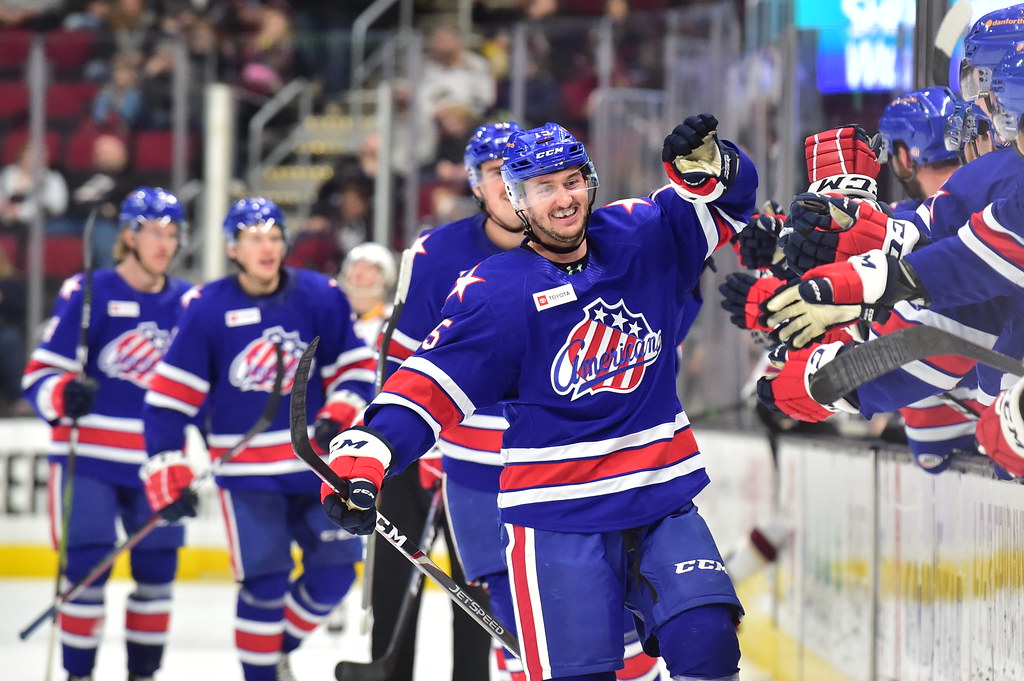 With the win, the Amerks closed out the month of November on a 10-game point streak (8-0-1-1) while also earning 30 out of a possible 40 points through their first 20 contests of the campaign. Additionally, Rochester has picked up points in 15 of the last 17 contests overall, going 11-2-2-2 over that span.
In addition to Oglevie turning in a three-goal outing, his linemates Brett Murray and Kevin Porter also finished with multi-point nights for the Amerks, who climbed back to within one point of first place in the AHL's North Division standings. Both Oglevie (7+3) and Porter (2+7) extended their point streaks to seven games for the Amerks, who show a record of 28-7-3-3 since the start of the 2011-12 seasons again Cleveland. Goaltender Jonas Johansson (6-2-2) pushed his win streak to four games as he made 24 saves while also earning his career-best sixth win of the season for Rochester.
Going home with a monster 🎩 trick AND the W 👊

Drop an EXCITED gif in the comments to congratulate @AOglevie!! pic.twitter.com/RtR8IST5C9

— Rochester Americans (@AmerksHockey) December 1, 2019
GAME HIGHLIGHTS:
🚨: @AOglevie
🍎: @LPilut
🍏: #CaptainPorts#UnitedWeROC pic.twitter.com/ZjZR0DjJyn

— Rochester Americans (@AmerksHockey) December 1, 2019
.@AOglevie buries the loose puck for his team-leading eighth 🚨 of the campaign from #CaptainPorts and @brettmurrayy !#UnitedWeROC pic.twitter.com/tjTbU2cFvt

— Rochester Americans (@AmerksHockey) December 1, 2019
🧢🧢🧢 @AOglevie 🧢🧢🧢 pic.twitter.com/4NPSGTvl7h

— Rochester Americans (@AmerksHockey) December 1, 2019