There was a full slate of Wayne-Finger Lakes boys and girls basketball games on Saturday night.
The Lyons-Lions played their first game of the holiday break against the Utica Academy of Science. It was a very tight back-and-forth game from the start. Junior, Justin Smith scored a game-high 39 points to lead Lyons to a one-point win. After the game, Smith was named MVP of the tournament. With that win, Lyons improves their season-record to 8-0.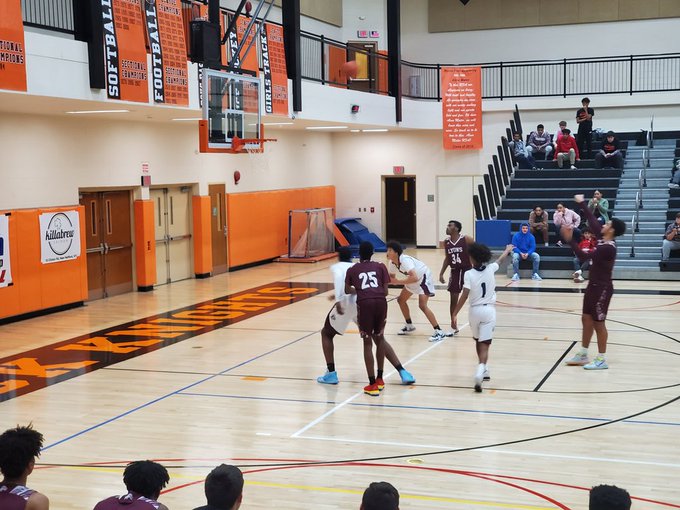 On the girls side, the Waterloo Indians beat the Livonia Bulldogs to win their tenth consecutive game to start the season.
Check out all the game scores below…
BOYS SCOREBOARD 12/28:
LYONS 63
UTICA-AS 62
LYO – Justin Smith 39
Let's go Lyons!! pic.twitter.com/03O8WMSteN

— Lyons CSD (@LyonsSchool) December 28, 2019
BLOOMFIELD 50
DUNDEE 47
BLO – Adam Sheehan 18, 5 ast, 4 reb; Sean Farrell 12, 7 reb; Issac McClelland 7, 8 reb
DUN –  Logan Salvatore 18
SOUTH SENECA 53
WATERLOO 85
SOU – Ira Aman 18; Gage Halsey 16; Matt Kenyan 9; Nick Houck 8
WAT – Mike Hubbard 27; Devin Felber 16; Julian Ruiz 15
NORTH-STAR CHRISTIAN 66
MARCUS WHITMAN 76
NSC – Sean Smith 17; Andrew Newcomb 16
MAR – Jordan Lahue 22; Noah Hildreth 15 (Hildreth All-Tournament team); Liam Prendergast 13; Ryan Herod 9
MYNDERSE 52
SKANEATELES 57
MYN – Troy Kabat 18; Jared King 16 (King All-Tournament Team)
SKA – Nate Fouts 22
Mynderse Academy playing in the Skaneateles Tournament Championship games. JV came up just short in a well played game. Varsity just getting started. Let's go Blue Devils! #SFCSDPROUD @SenecaFallsCSD pic.twitter.com/zETJ2UT6Fj

— Jeramy Clingerman (@educating4tmrw) December 28, 2019
C.G. FINNEY 68
CANANDAIGUA 69
NEWARK 59
CANTON 56
WAYLAND-COHOCTON 70
NAPLES 45
NAP – Ben Fowler 12; Ryan Lester 12; Ben Green 10, 10 reb
WHEATLAND-CHILI VS GANANDA (No Score Reported)
TONIGHT'S BOYS SLATE:
(No Games Scheduled)
---
GIRLS SCOREBOARD 12/28:
DUNDEE 48
HAC 35
DUN – Hallie Knapp 14, 13 reb, 2 stls; Mackenzie Strait 13, 3 ast, 7 reb, 1 blk, 1 stl; Mackenzie Cratsley 11, 3 ast, 13 reb, 5 stls
HAC – Anna Thomas 15; Eliza Nicosia 9; Alicia Strader 8
LIVONIA 42
WATERLOO 70
WAT – Natalie DiSanto 13; Giavanna White-Principio 12; Mackenzie Barber 10; Morgan Carabello 9; Macy Carr 8
NEWARK 37
BATAVIA 47
NEW – Isabella Santell 17, 2 ast, 7 reb, 3 stls; Kalyna Bryant 10, 1 ast, 15 reb, 5 blks, 3 stls
WILLIAMSON 57
C.G. FINNEY 47
TONIGHT'S GIRLS SLATE:
(No Games Scheduled)
---
MORE FROM AROUND THE W-FL AND & SECTION V LAST NIGHT:
Early edition: https://t.co/g0a3gkevyQ

— Paul Gotham (@PickinSplinters) December 29, 2019
The story behind the shot: https://t.co/6RPBkU8LF2

— Billy Heyen (@BillyHeyen) December 29, 2019
Weekend coverage continues. @PCifonelli https://t.co/8rlI2hnY4m

— Paul Gotham (@PickinSplinters) December 29, 2019
Tutti with the game winner. Lyons wins 63 to 62. pic.twitter.com/BwRlZXX6Ui

— Lyons CSD (@LyonsSchool) December 28, 2019
"He's just starting to get confident. He's doing things that we've been begging him to do for about a year and a half now. Tonight he showed that when he gets going, there are not many people that can stop him."  @AQBoys_Hoops https://t.co/zdPjibAOdT

— Paul Gotham (@PickinSplinters) December 29, 2019
? HS roundup ?

▶️? @CAGrlsbball wins 4th straight
▶️?@goBCSbombers & @MWWildcats boys win
▶️ Indoor track results for @CABravesSports @VictorBLDevils @HoneoyeSports @RJathletics @MidlakesAthletx @palmacsports https://t.co/7ZGEDuzWcx

— Bob Chavez (@MPN_bchavez) December 29, 2019
TOURNAMENT CHAMPIONS!!! Varsity boys pick up the 58-47 win over York to capture their 4th straight tournament championship. @MolisaniVinny was named Tournament MVP. @kjwade04 and @JCLaursen10 were named to the All-Tournament team #CalMumHoops pic.twitter.com/PPYdjg9Y1t

— Cal-Mum Basketball (@CalMumHoops) December 29, 2019
Prattsburgh defeated Genesee Valley 82-60 tonight to win the Prattsburgh Holiday tournament Championship. Prattsburgh's depth is starting shine. Role players like Henry Devoe, Chris Hively and Ammon Anderson played huge tonight.

— Bill Collmer (@BC_SVTB) December 29, 2019
Gabe Miller gets in the lane for 2. We are going to overtime. It's still Christmas Day folks. Leadership 68 @AQBoys_Hoops 68 pic.twitter.com/nZvH98GlvS

— Paul Gotham (@PickinSplinters) December 29, 2019
Great way to wrap up our Christmas tournament! @PenfieldBball 76 -51 win over SOTA. Dyllon Scott with tournament MVP and @rj_wilkins with all tournament team honors! @PickinSplinters @PenfieldCSD @PHSBIRDHOUSE18 pic.twitter.com/PmcPalwiGt

— Penfield Basketball (@PenfieldBball) December 29, 2019
TAHJAE HILL BALL GAME. @PickinSplinters @Hiltonhoops @HiltonCadets @iamtahjaehill @jml5798 pic.twitter.com/vGjSjZmMYm

— Billy Heyen (@BillyHeyen) December 29, 2019
Tournament MVP, Charles Bowden III interviewed by Paul Gotham from @PickinSplinters pic.twitter.com/GzIiNN7OSO

— Rush-Henrietta Athletics (@RushAthletics) December 29, 2019
Tournament Champions @RushAthletics Royal Comets erase a 9-point deficit to beat Sutherland 70-59 pic.twitter.com/V05i3uy7Eu

— Paul Gotham (@PickinSplinters) December 29, 2019
Final from the consolation game in Hilton: @GAHSBoysHoops 81, EMHCS 35.

Buckle up for Hilton and Eastridge coming up next. @PickinSplinters

— Billy Heyen (@BillyHeyen) December 28, 2019
That's a final. @rangersBBB 74, @BaronsHoops 65. Thank you @BrockportB and Doug Westcott Tourney. @Ranger_Sports @PickinSplinters

— Spencerport Boys Basketball (@rangersBBB) December 28, 2019
Wildcats with the 76-66 victory over Northstar tonight. Lahue(22pts6asts) & Hildreth(15pts) named to All Tourney team. Prendergast-13pts10rebs. #PR1DEinthePaw #greatdaytobeawildcat pic.twitter.com/qKC5efsA3g

— Whitman Athletics (@MWWildcats) December 29, 2019