Excitement continues to build at del Lago Resort & Casino as another major announcement is made.
On Wednesday, the del Lago team announced that Fabio Viviani, world-renowned chef, author and TV personality, will open his very first New York restaurant inside the resort space.
Portico by Fabio Viviani, which will open in February 2017 when del Lago Resort & Casino officially opens its doors. The restaurant will feature a sophisticated take on old world Italian-inspired foods and handmade pastas, as well as seafood, steaks and chops grilled over hardwood.
Best known for his television debut on Bravo's hit reality series "Top Chef" and earning the "Fan Favorite" title, Viviani's on-screen appearances have propelled him to become one of the fastest growing culinary names in the country. In addition to competing in Bravo's "Top Chef All Stars" and starring in the spinoff, "Life After Top Chef," Viviani has appeared as a recurring guest on television shows, including "Good Morning America," "The Talk," "The Chew," "Ellen," "Good Day LA" and "Access Hollywood."
The successful restaurateur is also the owner of several well-known restaurants in Los Angeles, San Diego, Michigan and Chicago and will soon be opening a restaurant in Tempe, Arizona. He has authored three successful cookbooks: "Café Firenze," New York Times best-seller "Fabio's Italian Kitchen" and "Fabio's American Home Kitchen," and is planning to release his fourth cookbook in spring 2017.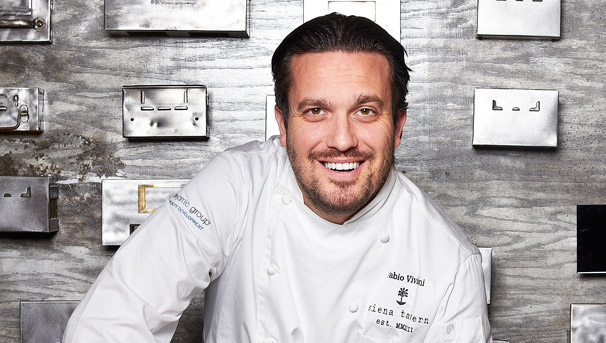 "We are thrilled to announce our partnership with Fabio Viviani," said Jeff Babinski, executive vice president and general manager at del Lago. "Just as 'portico' in Italian means a porch or gateway to the home, del Lago Resort & Casino will serve as a gateway to the beautiful Finger Lakes region — the concept is truly a natural fit and Fabio is the ideal chef to bring the restaurant to life."
"Growing up in Florence, Italy, we sourced all of our food from local purveyors and I am excited to bring a piece of my childhood to the Finger Lakes region," Viviani said. "My cooking philosophy was discovered at a very young age in my grandmother's kitchen, where I learned simple ways to bring together exceptional flavors that delighted our family, just like Portico's sophisticated take on old world Italian-inspired cuisine will be sure to delight our guest."
In addition to Portico by Fabio Viviani, del Lago will also offer guests a farmer's market buffet featuring locally sourced produce, fruits, dairy products and meats; an entertainment venue, the Vine, which will serve as a separate bar area as well as a location for regional and national entertainment acts and Centrifico, a bar/lounge area on the gaming floor.
About del Lago Resort & Casino
The $440 million 205-room hotel, spa and casino will include a banquet facility, several restaurants, lounges, 2,500 person entertainment center and other world-class amenities. Del Lago Resort & Casino will feature Savor New York, a unique retail outlet where local vendors will bring the Finger Lakes region directly to del Lago patrons with a wide variety of local fruits, cheeses, baked goods, wines and beers, and other area specialties. The casino will feature 2,000 slot machines and 85 gaming tables, including 10 poker tables. Del Lago will create 1,800 construction jobs and 1,800 permanent jobs, and will generate more than $90 million annually for New York state and local governments. The resort and casino was awarded a New York State casino license in December 2015 and will open to the public in February 2017. For more information, visit www.delLagoResort.com.