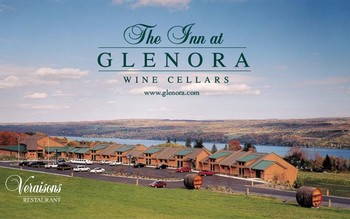 Glenora Wine Cellars is proud to share news of its recent award for its 2015 Dry Riesling, which won both a Double Gold and 'Best White Vinifera' honors at the 2016 American Wine Society Commercial Wine Competition on November 2-3 in Costa Mesa, California.
The American Wine Society (AWS) is the largest consumer based wine education organization in the United States and the AWS Commercial Wine Competition is one of the longest running wine competitions in the country. Judges for the competition include both AWS trained and certified judges and professional experts from all aspects of the wine industry. 
"I am pleased that our Dry Riesling received this very respectable recognition from the American Wine Society," said Steve DiFrancesco, Winemaker at Glenora Wine Cellars. "The grapes for this wine were sourced from Glenora Farms, Dalrymple Farms, and Zugibe Vineyards on Seneca Lake, and Sunrise Hill Vineyard on Cayuga Lake, resulting in a blend that highlights the pleasing aromatic flavors that are making wines from the Finger Lakes famous. "

In addition to the 2015 Dry Riesling accolades, Glenora Wine Cellars received the following awards: 
Silver – 2015 Black Diamond Express

Bronze – 2014 Cabernet Sauvignon, 2015 Pinot Blanc
To learn more about the American Wine Society, visit www.americanwinesociety.org. For a complete listing of competition results, visit www.awscompetitions.com.
A pioneer in the renaissance of the Finger Lakes wine industry, Glenora Wine Cellars has been producing award-winning, high-quality wines for over 35 years. In 1977 Glenora Wine Cellars was the first winery to open on Seneca Lake, in the heart of New York's Finger Lakes Wine Country. Today, in addition to the winery and tasting room, the beautifully-groomed 40-acre estate offers the Inn at Glenora Wine Cellars, with 30 rooms overlooking the spectacular vineyards and Seneca Lake, and Veraisons Restaurant, offering gourmet, locally-sourced dishes. For more information, visit www.Glenora.com.
The above is a republished press release from Glenora Wine Cellars and was not written by FingerLakes1.com. Click here to submit press releases, community announcements, or news tips to the FingerLakes1.com team. Newsroom inquiries can be sent by clicking here.