Lake effect snow continues Tuesday morning across many of the areas that have seen near constant snow since Saturday evening. Snow totals are very impressive, and a couple of more inches may be added today.
Lake effect squalls will persist into the midday hours, especially in the area of Rochester to Penn Yan to Ithaca, where a still strong band of snow is in place. South of this band, there should be little more than a few flurries. To the north, more persistent flurries and some squalls will be possible.
FLX Weather Meteorologist Drew Montreuil says that, "This afternoon, the squalls should diminish to areas of flurries. The lake effect may reorganize some this evening, with some additional squalls in the same areas." He says that nailing down the "end" of any lake effect snow event can be a challenge, but that "during Wednesday morning, the lake effect should come to a gradual and complete end."
---
If this first major snowfall of the year is any indication, the winter we're in store for could be a long, cold, and wet one. That event came in shape of a lake effect snow storm, which dumped feet of snow throughout the Finger Lakes. The hardest hit regions were Wayne, Ontario, and Seneca County. Each saw excessive snowfall as Lake Ontario churned out hours, even days of lake effect snow, which poured over us for more than two days.
Blowing and drifting snow, as well as near-zero visibility were the biggest concerns after dark during the two day event. A number of travel advisories were issued in counties including Yates, Seneca, Ontario, and Wayne. Cayuga County Sheriff David Gould issued a ban on travel until the event ended.
Click here to see all of the Lake Effect Snow Warnings in the region.
Click here for the latest local weather cancellations, closings & delays.
Unofficial snowfall reports from around FLX:
Warsaw: 12 inches
Auburn: 13.8 inches
Lyons: 23 inches
Fairport: 16 inches
Dundee: 10.2 inches
Seneca Falls: 27 inches
Port Byron: 12 inches
Ithaca: 7 inches
Newark: 18 inches
Conquest: 15 inches
Totals will be updated throughout the day. Let us know how much snow has fallen in your neighborhood on Facebook.
Snow Fall in Downtown Seneca Falls early Sunday evening:
Local Weather Resources:
— Western FLX
— Eastern FLX
— Thruway Conditions
Latest Reports from around the FLX: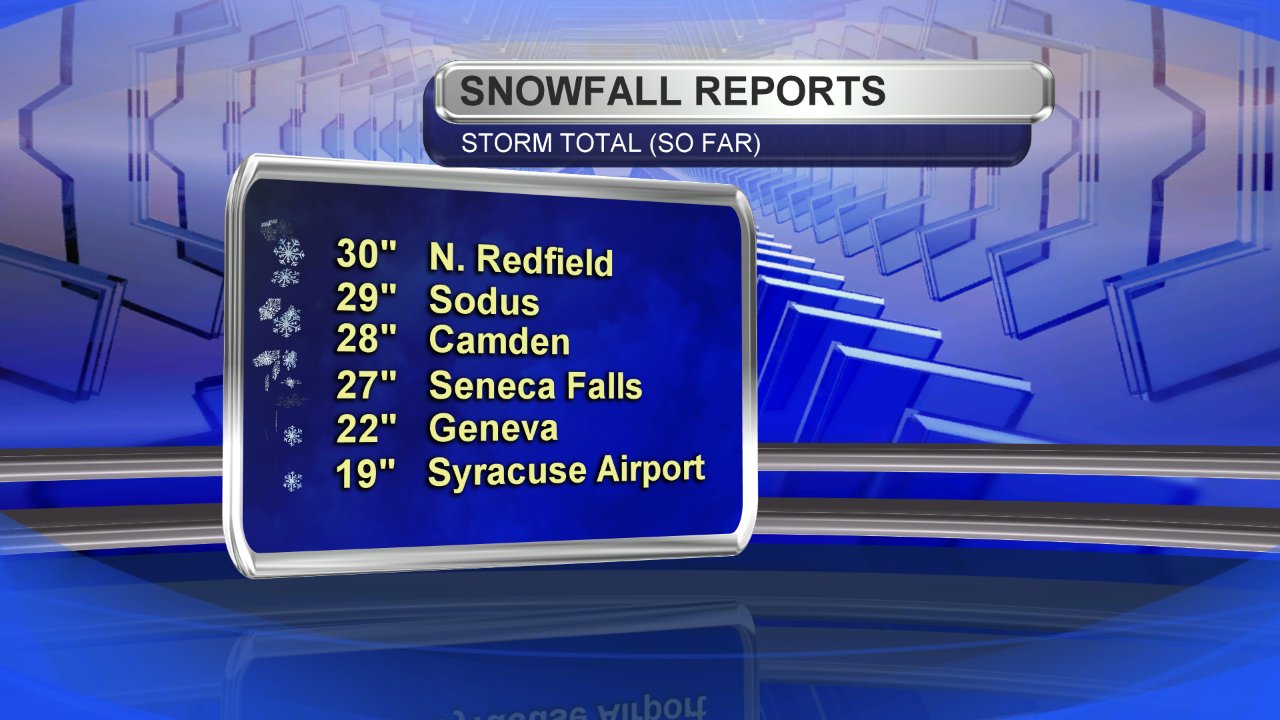 Seneca Falls, NY: 27 inches of snowfall on the level from the event as of 12:30pm. Photo courtesy of James Sandlas. #ROC #FLX #Snowvember pic.twitter.com/lrJT5MmEyn

— Josh Nichols (@wnywxguy) November 21, 2016
Snow has reached @keukacollege for the first time this year! #KeukaCollege #Snow #FLX #Repost pic.twitter.com/caXbA7kLpK

— Keuka College (@KeukaCollege) November 20, 2016
Will Central New York schools close? What you can expect for the morning commute: https://t.co/DOptG4t3AS pic.twitter.com/zisIepbakd

— syracuse.com (@syracusedotcom) November 21, 2016
Tow plows in action in Syracuse. Clearing & salting two lanes at once. Faster. Safer. More efficient. pic.twitter.com/Dc5wPZpj6x

— NYSDOT (@NYSDOT) November 21, 2016
More stories from around the region on the Finger Lakes' first blast of winter weather:
– Lake Effect Snow Warnings UPGRADED for Sunday/Monday (CNY Central)
– Here comes the snow (Daily Messenger)
– Lake-effect snow advisory for Ontario, Livingston, Monroe counties (Democrat & Chronicle)
– First lake effect snow event of the year headed toward FLX (IthacaJournal.com)
– Lake effect snow warning for Cayuga County area; 10 inches, widespread power outages possible (The Citizen)
– Snowy weather on the way! (WHAM)
– Area prepares for first major snow of season (WHEC)
– Plowable Lake snow coming: how much can we expect? (WROC)
– Snow update, Saturday evening: Chief Meteorologist Dave Longley (WSYR)
Remember to send us your winter weather pictures by tagging us on Facebook, Twitter, or on Instagram. Photos can also be sent via our photo submission form.
---
Ready or not — here comes winter.
Most of us have gotten really comfortable with the above average temperatures we've seen in the Finger Lakes over the last couple months, which continued from the hot and dry summer that we experienced this year.
All of that is going to change though, according to FLXWeather.com Meteorologist Drew Montreuil, who reported Friday morning that significant changes were officially coming this weekend.
He reports that it won't feel like winter is almost here on Friday, or even Saturday, but the changeover will likely happen with the passage of a significant cold front. One powerful enough to drop the temperatures by 25-35 degrees over the course of 72 hours.
It'll be a change that we haven't felt since last winter, but one that those living in the Finger Lakes have undoubtedly been expecting.
While Montreuil expects little accumulation for the area before Sunday — the 48-hour period starting around 7 am on Sunday — lasting through Tuesday at 7 am could result in 4-8 inches of snow for parts of Ontario, Seneca, Wayne and Yates counties.
The area that will be hardest hit, according to Montreuil will be those living in Cayuga and Onondaga counties where he has pinpointed as the areas most-likely to see more than 6 inches of snow on the ground by Tuesday morning.
In addition to the snowfall, some places in the Finger Lakes may not even reach 30 degrees on Monday, which will be a shock to the system.
If the snowfall and cold isn't enough to make travel a nightmare as we enter the Thanksgiving week — a pretty significant wind event is going to setup — as gusts to 40 mph are possible Sunday and Monday.
He points out that this is not going to be a regional snowfall, or winter storm event. Instead, this is going to be the first significant lake effect snow event for the region, which means not everyone will experience the same things. Montreuil says that he expects a wide-reaching lake effect snow spray to setup south of Lake Ontario as those northerly winds batter the Finger Lakes on Sunday and Monday.
Areas of heavier snow are entirely possible within current forecasts. The snowfall should subside by Tuesday morning with just localized bands of lake effect snow falling after that.