The first major winter event of the season will not be easily forgotten.
A fatal crash in Williamson on Route 104, a fatal accident on the New York State Thruway Monday evening, thousands without power as 50 to 60 mph wind gusts battered Wayne County, dozens of accidents throughout the region — including 125 reported accidents in Tompkins County, and snowfall totals that were more easily measured in feet than inches.
Travel advisories had been issued throughout the region — as crews struggled to stay ahead of the snowfall rates that eclipsed 1 to 2 inches an hour during the brunt of the storm Sunday night and Monday. The event, which was supposed to subside throughout the day — seemed to gain a second shot of life as Cayuga County was put on the defensive — as Sheriff David Gould issued a travel ban throughout.
Auburn was turned into a ghost town, which seemed like a rare accomplishment for one of the communities in the Finger Lakes that is steadily prepared for winter weather. Photos of the empty streets made their way around social media on Monday — as curious residents walked around the city.
In Ontario County, Bristol Mountain had just begun making snow on Sunday. As it turned out mother nature planned on providing a great base for the resort to kick off the 2016-17 season.
While there is plenty of benefit to receiving multiple feet of snow this early in the season, if you're a fan of winter hobbies — like skiing or snowboarding — an early winter can also be a major concern.
We learned over the weekend that while the original forecast for much of the region called for 6 to 12 inches of snow — the call was largely undercut throughout most areas. Auburn saw more than 30 inches of snow, locations in Wayne County, who expected to see between 1 and 2 feet of snow — saw a 2 foot minimum, with higher amounts in the Newark, Lyons, and Clyde corridor. Those regions expect lake effect snows and know just how capable they are when that 'lake effect machine' gets going. Seneca Falls was one of the surprise locations, with spotters calling in 27 inches of snow mid-day on Monday.
The Seneca Falls forecast specifically shows us how prepared people need to be when contending with winter storms like the one we just experienced. Forecasts on Sunday indicated that 6 to 9 inches of snow would fall, according to the National Weather Service. However, a particularly intense band of lake effect snow, which settled over northern Seneca County during the overnight hours on Sunday — led to those totals quickly being tossed out the window.
Forecasters are left in an incredibly challenging spot. Do they risk under-calling major events like this one, as they are wildly difficult to predict — or do they over-call them, leaving people to criticize them if the snowfall doesn't measure up?
This much we know: The way people prepare for a lake effect snow event, compared to a large-scale storm or system. Stores didn't see a sudden, day-before rush, like they often do before those major systems impact the area. People didn't avoid the roads right away, and like so often, the first winter storm is the one where motorists try to figure out how to drive in the snow all over again.
Check out some of the posts shared with FingerLakes1.com from social media below: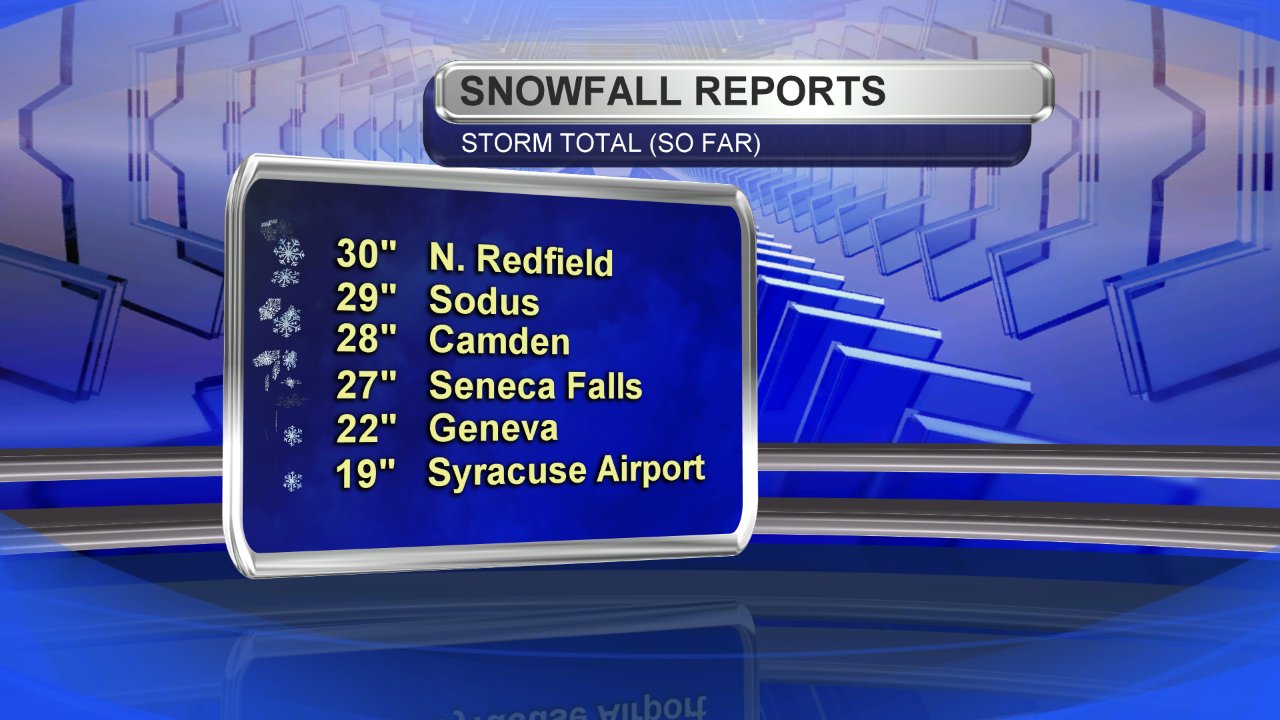 Seneca Falls, NY: 27 inches of snowfall on the level from the event as of 12:30pm. Photo courtesy of James Sandlas. #ROC #FLX #Snowvember pic.twitter.com/lrJT5MmEyn

— Josh Nichols (@wnywxguy) November 21, 2016
Tow plows in action in Syracuse. Clearing & salting two lanes at once. Faster. Safer. More efficient. pic.twitter.com/Dc5wPZpj6x

— NYSDOT (@NYSDOT) November 21, 2016
More stories from around the region on the Finger Lakes' first blast of winter weather:
– Winter chill will ease through end of week in FLX (Chronicle-Express)
– Winter storm sets records across region (CNY Central)
– EARLY BLAST OF WINTER: Heavy snow, winds bring blizzard-like conditions (FL Times)
– Weather conditions will improve for Thanksgiving travels (IthacaVoice.com)
– Weather update: About 125 reported crashes in Tompkins; Caroline sees more than 20.3 inches of … (IthacaVoice.com)
– UPDATED: Sheriff lifts travel advisory for Cayuga County (The Citizen)
– Lake Effect Snow Warnings UPGRADED for Sunday/Monday (CNY Central)
– Here comes the snow (Daily Messenger)
– Lake-effect snow advisory for Ontario, Livingston, Monroe counties (Democrat & Chronicle)
– First lake effect snow event of the year headed toward FLX (IthacaJournal.com)
– Lake effect snow warning for Cayuga County area; 10 inches, widespread power outages possible (The Citizen)
– Snowy weather on the way! (WHAM)
– Area prepares for first major snow of season (WHEC)
– Plowable Lake snow coming: how much can we expect? (WROC)
– Snow update, Saturday evening: Chief Meteorologist Dave Longley (WSYR)
Remember to send us your winter weather pictures by tagging us on Facebook, Twitter, or on Instagram. Photos can also be sent via our photo submission form.
Remember to let us know what you think about every story by leaving a comment, or sharing your thoughts on Facebook. For the latest news, updates, and podcasts check out the FingerLakes1.com app for Apple and Android devices. If you see news happen in your neighborhood send us an email, or let us know on Facebook. For 24.7 updates on social media — follow us on Twitter, like us on Facebook, or subscribe to our YouTube Channel.