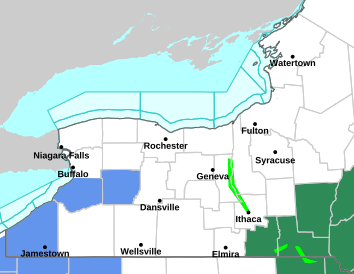 The National Weather Service has issued a Winter Weather Advisory, which is in effect until 10 am Thursday.
Locations included in the Winter Weather Advisory include: Cayuga, Ontario, Schuyler, Seneca, Tompkins, Wayne, and Yates counties. The entire Finger Lakes is in the Winter Weather Advisory for the threat of a light wintry mix, according to forecasters.
Light freezing rain and light snow accumulations are possible in the advised area. The National Weather Service says that a light glaze of ice is possible throughout the area, as well as a couple inches of accumulating snow. That snowfall though will hardly be measurable against the feet of snow the region is already blanketed under.
The National Weather Service says that roadways in the advised area could become slippery. The rain and mix will end by mid-morning on Thanksgiving Day. By late-morning temperatures throughout the region will reach the mid-30s prompting a changeover to all rain.
A Winter Weather Advisory means that period of snow, sleet, or freezing rain will cause travel difficulties. Be prepared for slippery roads and limited visibility. Use caution while driving.
FingerLakes1.com will provide updates throughout the evening and day on Thanksgiving.