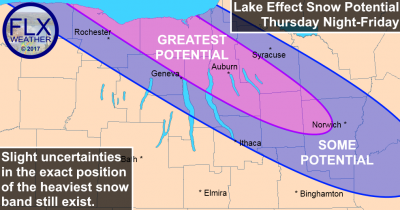 After being missed by a significant winter storm on Thursday, the Finger Lakes will have areas of lake effect snow to contend with on Friday.
As one weather system pulls away from the Finger Lakes region early Wednesday, a new system will start to take shape that will narrowly miss the area Wednesday night and Thursday.
A cold front is crossing the Finger Lakes this morning, sending temperatures from the upper 40s into the 30s in a hurry. Temperatures will continue to drop slowly through the 30s over the course of the day today as cold air settles in.
The first storm will lift into far eastern Canada today, but a secondary system will develop along the cold front over the Ohio Valley.
A significant winter storm will just miss having an impact in the Finger Lakes on Thursday, February 9, 2017. Click to enlarge.
This winter storm will rapidly intensify as it moves into the Mid-Atlantic and off the coast of southern New England. A large area will see significant snow, including Philadelphia, New York City and Boston.
The northern edge of this system will bring some light snow into the Finger Lakes for a couple hours overnight tonight. Accumulations should be limited to an inch or less. Several inches may fall as close as northern Pennsylvania and the eastern Southern Tier.