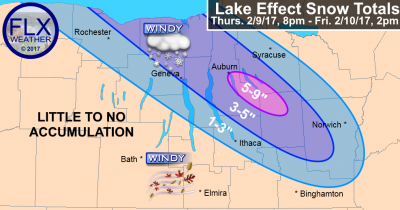 Just in case you had forgotten, the weather would like to remind you that it is still February in the Finger Lakes.
After about 8 pm tonight, the lake effect snow machine will start to churn with a heavy band quickly developing over the northern and eastern Finger Lakes region. This band will oscillate back and forth across the area overnight and into Friday morning before it starts to gradually weaken.
The movement of the band will make timing the heavy snows in any given location nearly impossible and will make snow totals tricky. Rochester, Geneva, Auburn, Syracuse, Ithaca, Cortland and everywhere in between should see periods of squally weather with rapidly changing conditions.
The highest snow totals will likely occur across portions of southern Cayuga and northern Cortland counties, where a combination of favorable positions and higher elevations will contribute to a higher chance for prolonged heavy snow.
The southern and western Finger lakes, meanwhile, will have a quieter night and morning Friday, though it will remain windy and cold.
Local Weather Resources:
— Western FLX
— Eastern FLX
— FingerLakes1.com Weather Center
— Thruway Conditions
Send FingerLakes1.com photos of weather in YOUR neighborhood by sharing them on Facebook, Twitter, Instagram, or by email here.