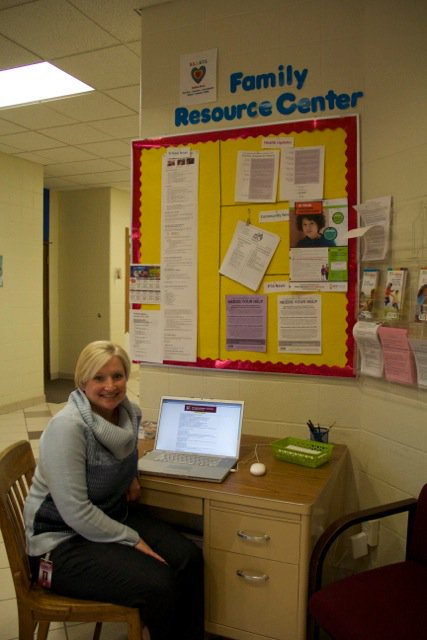 There's a great new and welcoming resource right in the front entrance foyer of the Perkins School in Newark created to give you greater access to educational resources to help you and your children.
The Family Resource Center features a desk, chair and a laptop computer that parents can use to access 13, free, interactive educational websites. They provide tips and games to bolster such things as ELA, math and reading skills; provide fun and healthy alternatives to watching too much television; and other helpful parent resources including suggestions on ways to save for their children's college.
There is also a bulletin board on which school news is posted including PTA events and community health-related information. Informational pamphlets are available as is a suggestion box in which parents can leave comments about questions or concerns they have or make note of things that were helpful to them.
Developed by Robyn Ross-Squirrell, an administrative intern this year at Perkins, Newark High School and Lincoln Schools, the Family Resource Center was an outgrowth of a parent survey developed by she and Perkins first grade teachers Amanda Quku and Chelsea Darcangelis.
The surveys, handed out at the school's October Open House, sought input from parents about academic, health and social/emotional concerns.
"Once the surveys were returned and analyzed, we were able to devise and collect a number of resources parents may find interesting and supportive,'' Ross-Squirrell said. "We want to do whatever we can to assist parents because they play such a key role in the intellectual, social and emotional growth of their children.''
Parents may use the Family Resource Center computer from 8:30 a.m. through 3:30 p.m. on school days.