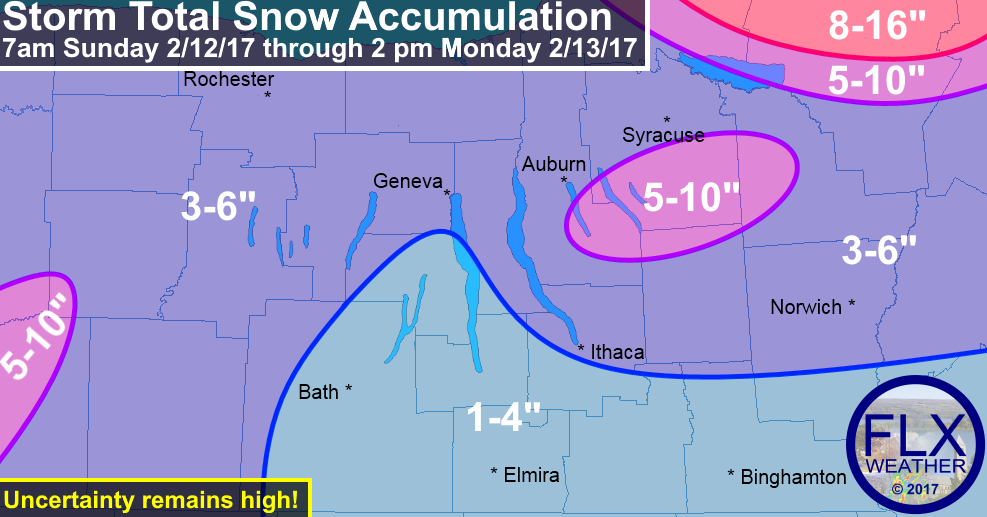 It's been a tricky storm for forecasters, as many have been this season, but the National Weather Service is holding on with their Winter Storm Warnings and Advisories, as of midnight.
The Winter Storm Warning remains active for Cayuga, Onondaga, Seneca, and Wayne counties until 1 pm. While the rest of the Finger Lakes remains in a Winter Weather Advisory. Snowfall totals will vary dramatically by location. A general 3 to 6 inches of snow is possible for most of the region with locally higher amounts throughout.
Throughout the evening the winds increased dramatically. Those winds will continue and gradually subside throughout the day on Monday. Temperatures will be cold, though. Wind chills during the morning will make it feel like it's in the single digits.
The primary concern at this point is roadway conditions, which could be tricky for the morning commute.
– Click here for the latest weather cancellations
Local Weather Resources:
— Western FLX
— Eastern FLX
— FingerLakes1.com Weather Center
— Thruway Conditions
@whec_bdipilato @news10nbc Not too bad out in the town of Honeoye, it's been on and off tonight. pic.twitter.com/ZO3R1GMyTr

— Travis J. Smith (@TJSHD1) February 13, 2017
Winds are whipping now- you add in a little of that snow and it's blustery for many. Take it easy on the roads. pic.twitter.com/YjzhM2cmuT

— Brianna DiPilato (@whec_bdipilato) February 13, 2017
The flakes are flying again in #roc. A few inches for some by tomorrow morning's commute. No biggie, but leave a little extra time. @News_8 pic.twitter.com/sbdY1q8nFT

— Stacey Pensgen (@spensgen) February 13, 2017
With 40 mph wind gusts tonight, here's how it will feel during the AM commute Monday! https://t.co/xGhOJGLYYo #ROC pic.twitter.com/aRohEXL2RQ

— Mark McLean (@Wxandgardenguy) February 13, 2017
Send FingerLakes1.com photos of weather in YOUR neighborhood by sharing them on Facebook, Twitter, Instagram, or by email here.