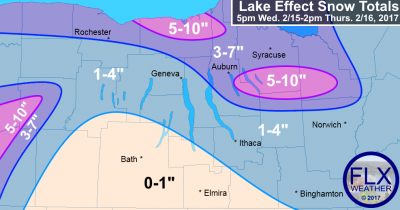 A Lake Effect Snow Advisory is active for Northern Cayuga, Monroe, Onondaga, and Wayne counties from 4 pm on Wednesday through Thursday at 7 pm. The National Weather Service says heavy snow, wind gusts around 35 mph and temperatures staying below freezing will make for difficult travel along the Route 104 corridor.
Cayuga County Sheriff David Gould issued a travel advisory for the entire county Wednesday morning. He noted that road conditions were deteriorating throughout the morning.
FLX Weather Meteorologist Drew Montreuil's forecast for Wednesday:
"A cold front is bringing bursts of snow to the Finger Lakes Wednesday morning and will set the stage for some areas of lake effect snow tonight into Thursday. As colder air works into the region later this afternoon, lake effect snow will start to develop off the Great Lakes.

There may be a period this evening when there is an upstream connection to the Georgian Bay off Lake Huron that could bring some locally heavy snow to parts of the Finger Lakes. That connection will likely be lost overnight, and a spray of snow will come off of Lake Ontario.

The heaviest snows will likely be near the Lake Ontario shore in Wayne county and over parts of east-central Cayuga and southern Onondaga counties, where the lake effect may organize and linger well into Thursday. A few inches will be possible along and north of Interstate 90.

Areas further south may see an inch or so this evening as the connection to the Upper Great Lakes exists, but will likely just see occasional snow showers with light accumulations overnight and Thursday. The lake effect snow should gradually weaken throughout the day Thursday. By the evening, most of the snow should be over."
– Read more from Drew Montreuil at FLXWeather.com
Local Weather Resources:
— Western FLX
— Eastern FLX
— FingerLakes1.com Weather Center
— Thruway Conditions
Send FingerLakes1.com photos of weather in YOUR neighborhood by sharing them on Facebook, Twitter, Instagram, or by email here.