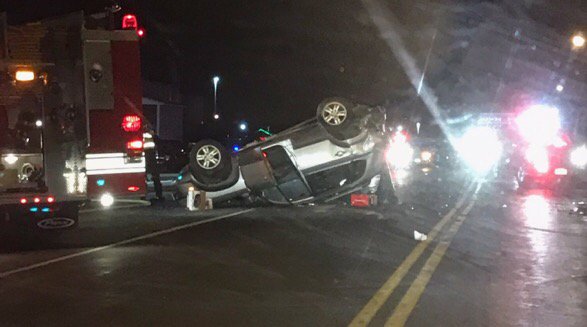 At 6:51 pm deputies in Ontario County responded to the intersection of County Road 6 and Montmorency Way for what was originally reported as a head on crash.
Deputies say Francis Modaffari, 73, of Geneva was traveling north when the sedan struck a second vehicle from behind. That vehicle was being operated by Bradley Bailey, 57, of Geneva.
Bailey's vehicle was attempting to turn into the Lake Geneva Center. A 16-year-old was also a passenger inside the Bailey vehicle.
That gray SUV overturned from the force of the crash, and Modaffari would need to be extricated from his vehicle by White Springs Fire Department due to the force of the crash and subsequent condition of his sedan.
The condition of the vehicles, combined with the force of the crash led those first emergency crews on the scene to believe it was a head on accident. However, investigation revealed that both vehicles were traveling the same direction when one failed to slow for another.
All parties were transported to Strong Memorial Hospital for various complaints of head, neck, and back pain.
According to deputies, all of those involved were wearing seat belts. The roadway was closed down for a period of time Thursday evening as crews worked to clean up.
No tickets have been issued yet, and the investigation is continuing.