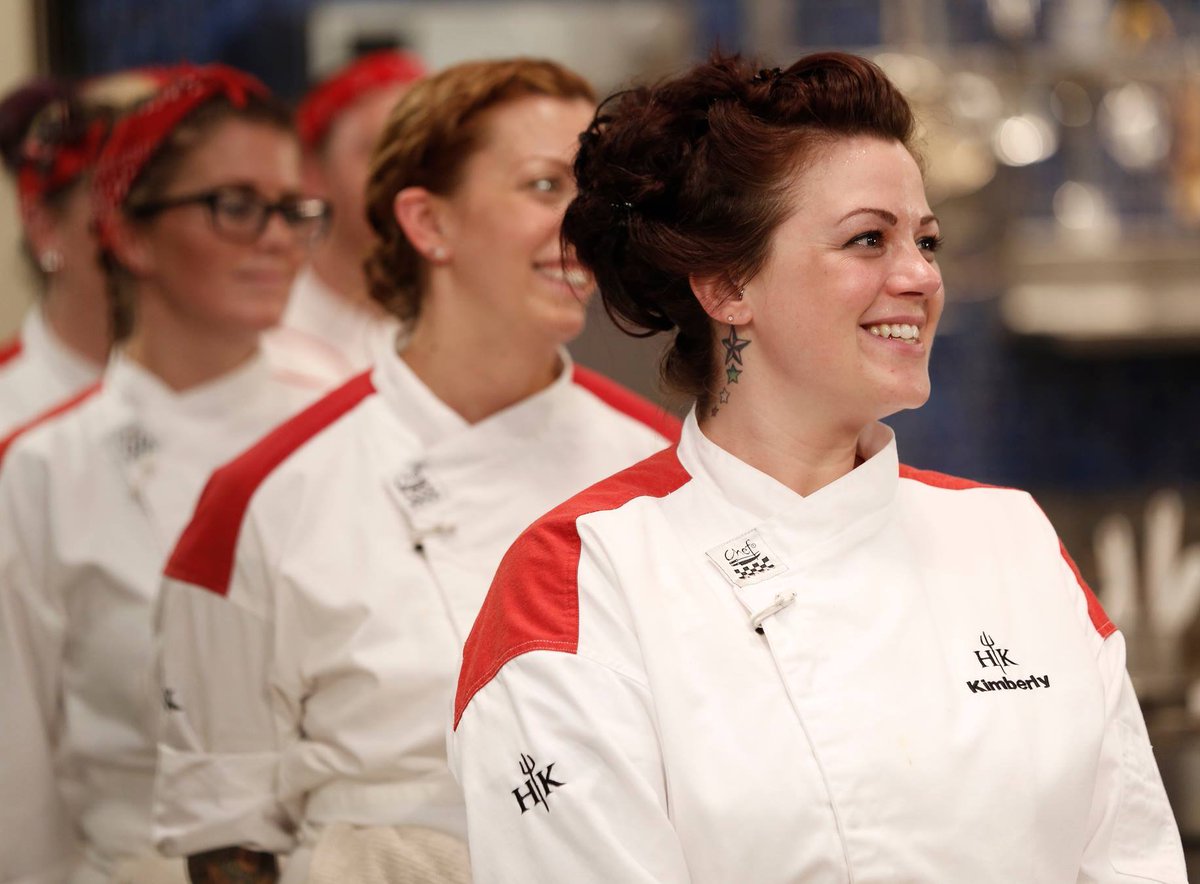 The first time she met multi-Michelin star chef Gordon Ramsay was when he popped out of a tank on the first day of taping for season 16 of Fox's reality cooking series Hell's Kitchen. For Kimberly Roth it was just the beginning of an experience
and opportunity of a lifetime.
"I grew up cooking," she said.
The 38-year-old Ontario resident started cooking when she was just 4 years old. Growing up in Webster, her inspiration was her dad, but cooking seemed to run in her family. Her dad enjoyed cooking and her grandparents owned a hotel and bar.
Her first job was at Charlie Riedel's at the age of 15, but "they wouldn't let me cook because I was a girl," Roth recalled. Wherever she went, she was discouraged from cooking and urged to be a server.
She started college to earn a nursing degree and worked in the psych ward at a local hospital. She credits that experience in the field for helping her survive a season of Hell's Kitchen.
"I think that was why I was so tolerant of people on the show," she said, "because we're all crazy."
At the age of 25 she got a job at a sushi restaurant, Ginger Cove, thanks to her brother. There she was a waitress, but she also learned all about Chinese food and making sushi. From there she finally was hired as a chef at California Rollin' in the Village Gate. Then in 2013, she opened a food truck, Stingray Sushi Fusion, with her boyfriend.
For four years, she had been applying to become a contender on Hell's Kitchen. She was turned down repeatedly, but in 2014, taking a whole new approach to the application process, Roth was asked to come to New York City for an interview. Just six days before the first day of taping for season 16, Roth said she was casted on the show and told to pack for up to a six-week stay.
She arrived in a Los Angeles where she was sequestered in a hotel room, then blindfolded and taken to an army base where she sat with other contestants with strict orders not to speak to each other. Then Ramsay showed up.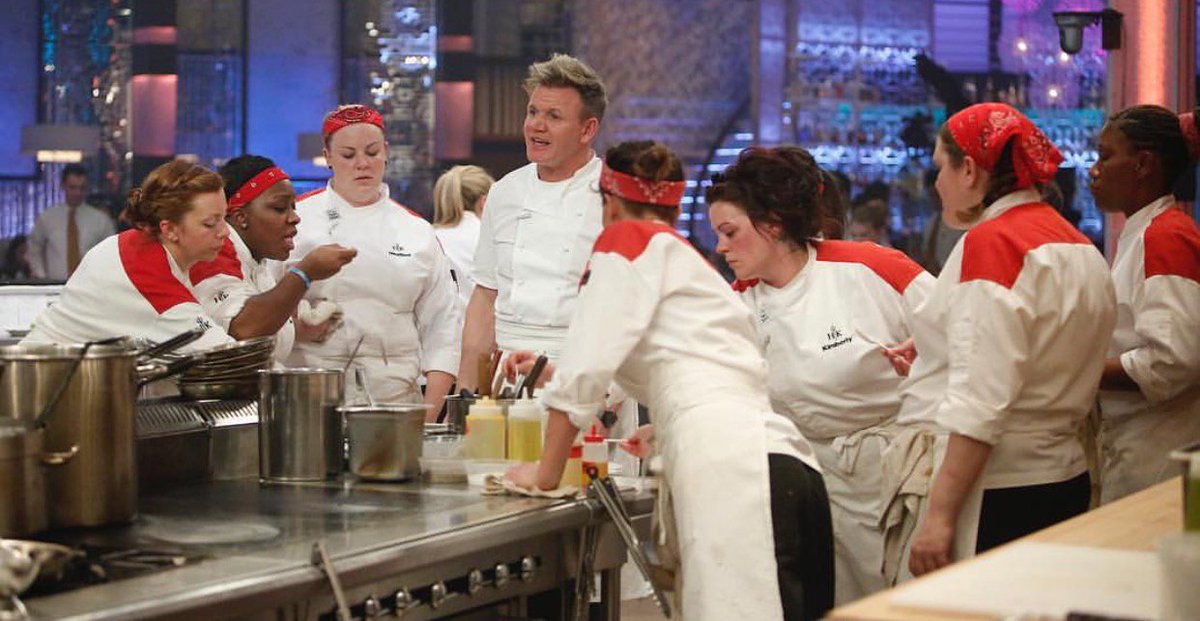 Roth said she remembers every minute of it. They were ushered into a large kitchen and the cooking began.
"It's not a regular kitchen," she recalled of that first dish she cooked. "Everything has cameras, you're working in front of 500 people, there's all these people running around, and Gordon Ramsay was there. It was crazy."
She presented her signature dish, which was the first time to spoke to Ramsay, and received an embarrassing score of 1 out of 5.
She remembered watching that first episode with her parents some two years later when it aired this past fall. Her first thought, "Oh my God, please get better," Roth said.
It wasn't until the third episode when it did get better. She cooked ostrich for the first time ever and Ramsay called the dish "brilliant."
"It was the best dish of 17 dishes," she said, "That was my one awesome moment."
Unfortunately, it was largely edited out of the episode.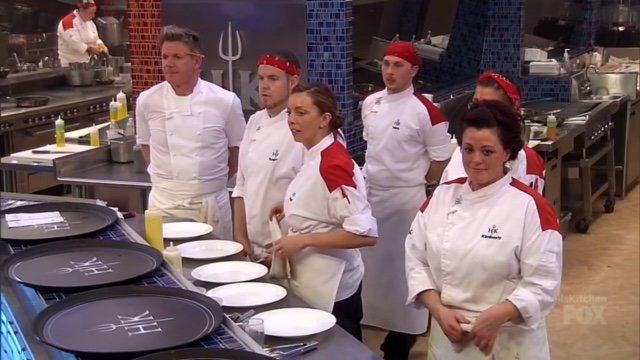 It wasn't lost on friendly and fun-loving Roth that she was portrayed in the show as incompetent. What no one expected, was that she would blossom and grow as the weeks went on. She became only the second chef in the history of the show to get a score of 1 on her signature dish and make it to the end of the season and earn a coveted black jacket. Roth reached the top five before being voted off.
"I was the only one on the show who didn't go to culinary school," Roth said, adding that most of the food on the show she had never cooked or even eaten before. "Nobody expected me to make it to a black jacket."
One of her favorite memories was near the beginning of taping when she was checking the fish station for the evening's service and Ramsay joined her, showing her how to cook the fish. She was aware of many thing at that moment.
"He just handles food with such care and finesse," she said. "I was joined by Gordon Ramsay, hip-to-hip, and we're cooking fish and he smelled good and he was so good looking. It was an honor to learn from him."
Roth said she walked away from the show with priceless memories and new friends.
"I also realize that I swear a lot," she quipped. "But I know that I'm really funny."
During the finale show, Roth said Ramsay placed his around her shoulders, kissed the top of her head and and told her he was proud of her.
"It was a bucket list experience," Roth said. "A life-changing experience. My life has changed because of it. I know I can cook because one of the best chefs in the world has told me I can."
Much has changed in Roth's life since the show was taped and aired. Roth has raised over $5,000 for charity, she receives fan mail, signs autographs and has met someone special to be a part of her life. She has also started her own catering company. Bamboo Panda Catering Company can be found on Facebook and Roth said she caters to whatever cuisine needs and budgets her clients have for their special event. She also offers sushi classes at Casa Larga in Fairport.
"I'm happy," she said. "I wouldn't change a thing with my life. I try not to have regrets."
She has some sage advice for anyone with high hopes for their future.
"Just follow your dreams," she said. "Don't let anyone tell you you can't."
By Tammy Whitacre, reporter for FingerLakes1.com covering Wayne County and surrounding areas.