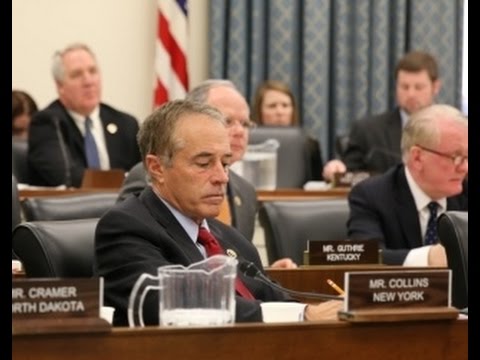 With Leonard's' Express trucks coming and going behind him, U.S. Rep. Chris Collins, R-Clarence, on Monday accepted the U.S. Chamber of Commerce "Spirit of Enterprise Award." Given annually to Congress members, the award is based on rating each member's votes regarding critical business legislation as outlined in the Chamber's annual scorecard.
"The U.S. Chamber works tirelessly to ensure Congress is supporting policies that will help grow our economy and create more jobs here in America," said Collins, who was introduced by Victor Town Supervisor Jack Marren, chairman of the Ontario County Board of Supervisors. Joining them to congratulate Collins were Farmington Town Supervisor Peter Ingalsbe; Geoff O'Hara, vice President of Regional Affairs and Advocacy for the U.S. Chamber of Commerce; and Ken Johnson, chief executive officer of Leonard's Express.
Marren said the trucking service headquarters on Collett Road in Farmington was an appropriate place to present the award. Leonard's Express is "one of those great success stories, a multi-generational business," Marren said.
Daily Messenger:
Read More