Heading into July, we no longer see our New York Yankees in first place in the AL East division.
While the Yankees slowly dwindle away their early season magic, their arch rival, the Boston Red Sox, are finally starting to live up to their potential World Series expectations. Led by Cy Young candidate, Chris Sale and last year's MVP runner up, Mookie Betts, the team is currently 3 games up of first place in the division.
Wrapping up June at a measly 13-15 record, including splitting the series in Chicago and losing 2 out of 3 to the Astros, the Yankees currently have 8 people on the disabled list. Alongside Greg Bird, who was originally placed in May, some key players are out of commission such as Starlin Castro, Aaron Hicks, Matt Holliday, C.C. Sabathia, and Adam Warren. Even their replacements are currently missing time, as Dustin Fowler ruptured his patella tendon in his debut and Tyler Austin strained his hamstring. It has been a real tough break lately.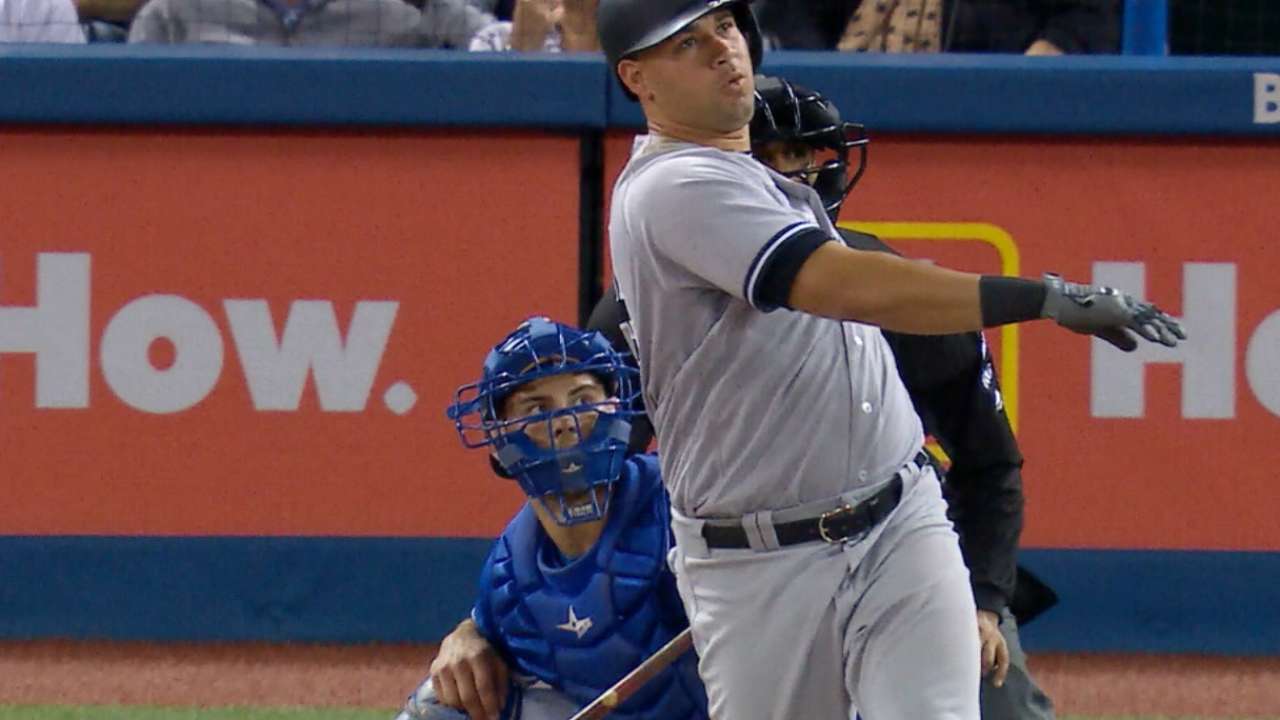 The bullpen has been a weak point for the Yankees. Last week, 7th inning man, Tyler Clippard gave up 9 runs in a course of less than 2 innings. Now we see Dellin Betances struggle as he has given up 6 of his own. A week ago the team was 37-0 when leading in the 8th inning or later, but control issues from Betances gave the Yankees 2 late losses. His ERA has risen from the low 1.00s to 3.12. This is a shame for the Yankees, as Clippard and Betances are two very important relievers. Having Adam Warren on the DL, they must step up in order for the team to have success.
There were once again new faces that were added to the team. Utility man, Tyler Wade was called up in place of the injured Starlin Castro. He has been a useful roster spot, playing Second Base as well as the outfield. Third baseman Miguel Andujar had a debut and then some, collecting 3 hits and 4 RBIs in a 12-3 win against the White Sox. Outfielder Dustin Fowler, who was brought up for Andujar the next night, had his debut cut short, as a season ending injury forced him to leave the game before his first at-bat. Number 2 prospect Clint Frazier was another guy introduced and he also had a historical debut. Acquired by the Yankees in the Andrew Miller trade, Frazier became the first Yankee in 100 years to hit an extra base hit and homer in their first big league game.
Despite all the downfalls, the Yankees still come away with the Player of the Month, as Aaron Judge wins it for the first time in his career. Also a 3 time Rookie of the Month, Judge continues his transcendent campaign, smashing 10 home runs and collecting 25 RBIs in June.
Judge was also welcomed with his first All-Star game invitation. He will be the starting right fielder, as he had the highest vote total in the American League. Judge stands today with a league leading 5.1 WAR (Wins Above Replacement) and an elite 196 wRC+ (Weighted Runs Created Plus), which is currently 30 more than second place Joey Votto. He has 27 home runs and 62 RBIs while holding a .327 batting average. He is a part of the Home Run Derby as well alongside Gary Sanchez.
Joining Judge in the All-Star Game will be 4 other teammates, being the most since 2011. Sanchez, Starlin Castro, Luis Severino, and Dellin Betances will all represent the American League on Tuesday, July 11th in Miami. Sanchez makes his first All-Star game, having 13 home runs in just 51 games played this year. He will be the backup to Salvador Perez of the Kansas City Royals. Castro is currently 9th in the American League in batting average at .313. Despite still being on the DL, this will be his fourth time voted in and first as a Yankee. Luis Severino will make his first ever All star team. He is 4th in the AL in strikeouts with 114 and 6th in WHIP at 1.11. Dellin Betances makes it as well only giving up 3 runs going into last week. It will be his fourth appearance.
Shortstop, Didi Gregorius is eligible for the voting of the final spot of this year's All Star Game. If you want the Yankees to have a 6th player in the game, vote here at Yankees.com.
Batter of the Week: Didi Gregorius
GM – 6
AB – 24
R – 4
H – 7
HR – 2
RBI – 7
BB – 1
Slash Line – .292/.346/.583
Pitcher of the Week: Jordan Montgomery
GM – 2
W – 1
IP – 12.1
ER – 4
H – 10
K – 12
WHIP – 0.97
The Yankees will round out the first half of the regular season at home against the Toronto Blue Jays and the Milwaukee Brewers. Monday's first pitch will be at 7:05 with the matchup being Masahiro Tanaka and Marcus Stroman.
C.C. Sabathia will be reinstated from the DL and is expected to pitch on Tuesday.
Matchups Vs. Toronto:
Game #1: Monday July 3rd 7:05 P.M.
Marcus Stroman (8-4) vs. Masahiro Tanaka (6-7)
Game #2: Tuesday July 4th 1:05 P.M.
J.A. Happ (2-5) vs. C.C. Sabathia (7-2)
Game #3: Wednesday July 5th 1:05 P.M.
Marco Estrada (4-6) vs. Michael Pineda (8-4)
Matchups Vs. Milwaukee:
Game #1: Friday July 7th 7:05 P.M.
Junior Guerra (1-3) vs. Jordan Montgomery (6-4)
Game #2: Saturday July 8th 1:05 P.M.
Brent Suter (0-1) vs. Luis Severino (5-4)
Game #3: Sunday July 9th 1:05 P.M.
Jimmy Nelson (6-4) vs. Masahiro Tanaka (6-7)