New rules issued by the town of Seneca Falls regarding future board meetings brought unhappy residents to the July meeting who informed the board they were "deeply offended" by the implications of those rules.
Doug Avery, a longtime resident and chair of the Seneca Falls Environmental Action Committee, accused Town Supervisor Greg Lazzaro of curbing public participation at the town board meetings, citing inconsistencies regarding speaking and the displaying of signs during regular meetings for the last several months. Avery attributed those inconsistencies to Lazzaro's own banning preferences based on what offended him most that month.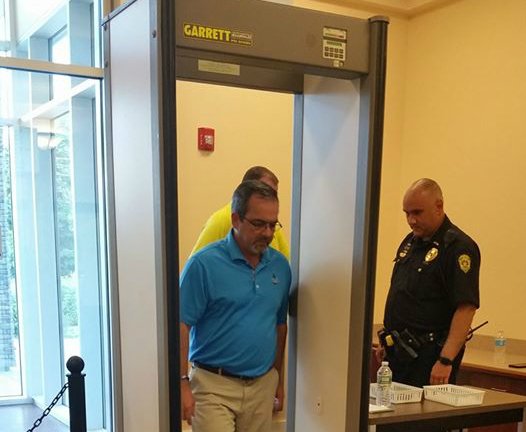 Heated debate regarding the Seneca Meadows Landfill and the board's vote to rescind a 2016 law that would have forced the landfill to close has been at the heart of the tension during town board meetings. The meetings brought large crowds that left standing room only for many who lined the walls.
Then just weeks ago, the town announced a decision to implement the use of the metal detector for all visitors at meetings, banned signs at meetings and limited attendance to no more than 80 people as noted by the fire code for the room's maximum occupancy.
Avery criticized Lazzaro for unilaterally establishing a rule on his own as opposed to putting a new policy to a board vote.
"In this day and age, he (Lazzaro) could easily have explained away the move to use the metal detector," Avery said. "Instead, what he attempted to do was paint the people who present an opposing argument as violent and a threat to public safety."
Avery noted that not a single petitioner who has spoken before the board has ever acted in a violent manner, and offhandedly added that the only violence brought into the debate was done so by one of the town board's own members. He also called for a public apology from Lazzaro.
"There is no threat," Avery said. "As it turns out, all that Supervisor Lazzaro is afraid of is words – words that are contrary to his own position. He's using his office and his own words to paint us as violent and uncivilized."
Lazzaro argued that Avery has never once come to him, to meet with him in his office to discuss issues. The supervisor said board members work for months on issues, people come to them to talk about problems they have and they work on the issue in preparation for the next meeting.
"The business comes before the meeting," he added.
Lazzaro said what he witnessed from Avery during his speech at the meeting was nothing more than "grandstanding."
"I've been told by others that people are cherry picking everything I say," Lazzaro said. "That's what you just did, Doug."
In the room with only 19 audience members and seats to spare, with the occasional buzzing coming from an unfortunate visitor who set off the metal detector, the verbal sparring between Lazzaro and Avery chased one audience member from the meeting. As she was leaving, she informed Lazzaro and Avery that she'd heard enough and it was best she leave because the arguing was accomplishing nothing.
Tammy Whitacre is a reporter for FL1 News covering Seneca and Wayne counties. Send news tips to tammy@fingerlakes1.com and follow @FL1_TWhitacre for the latest.