Seeing Aaron Judge dominate the Home Run Derby was fun and all, but now it's back to business. The New York Yankees squared off against their rival, the Boston Red Sox to begin the second half of the season. It was a well fought series for both sides, as it was split at two games a piece.
The Yankees came into this knowing what they had to do. At just 45-41, getting swept would not only put the team at .500, but would've put them 5.5 games back of the division and potentially out of a Wild Card spot.
ALSO: Yankees fall to Twins 4-2 on Monday night
Acquiring A New First Baseman
General Manager, Brian Cashman, decided to pull the trigger on a deal that sent reliever Tyler Webb over to the Milwaukee Brewers for first baseman Garrett Cooper. Copper, 26, absolutely tore up Triple A, hitting 17 home runs and totaling a .366/.428/.652 slash line for the Colorado Springs Sky Sox. He did not, however, contribute much in his first three games for the Yankees, picking up just one hit and striking out five times. In his defense though, going up against Chris Sale and David Price is no easy task. Whether the Yankees end up pulling off a deal to get someone like Yonder Alonso or Justin Bour, Cooper will hope to make a much needed impact at first base.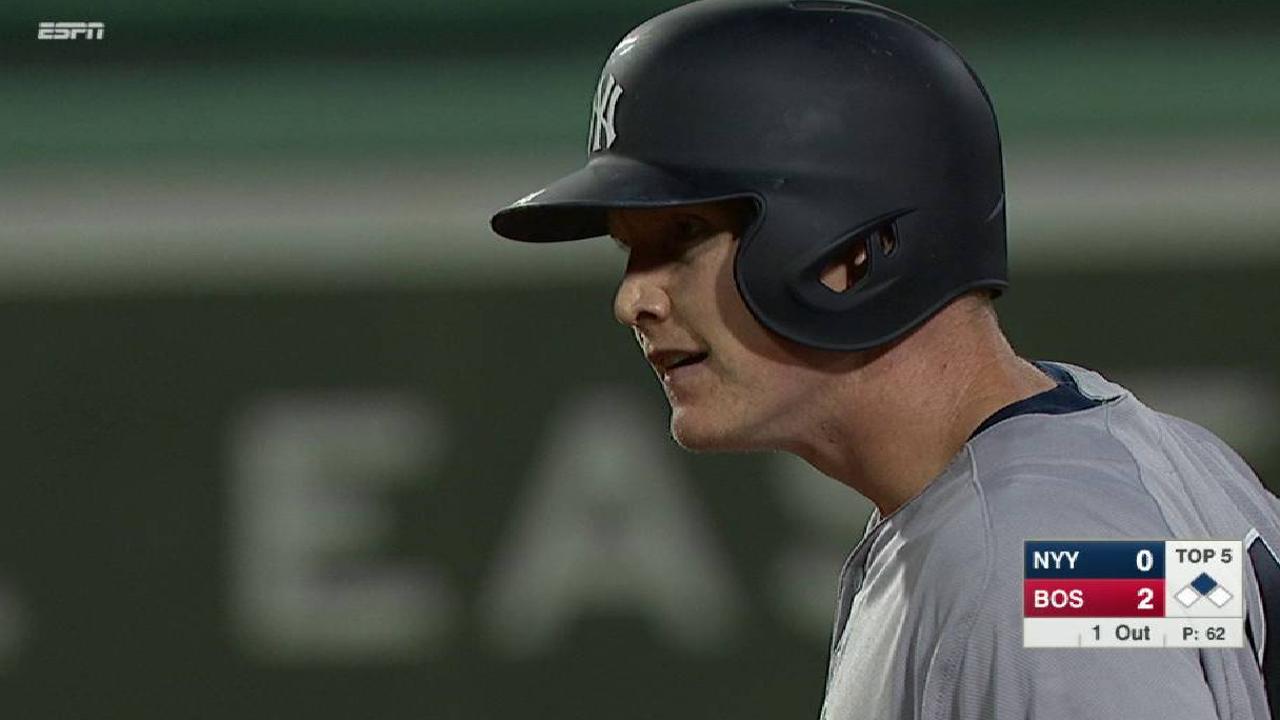 Starting It Off With A Heartbreaker
Looking to start the second half off strong, Joe Girardi threw out one of his more reliable starters, Jordan Montgomery. Unfortunately for the Yankees, Gumby did not have his sharpest stuff. He lasted for just 4 innings in which he gave up three runs, including a two run homer over the monster from Hanley Ramirez. Gary Sanchez carried a big load in this one, as a single in the third and a homerun in the fifth counted to 3 of the Yankees' 4 runs on the day. After Sanchez bailed Montgomery out for the loss, it was time for the fickle bullpen to shut things down. Chad Green came in and threw 2 innings, striking out 5 of the 6 batters he faced. This was followed up by a scoreless 7th from Adam Warren as well as 8th from Dellin Betances in which he struck out the side. It was all up to Aroldis Chapman to close the door, but unfortunately his struggles continued. Two singles and a double steal found runners on 2nd and 3rd with nobody out. The Sox tied the game up after a ground ball off the bat of Xander Bogaerts was botched by Ronald Torreyes. The Yankees intentionally walked Hanley Ramirez to get to Andrew Benintendi. Sadly, five pitches later, the Sox gloated in victory, as they drove in the winning run. Another wasted opportunity resulted into the Yankees' 18th blown save, the most in baseball. The final score in this one was 5-4.
Extra Innings, Extra Fun
The next day featured many stories worth noting. It all started with a rather star studded pitching matchup with Luis Severino going up against Chris Sale. Both pitchers were magnificent in this one, as Sale, who lost to the Yankees on April 27th, went for 7 ⅔ innings giving up just 3 hits and striking out a staggering 13. This was while Severino was going through 7 strong innings giving up 4 hits and whiffing 6. Severino's only miscue however, came off a sacrifice fly off the bat of Mitch Moreland in the 3rd.
After being limited to those 3 hits the entire game, it was time to get things going against Craig Kimbrel. Many Yankee fans were expecting yet another 1-run loss, but recently reinstated Matt Holliday changed the tempo of the game with a blast into left field to tie it up. This shot resulted in Kimbrel's third blown save and his first ever at Fenway Park.
The offense was unable to get anything else going so it was up to the bullpen once again to hold it down. The Yankees used 7 relievers in this game not one of them surrendering a run. The two noteable ones however, were definitely Jonathan Holder and Ben Heller. Holder threw 41 pitches going for three frames surrounding as much as a hit. Heller was clutch also striking out the side his first inning and securing the win in his 2nd.
Everyone was on the edge of their seat waiting for what was going to happen. It all took until the 16th inning where Jacoby Ellsbury was able to hit a double into left. Chase Headley came after with a single to put runners on the corners. Didi Gregorius then finally broke the tie with an RBI single that drove in Ellsbury. The team added some insurance as Austin Romine drove in two more with a base hit of his own and Gary Sanchez hit a sacrifice fly.
This exciting game was the longest Yankees-Red Sox game at Fenway since 1997. It lasted 5 hours and 50 minutes. A big reason for this win was the bullpen as they combined for 9 innings with no runs and 6 K's.
Nothing Like A Double-Header
Game one of the double-header featured a must needed outing from C.C. Sabathia. The bullpen labored for far too long the night before and with two games in one day they needed their starting pitching to step up. Sabathia threw for 6 scoreless innings giving up only 2 hits. It was his17th career start at Fenway and the first one in which he did not give up a run. Big C.C. got the run support he needed as well, as two runs came across in the 4th from a Ji-Man Choi sacrifice fly and an RBI single off the bat of Didi Gregorius. The bullpen, including Aroldis Chapman, were again able to get it done and the Yankees were victorious by a score of 3-0. This is the first time the team has won back-to-back games since June 11th-12th. The Red Sox did not score in this game, making it 22 innings for them without a run.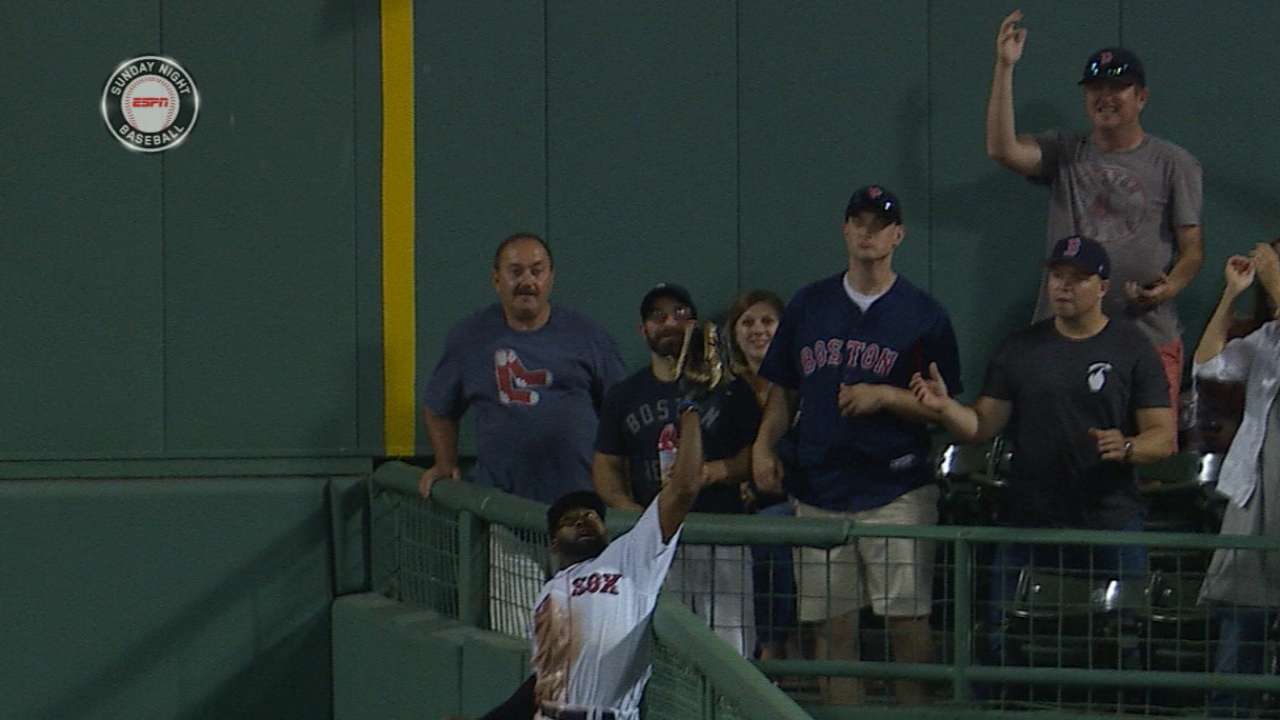 Trying to make it three straight wins, it was Masahiro Tanaka's turn versus David Price. Tanaka finished the day giving up 3 runs on 8 hits and K'ing 9 through 7 ⅔ innings of work. The Sox were able to break their scoreless streak at 24 off of a two-run shot from Mookie Betts. On the other side however, David Price was masterful. Price, who has a career ERA of 4.53 against the Yankees, out-topped Tanaka throwing 8 shutout innings and striking out 8. The Yankees came into the game yet to be shutout this season, being the only team in the league. Aaron Judge did what he could to save it, hitting the ball 411 feet into right center field. However, Jackie Bradley Jr. made every non-Yankee fan ecstatic, leaping at the wall and going full extension to make the catch. Craig Kimbrel was able to redeem himself in the 9th and the Yankees were losers by a score of 3-0. It was the first time the team was last to be shutout since 2009.
Batter of the Week: Gary Sanchez
GM – 3
AB – 14
R – 1
H – 4
HR – 1
RBI – 4
BB – 1
Slash Line – .286/.313/.571
Pitcher of the Week: Luis Severino
GM – 1
IP – 7.0
ER – 1
H – 4
K – 6
BB – 2
The Yankees currently have the 2nd spot in the Wild Card and they will be taking on the Minnesota Twins who are just 1.5 games back. First pitch on Monday will be at 8:10 with the matchup being Bryan Mitchell and Adalberto Mejia. They will also head to Seattle to take on a much improving Mariners team. The series will last 4 games.
Matchups at Minnesota:
Game #1: Monday July 17th 8:10 P.M. Yankees fall to Twins 4-2
Bryan Mitchell (1-1) vs. Adalberto Mejia (4-4)
Game #2: Tuesday July 18th 8:00 P.M.
Luis Cessa (0-3) vs. Bartolo Colon (2-8)
Game #3: Wednesday July 19th 1:10 P.M.
Jordan Montgomery (6-4) vs. Jose Berrios (8-3)
Matchups at Seattle:
Game #1: Thursday July 20th 10:10 P.M.
Luis Severino (5-4) vs. Felix Hernandez (5-3)
Game #2: Friday July 21st 10:10 P.M.
C.C. Sabathia (8-3) vs. Andrew Moore (1-1)
Game #3: Saturday July 22nd 9:10 P.M.
Masahiro Tanaka (7-9) vs. Ariel Miranda (7-4)
Game #4: Sunday July 23rd 4:10 P.M.
Luis Cessa (0-3) vs. Sam Gaviglio (3-4)
– David Bieber is a contributing columnist to FingerLakes1.com covering the New York Yankees with a weekly report published on Monday throughout the season.