For the estimated 200 individuals who turned out to People's Park in Seneca Falls on Saturday change was the singular goal in mind. A diverse combination of students, teachers, parents, adults and others came out to support a 'sensible' evolution on gun control.
Kate Equinozzi, a junior at Geneva High School walked the crowd through the changes she's lived through just since the tragedy in Parkland, Florida. "Our school was preparing for battle. A battle we should not have to prepare for," she said. Over the last two weeks — faculty have begun drilling students on procedures for active shooter situations. The drills have become far more complex than anything that had previously been seen in an academic setting. Equinozzi described the atmosphere as faculty re-arranged classrooms — to guard against potential attacks inside the school. "We are the future of this country; and we need to fill the void and be change."
.
Charles Whalen, a former candidate for New York's 23rd District in the Democratic Primary talked about the emotional reality that families impacted by gun violence face. He talked about Ana Grace — who was among the killed at Sandy Hook Elementary School. He paid tribute to Kelly Fleming, who was 16 when her life was cut short in 1999 during what's now simply remembered as 'Columbine'. Then there was 14-year-old Cara Loughran, who was one of the 17 shot-and-killed in Parkland.
"Shortly after Valentine's Day my daughter called to say she was engaged to be married. Ana, Kelly, and Cara will never make that call," Whalen added. "Anyone who says mass gun violence is not a major public health and safety issue is simply out of touch with reality."
Whalen called on elected officials to take action. "The time for sensible, practical action to reduce gun violence is long overdue," he continued. "Those who want to point to the Constitutional right to bear arms — I say 'yes'. But let's look at the Constitution. It's preamble is clear: The central purpose of the Constitution is to 'ensure domestic tranquility, provide for the common defense, promote the general welfare, and secure the blessings of liberty for ourselves and our posterity'."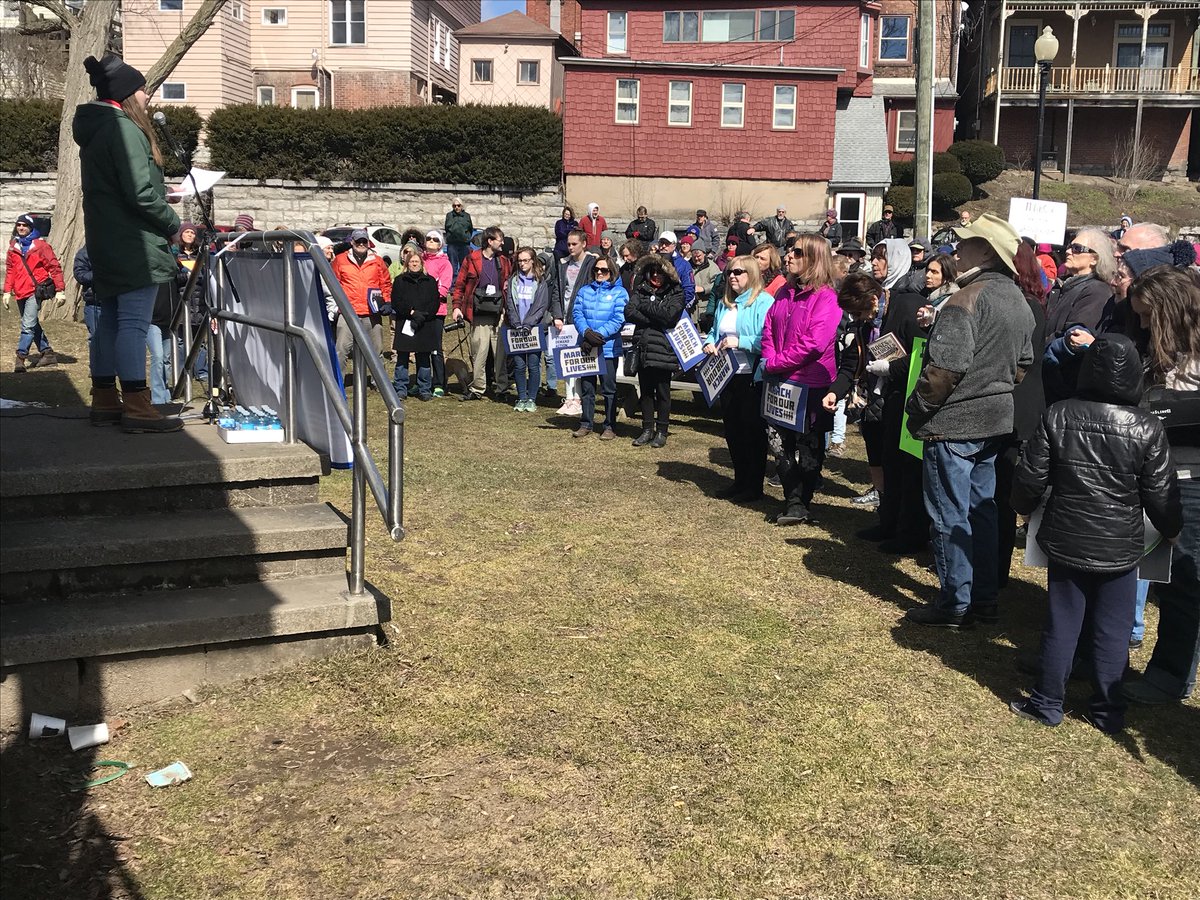 "But much more is needed. Congress gave the CDC the O-K to do gun violence research. But, in a $1.3 trillion spending bill, how much did it put toward that research? Nothing," he lamented. "We need immediate action … We need to replace Tom Reed and his colleagues with people who'll fight for the reasons we have a Constitution — people who will fight for us."
Maggie Sciria, a senior at Auburn High School said it goes beyond gun violence in schools. "More than half — 58.2 percent — of gun deaths are suicides," she began. "Gun control has the power to change that." She went on outlining the numbers, pointing to those between the ages of 10- and 24-years-old being three-times likelier to lose their life to suicide than cancer. "Suicide is an impulsive act that for most isn't what they truly want. Guns and their unique lethality take away a person's second chance at life."
Lorraine Mahoney, a Seneca Falls resident who's daughter also spoke at the rally said that those on both sides of the political aisle need to work together. "We can't lose sight of the humanity on the other side," she added.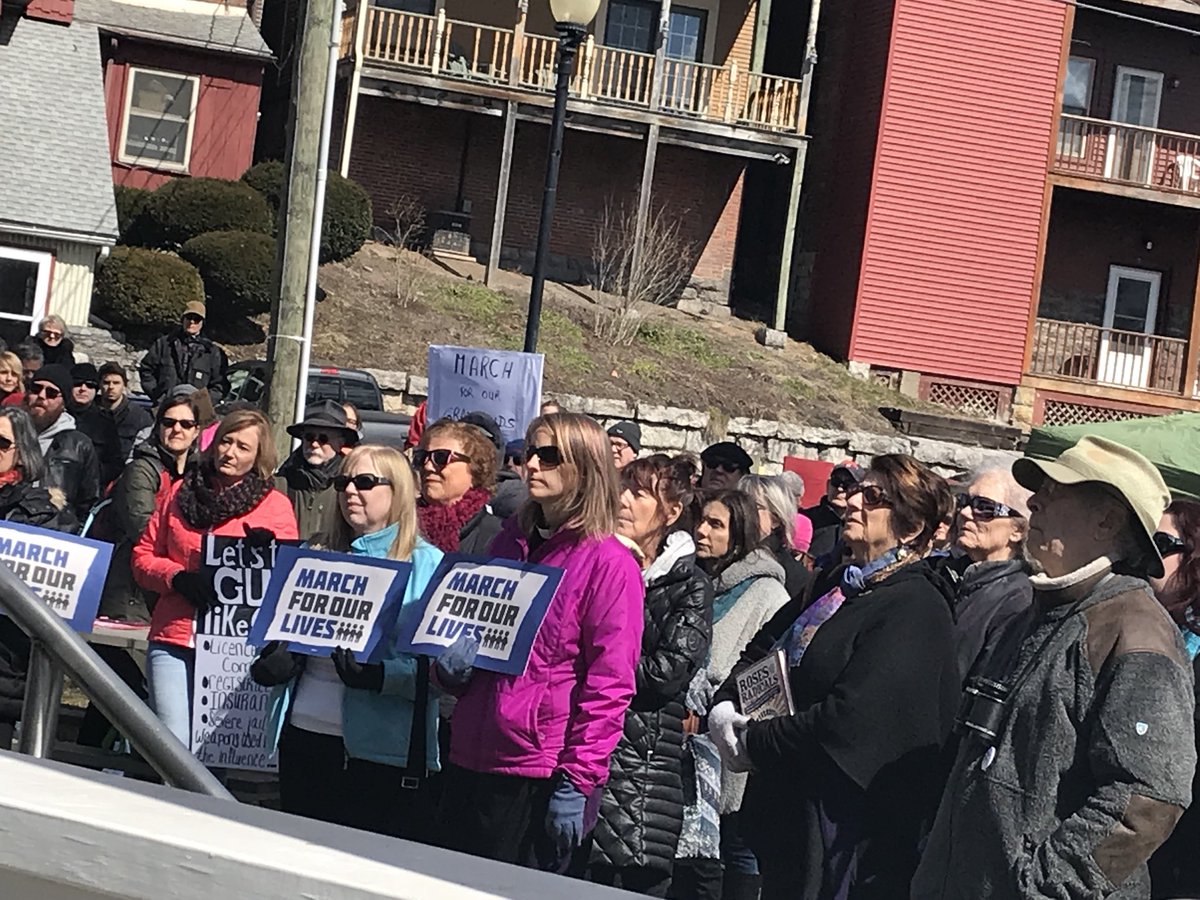 Perhaps though, the speaker and student who most-effectively captured the concerns of those in attendance was Mynderse Academy senior Jessica Dougherty. While speaking to the 'constitutional rights' that many pro-gun activists use in debate on the subject — she called on an even greater fundamental right: life.
"No weapon is more important than anyone's right to live," Dougherty said drawing cheers from the crowd. While the debate around 'gun control' is one that has remained divisive — those in attendance wanted to see positive change now.
Rev. Leah Ntuala, of Seneca Falls offered an alternative perspective. "I believe in the power of prayer," she explained. "And with every mass shooting — every life lost to gun violence — the belief that prayers matter grows dimmer … As a person of faith I am called to act justly. I have to act. I don't believe God granted a person a right to own a gun — the constitution did."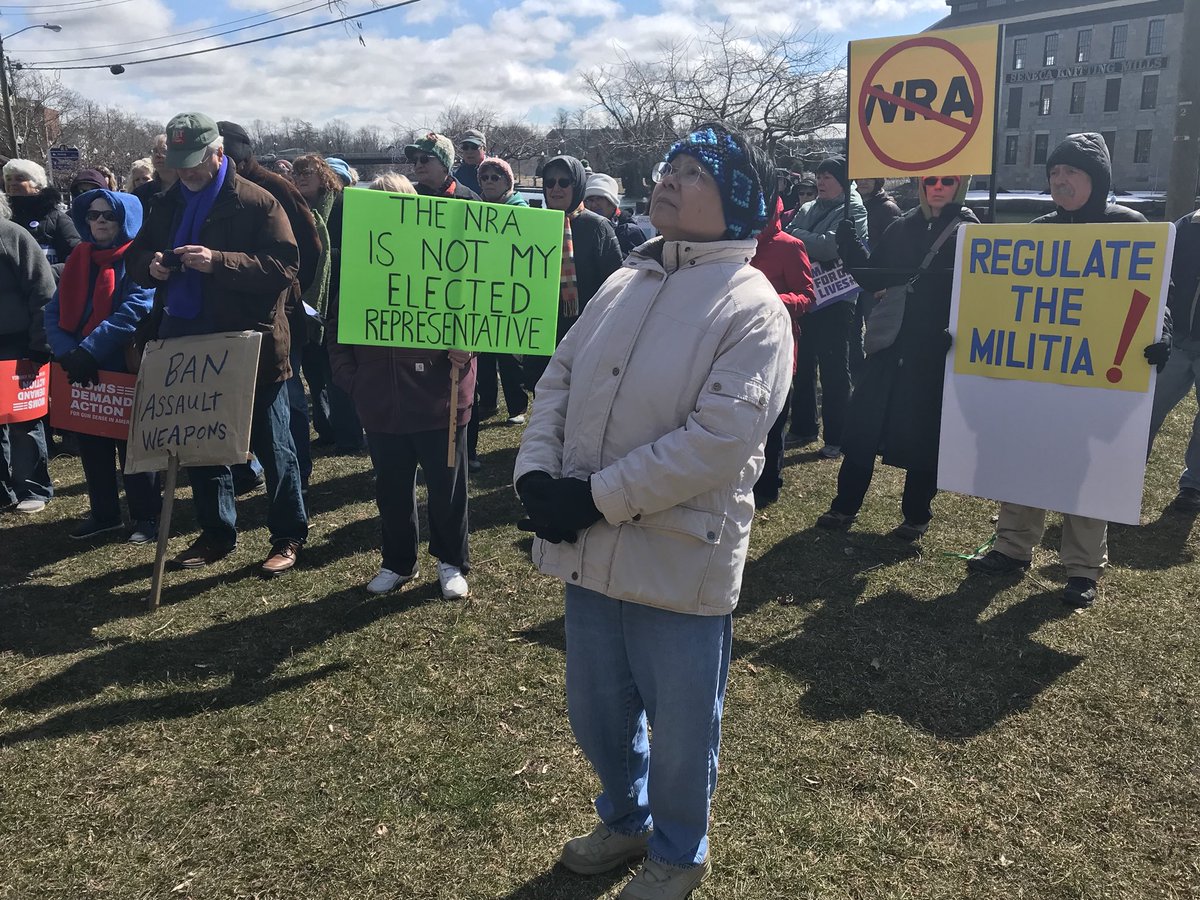 She added that people should be able to own a gun, but that rules and regulations are necessary to keep everyone safe. "Laws are not made to protect those who would and will follow them. Laws are made to protect those who are most vulnerable and susceptible," she continued. "Gun policies aren't for law abiding citizens. They are for perpetrators of domestic violence who want to end the life of the person they abuse. They are for the kid who plays with a gun that isn't locked and safely stored and kills his sister or her brother. They are for the children who are going to school to receive an education and the parents and loved ones who want them home safely at the end of the day."
Ntuala concluded with a call to action for the audience and those around the U.S. "Prayer without actions are simply words. Prayer put into action — that is justice."
COVERAGE FROM AROUND THE FLX
– Marchers seek schools safe from guns (Daily Messenger)
– 'NO MORE': Residents crowd Ithaca Commons for March for Our Lives rally (IthacaJournal.com)
– 'March for Our Lives' brings Ithaca students, community together to rally for gun control (IthacaVoice.com)
– Over 1,000 students, teachers, parents protest at March for Our Lives in Syracuse (Syracuse.com)
– Syracuse nurse at March for Our Lives in Washington: These kids got me off the couch (Syracuse.com)
– Katko eyes bipartisan commission to address mass shootings (The Citizen)
– March For Our Lives rally draws hundreds from the Rochester area (WHAM)
– Local students head to D.C. for national 'March For Our Lives' rally (WHAM)
– "March for Our Lives" Rochester rally against gun violence kicks off Saturday (WHAM)