Upwards of 8.75 inches of rain fell during the early-morning hours on Tuesday, which left Southern Seneca County in a state of emergency. While Governor Andrew Cuomo declared a state of emergency in a number of counties throughout Upstate New York after Tuesday's rainfall – none were as hard hit in the Finger Lakes region – as Seneca.
del Lago is providing 500 sandwiches to those impacted in the flood in Lodi. Residents in the area are asking for support, as many are overwhelmed by the level of destruction left behind by the flood.
A number of local agencies were represented on Thursday, helping residents begin to clean up from the destructive flooding earlier this week. Check out the latest update from WYDC reporter Rachel Midey, who spoke with representatives of those organizations in Lodi.
.
Latest update from the Ovid Fire Department
From the Lodi NY Volunteer Fire Department Inc. (Because we couldn't share their update and post a picture in the same post.)
We would like to pass along some info to the public. We apologize for not getting it out sooner, we have been the center of quite a bit of activity and needed to attend to helping others, meantime compiling a list of info to share with the public, ensuring the info we have is correct.
If you are resident affected by the flooding and in need of assistance, Lodi Firehouse will be open Friday, Aug 17 from 8a.m.- 9p.m. to those needing the following items:
– Food
– Cleaning supplies
– Dry ice & ice
– Styrofoam coolers
– Water
We are incredibly grateful to our community and all you do to support those in their time of need. We appreciate all the donations we've taken in thus far, thank you!
We've had many questions on what to donate. At this time, non perishable food items & water are the most helpful to those in need.
We are not currently taking clothing donations as we are not suited to pass those type of donations out. We encourage you to take them to local thrift stores, such as the Ovid Federated Church Thrift Store or others.
We are unsure of how long the need for our donations will continue but we plan to continue supporting those affected as long as we know there is a need, this is being determined on a daily basis as progress is being made daily.
*** RESOURCES FOR FLOOD EFFECTED RESIDENTS ***
Housing:
DHS (315) 539-1800
Holy Cross Church (607) 294-0064 – Mary (646)478-6227
Red Cross (607) 739-1166 or 1-800-733-2767
Food:
Lodi food pantry Presbyterian church (607) 592-9043
Interlaken Reformed Church food pantry (607) 532-4321
Ovid Federated Church food pantry (607) 869-2794
County Services:
Call 211 for county facilitator, can answer many questions & help with any needs
Seneca County office buildings (315) 539-1950
Federal Services:
FEMA – (866) 697-2434
If you need to contact the Lodi Fire Department directly concerning non emergency issues our phone is (607) 582-6700. We may not always be available to answer calls as we are a volunteer department, you are free to leave a message so we can return your call. We do not generally correspond via Facebook messenger.
We will do our best to keep you updated on the status of continuing donations. Once again – we thank all those involved with handing out donations & especially to those making donations.
Latest update from Seneca County Emergency Management
Recovery and cleanup efforts from the recent flood event continue.  Operations at the Ovid Fire Department have concluded.  The curfew for Lodi has been suspended and residents are being allowed to return to their homes.  County officials are stressing that homeowners should use extreme caution upon returning to the impacted area and making entry into their homes.  There are dumpsters at Lodi State Park for residents to deposit their discarded household materials. Debris from yards should be placed in front of their residence for pick up. 
The following precautions should be used:
Residents should wear personal protective equipment such as boots, masks in the event there is mold, rubber gloves, work gloves and eye protection. 

Be realistic about your limitations, work with a partner.

 

Unforeseen hazards can exist, so please use extreme caution. 

The weather is expected to be hot and humid please be cautious.

If you have a pre-existing health conditions such as asthma, heart problems, compromised immune systems, open cuts and wound avoid entry. 
The following assistance is available at the Lodi Fire Station located at 8557 Route 414 Lodi, NY for the affected individuals:
Homeowners seeking assistance for insurance questions/claims and damage assessments should report to the Insurance Trailer.

Water, dry ice and nonperishable food items are also available at the Lodi Fire Station from 9:00 am-8:00 pm and on Saturday from 3pm-5pm at the Presbyterian Church on Route 414 in Lodi.

Personal hygiene kits (toothbrushes, deodorant etc.) will be available for residents; supplies are limited and will be distributed on a first come first serve basis. 

Mental health personnel will be available from 1:00-5:30 today for individuals who need to talk about their situation and feelings.

 

After 5:30 pm today residents should call 211.

The NYS Storm Assistance Hotline is 1-866-697-2434
Listen to the stories of those who lived through the intense flooding at Lodi Point, and how some narrowly found ways to survive as homes and cars were swept away. It's estimated that upwards of 40 homes were damaged or destroyed in Tuesday's destructive flooding.
.
---
– Dog wakes family in Seneca Lake cottage as it fills with flood waters
---
Check out video footage from cleanup efforts on Wednesday by Rachel Midey of WYDC Big Fox.
.
.
---
Latest updates from officials in Seneca County:
Thursday Evening Update from Seneca Co. Sheriff's Office
Sheriff Luce reports that the Curfew that was in effect the past two nights for the Lodi Point, Lower Lake Road Area of the Town of Lodi is being continued this evening.
Sheriff Luce also advised that the travel advisory for Seneca Lake is in effect until further notice. Boats should proceed at drastically reduced speeds because of excessive amounts of debris in the water. Large debris such as trees and logs may only present a small portion above the water.
Update from County Manager John Sheppard – 12 pm
Seneca County continues to respond to the flooding disaster that occurred yesterday.  The safety of our residents and emergency responders is our top priority.  The focus of the response at this time is to provide for the removal of all hazards including debris.    
Due to hazardous conditions, Lodi Point remains accessible to emergency personnel only.  If a resident requires emergency access to their home, they should contact the County Emergency Operations Center at 315-220-3344. Access will be granted on an individual basis.
The following are recommendations to ensure resident safety:
All flooded areas and debris should be considered contaminated.

 

Do not swim in flood waters. 

Report any down power lines and or impassable roads to the Seneca County E-911. 

Treat all private wells that have been covered, even temporarily, by flood water as if they are contaminated and boil your water. 
The following is the most current information on road closures:
Route 41 and Route 96 ares open.

Route 89 is open to emergency personnel only between County Road 124 and Ernsberger Road.

 

It is anticipated that this area will be open later this evening or early Thursday morning. 
The shelter at Ovid Federated Church will be closing at 12 noon today.  If residents need assistance with sheltering they should contact the Emergency Operations Center at 315-220-3344.
Additional information regarding personal household debris removal from the affected areas will be provided later today.
The county requests your continued patience as Seneca County and other response agencies continue the disaster relief efforts. 
A Boil Water Order has been issued for the Village of Interlaken Water District by the Seneca County Director of Public Health Vicki Swinehart. The order will remain in place until further notice. Tests are being run to confirm that there is no harmful bacteria in the system. For more information please contact the Village of Interlaken at 1-607-532-8882.
Drone Footage captured Wednesday morning at Sheldrake Point:
Emergency Disinfection of Wells that have been Flooded
The Seneca County Department of Health would like to Provide some caution to individuals who get their water from a private well or spring. If your well has been covered by flood waters, even temporarily, it should be considered contaminated and not fit for drinking.
To obtain collection bottles and instructions on well water testing please contact one of the following:
WATERLOO WATER TREATMENT PLANT 315-585-9811
WATERLOO TOWN OFFICES 315-539-9131
SENECA COUNTY HEALTH DEPARTMENT 315-539-1945
ROMULUS TOWN HALL 607-869-9326
Additional Concerns:
If in doubt about the well water supply, do not drink or bathe in the water.
Well disinfection will not provide protection from pesticides, heavy metals and other types of non-biological contamination. If such contamination is suspected special treatment may be required. Do not drink or bathe.
Remember that there is a danger of electric shock from any electrical device that has been flooded; consult a certified electrician. Rubber boots and gloves are not adequate protection from electric shock.
For information on how to disinfect and test your well water you are encouraged to contact the Seneca County Environmental Health Office at 315-539-1945 or visit https://www.co.seneca.ny.us/departments/community-services/environmental-health/
Seneca County Board of Supervisors Chairman Bob Shipley said the following during Tuesday's meeting, which was held despite the destruction in South Seneca.
"Today has been a challenging day especially in Southern Seneca County, in the Towns of Lodi, Ovid and Covert.

Tonight we pause to thank the many Seneca County Workers, Sheriff's Department and local Law Enforcement, First Responders, NY State and Town Highway Departments and other resource groups throughout the region who responded quickly today to perform rescues, evacuations and set up Shelters for the many affected citizens of our County. Also, we appreciate the timely phone calls from Assemblyman Phil Palmesano and Chris Zeltmann of Senator Chuck Schumer's Office to offer assistance to Seneca County.

I also want to recognize Governor Cuomo's Staff – especially Jessica and Kaleigh – who started calling before 7:00 am to offer State assistance and coordinate the timely visit to the affected areas of Seneca and Broome Counties by Governor Cuomo early this morning – so he could personally determine our needs and his issuance of a New York State of Emergency. That includes National Guard deployment along with support vehicles and flood response equipment to our area.

We will continue to monitor the situation, repair and re-open roads, bridges and culverts damaged by this event as soon as possible. Most importantly, considering the severity of this extreme weather event we are most grateful that Seneca County did not have any loss of life."
It was enough rainfall to move vehicles, bury campers, and create an environment like few could ever imagine.
Lodi Point was among the hardest hit. First responders swooped into the region, and at one point – even had to be rescued themselves as their path to those stranded became blocked off by debris from the flood.
Meteorologist Marty Snyder, of 13WHAM pointed out on Tuesday that a 650 foot elevation change from the Village of Lodi to Seneca Lake – where Lodi Point exists – allowed the water to gain a lot of momentum. Even the 'Point' itself is a result of sediment build-up from runoff over the years.
It's unclear how many homes were destroyed or damaged, and even as the water recedes – it's information that may not be known for days, maybe weeks.
Governor Cuomo was in town surveying the damage – and as he pointed out – the results weren't unusual. Around the state extreme flooding has caused day-after-day nightmares for the folks who call these places home. The Southern Tier has been particularly hard hit over the last several days. But this disaster, was unlike most things local residents had ever seen.
"In Seneca County where flash floods and heavy rain have damaged homes and property. I thank the first responders and emergency crew for their hard work," Cuomo said on Twitter after a visit and press briefing from the scene.
A campground was among the destroyed sites on Tuesday, with more than 30 trailers being washed away during the peak of the flooding rains and runoff on Tuesday. Meanwhile, shots from the air during the flood showcase just how severe the flooding was in Lodi.
Unsurprisingly, there were water rescues – dozens of them probably – even as official numbers have yet to be released. Throughout the morning stories about residents and tourists, clinging onto anything they could – and waiting in the pouring rain for hours – as first responders tried to figure out a way to get out to them in the ravaged area.
Creeks, ponds, and streams didn't stand a chance on Tuesday, either. They only added to the struggle – as they quickly jumped their banks, pushing outward, creating headaches for those even living away from Lodi Point. Roads were washed out, culverts were overwhelmed, and small overpasses were destroyed.
Shelters were established by the American Red Cross and other agencies at the Ovid Federated Church, located on Main Street, as well as the Romulus High School. The Red Cross Shelter at the Ovid Federated Church reported a need for more towels for those impacted by the flooding. Those at the shelter also reported a number of animals being accepted to the shelter.
Many roadways remain closed in Southern Seneca County, and will likely remain closed for days as crews work to clean up.
Curfews are in place for Lodi Point and the Town of Lodi at-large. It's unclear when residents will be able to make their way back down to Lodi Point to survey damage and begin the cleanup process.
---
Tuesday PM – Update
A State of Emergency remains active in Seneca County, as first responders and officials battle some of the most-intense flooding seen in years.
Heavy rains woke those living in Lodi, Covert, Interlaken, and other communities in Southern Seneca County on Tuesday – forcing many to evacuate. Also hit hard by the heavy rains are central Schuyler County residents.
The National Weather Service issued Flash Flood Warnings, which remain active throughout the afternoon. Meteorolgoists noted that radar estimates on rainfall in the Lodi-area, which was hardest hit by the flooding exceeded 4 inches, and may have even reached 6 inches in some places.
A number of roads were closed due to flooding. Some roadways, bridges, and culverts were washed out as officials from around the state converged on Seneca County.
Curfews have been enacted for Lodi residents in the Lodi Point area, which runs from 7 pm until 6 am. Residents will not be allowed back into the area until morning. Part of State Route 89 remains closed due to damage done to the roadway.
Mandatory evacuations began around 11 am, according to officials with the Seneca County Sheriff's Office, who were updating residents throughout the day.
Governor Andrew Cuomo arrived in Lodi and spoke to media, pointing out that floods must be taken seriously. "I know everybody's instinct is to stay in their home. I know, I've been there. When you become trapped, in a situation like this, it is then dangerous – and you have a lot of first responders who have to put their lives in danger to help you," he explained. "This is a very dangerous situation."
He said that a group of 50 firefighters and residents were trapped and a rescue mission was underway. The Governor noted that those individuals were not in danger, but that heavy machinery was required to get them out.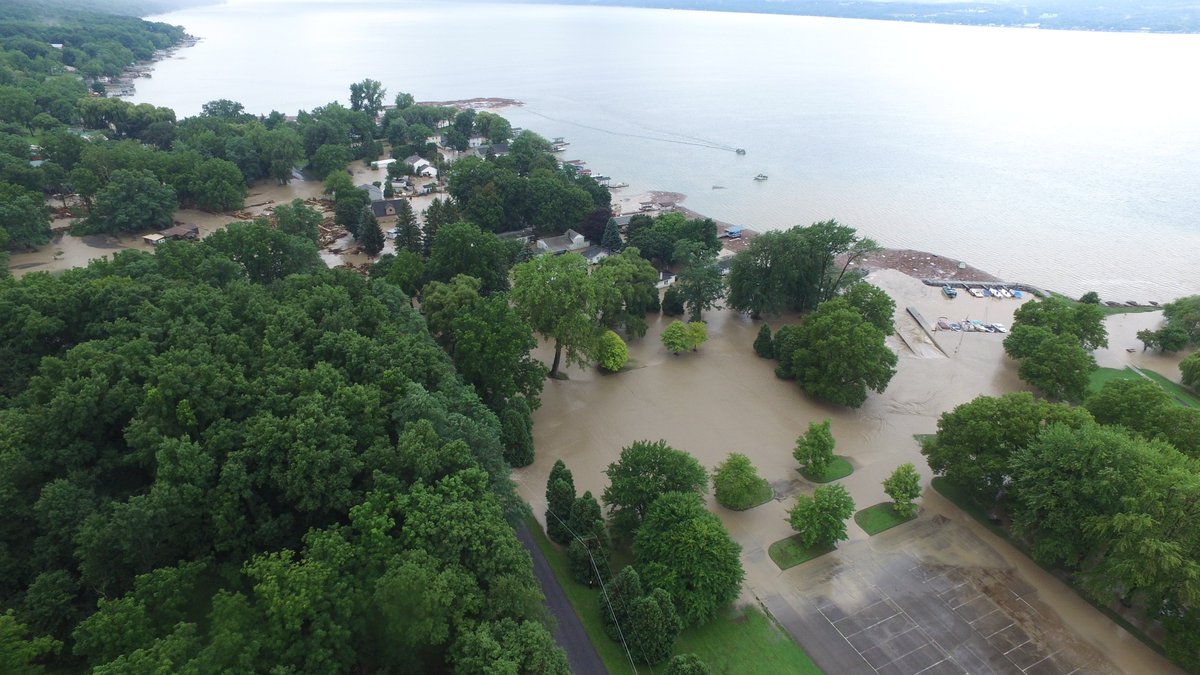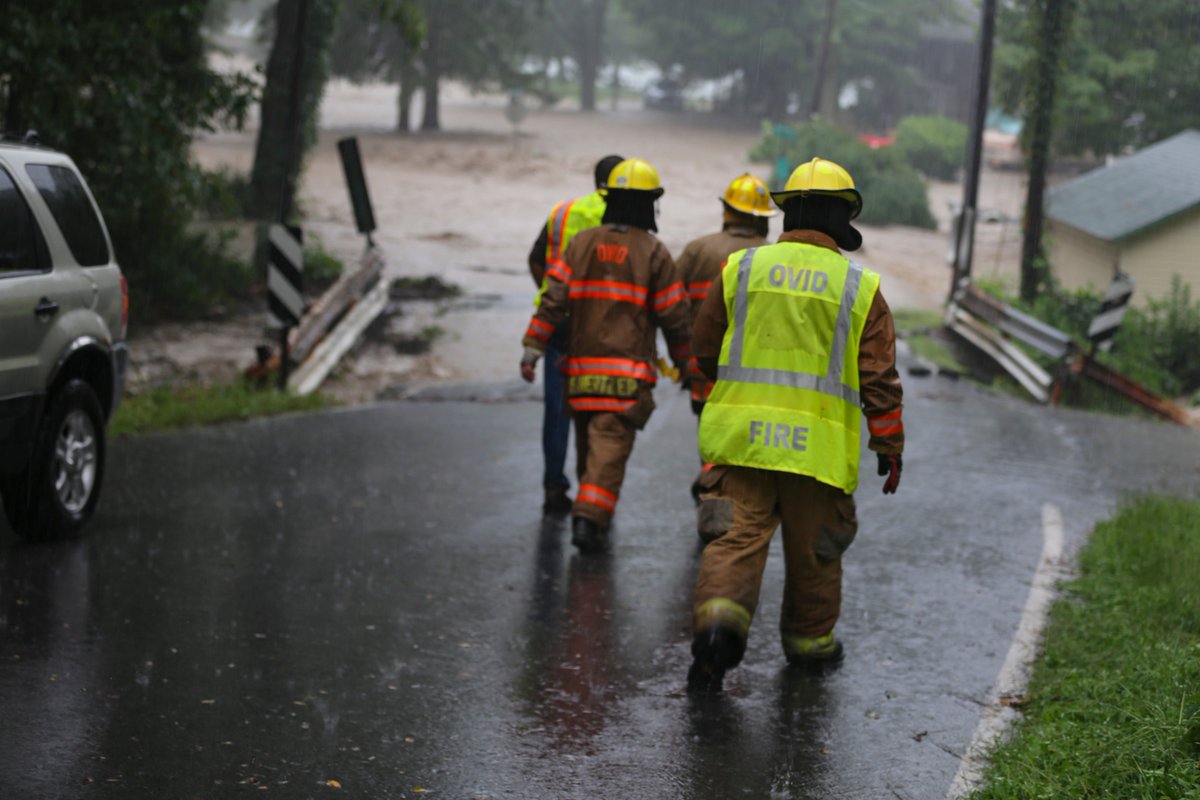 Jeremy Porter, who was staying with his family in a cottage along the lake in Interlaken said that the water rose incredibly fast. "It came much faster than we thought," he said. "Within 10-15 minutes the water was moving right through the cottage like we were outside."
He said they were outside just waiting, with nowhere to go, from 4:30 until 7:30 am. "It just looked like a river was coming around. It looked like there was a refrigerator floating by the house."
"I still feel like I'm in shock," he said, noting that his family was safe. "I know there were people worse off than us. There were campers tipped over and a lot of damage all over the place."
Both Seneca and Cayuga lakes noted significant water rise during the early-morning hours, which was recorded at more than 3 inches of rise at one point.
Disaster shelters were opened up by the American Red Cross throughout the region. The Ovid Federated Church is serving those impacted by flooding in Seneca County. A shelter is also open at the Romulus Central School.
Click here for FingerLakes1.com's full coverage of the flooding in Schuyler County.
Latest from County Manager John Sheppard:
Seneca County's, State of Emergency for the towns of Romulus, Ovid, Lodi and Covert remains in place until further notice. All are reminded to follow the orders of Law Enforcement and First Responders. State routes 414, 96 and 96A are operable. There remains a traffic advisory in place for only necessary travel. 50-70 persons are being evacuated by water from Lodi Point to Sampson State Park. The municipal water system of the Village of Interlaken is impacted by a boil water advisory effecting 650 persons. There has been no loss of life. Rescue operations continue throughout the county. Shelters are opened at the Romulus Schools and Ovid Federated Church. Town, County, State and NYSEG assets are being deployed to open the roads and repair infrastructure as soon as practicable.
An update from the Sheriff's Office as of 11 am:
"The Seneca County Sheriff's Office along with the Seneca County Emergency Management Office has updated the status of the State of Emergency to include a Mandatory Evacuation for all residents of the Lodi Point Area.   Emergency crews are currently evacuating residents by boat and taking  them to a shelter at the Ovid Federated Church on Main St in Ovid. Residents in need of emergency assistance are to call 911."
Photos from Lodi this morning by Rachel Burkholder for FingerLakes1.com: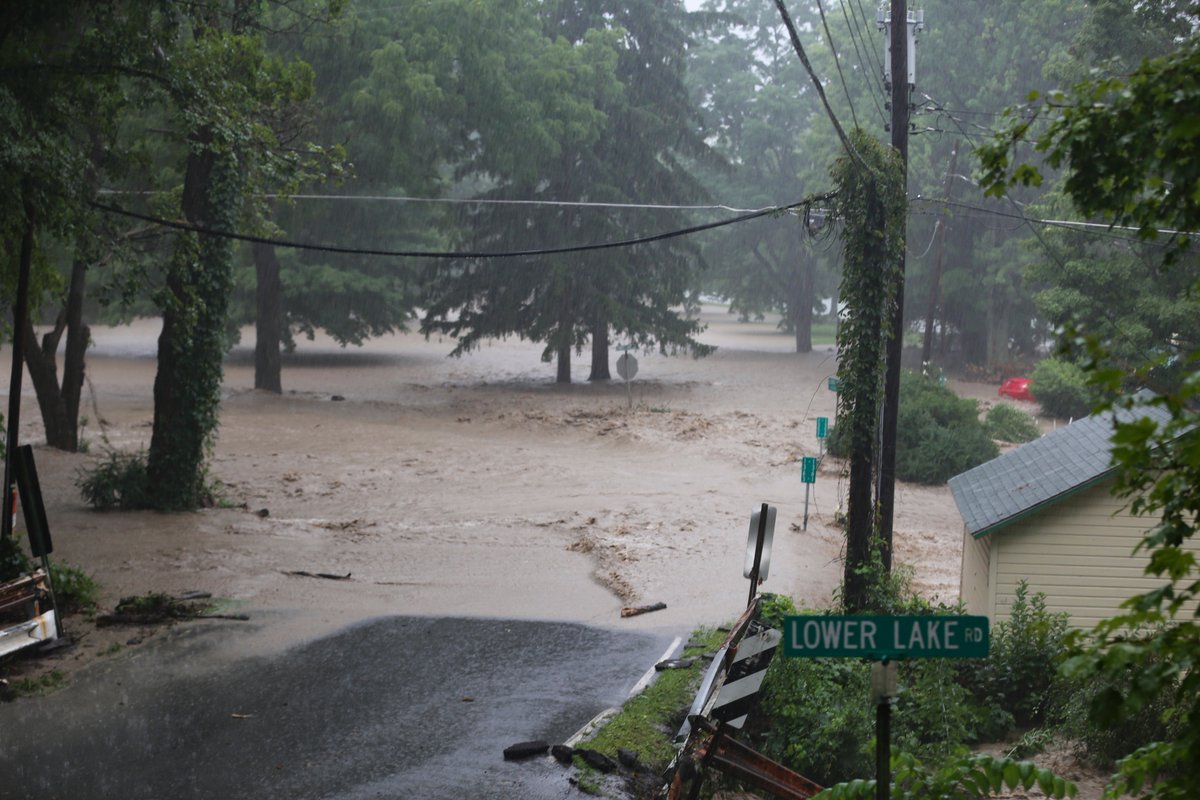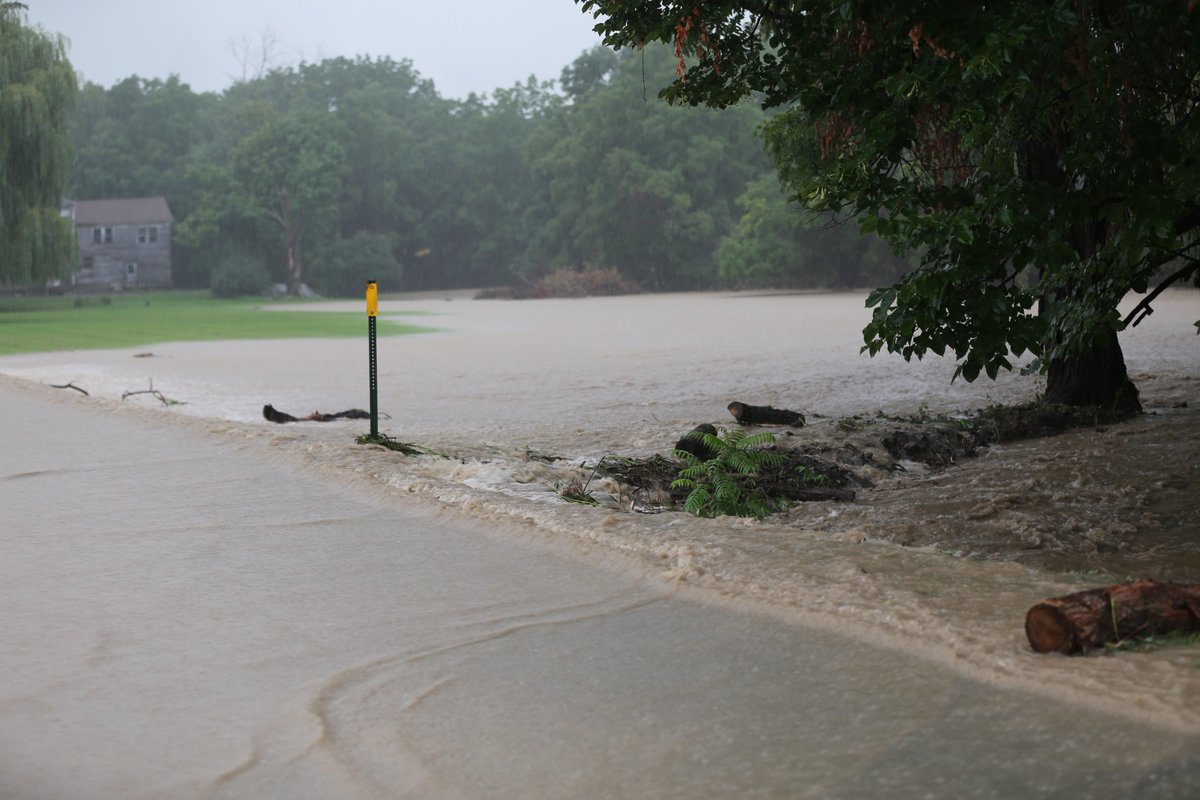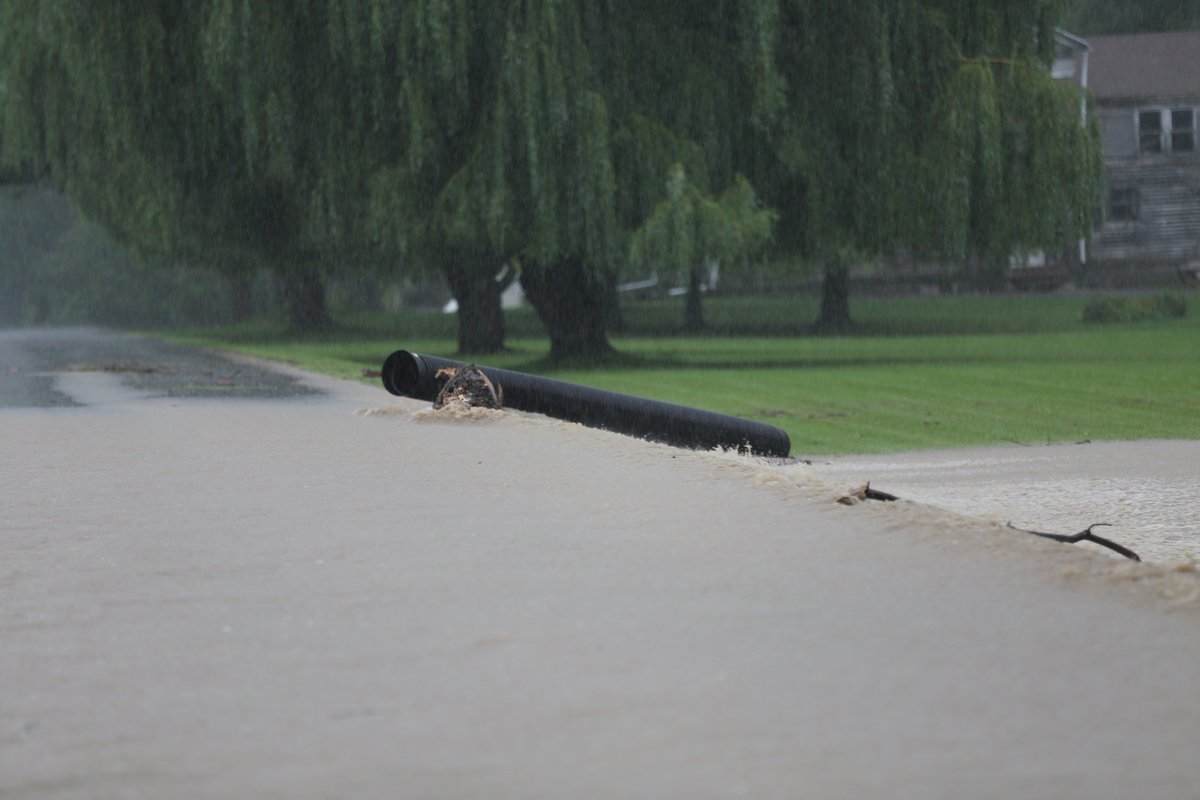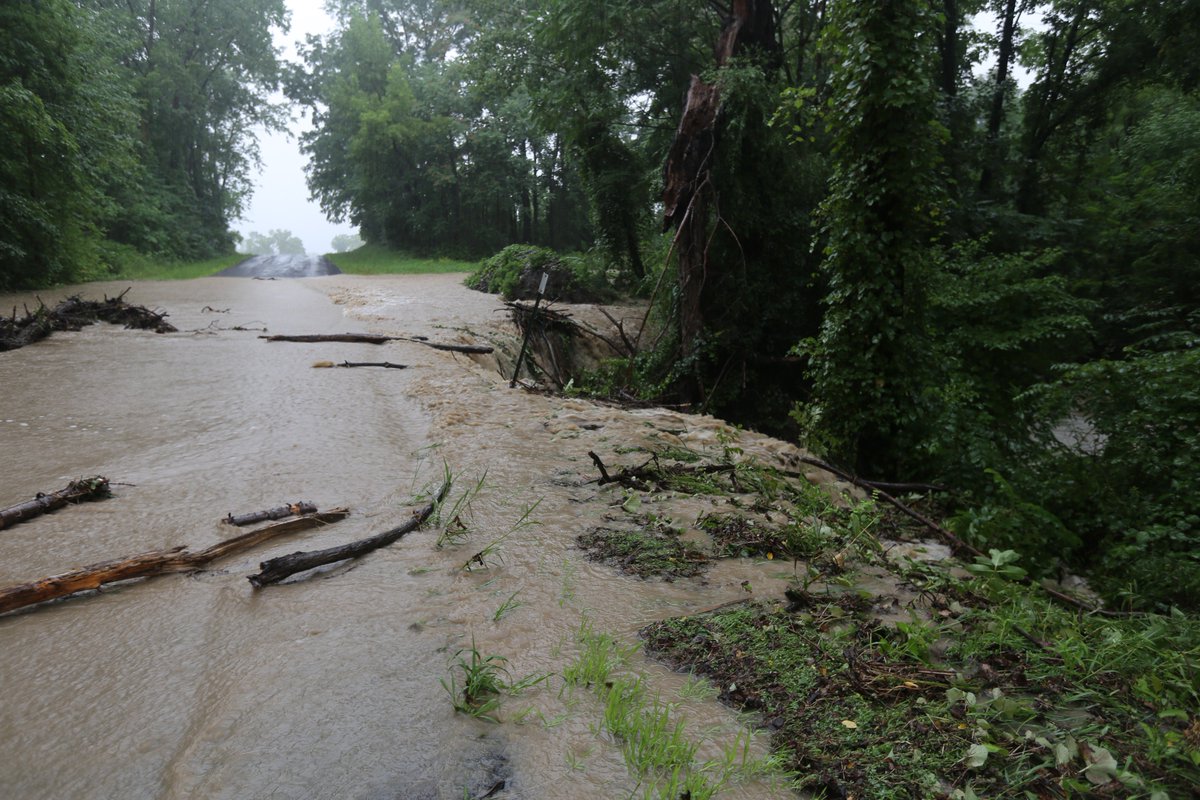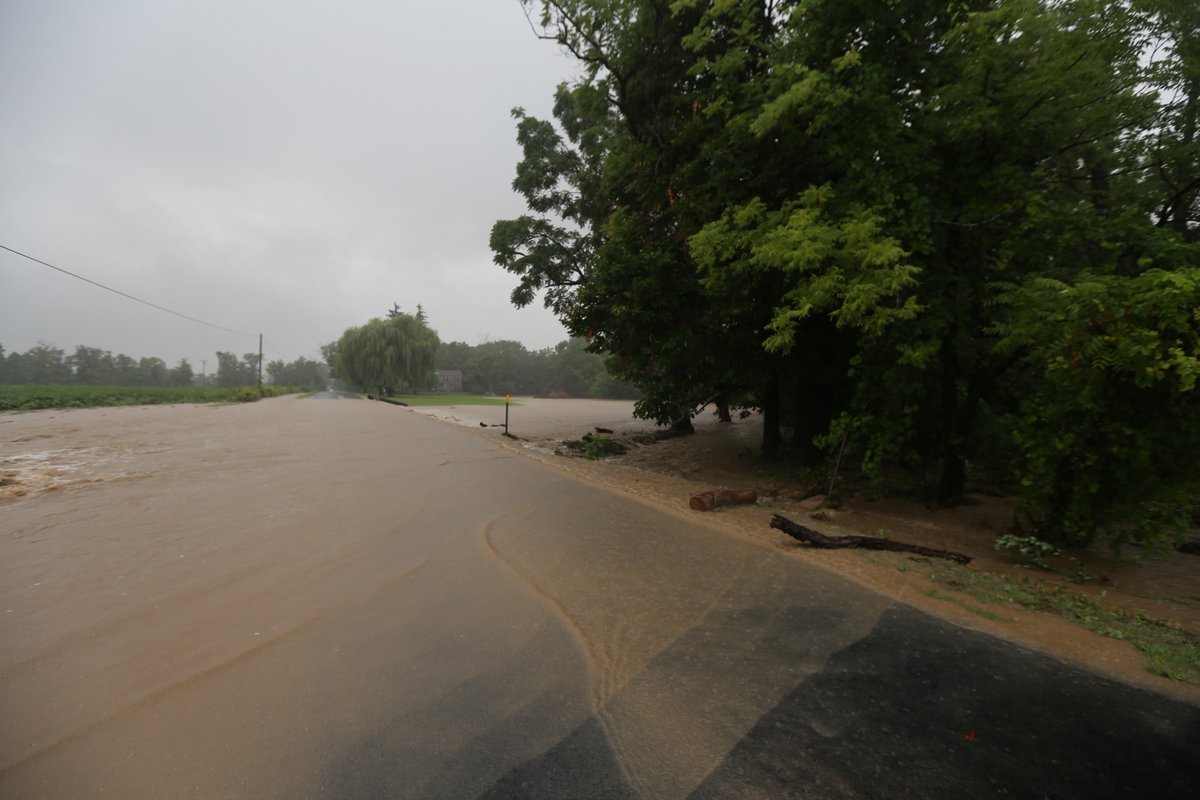 This story will be updated as more information becomes available.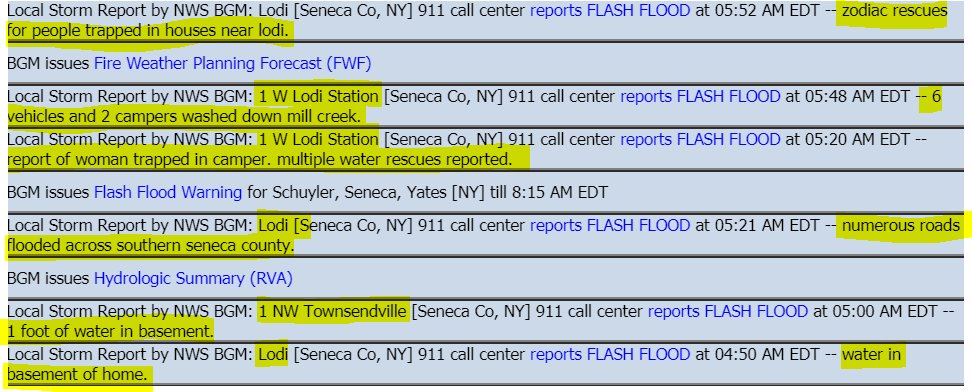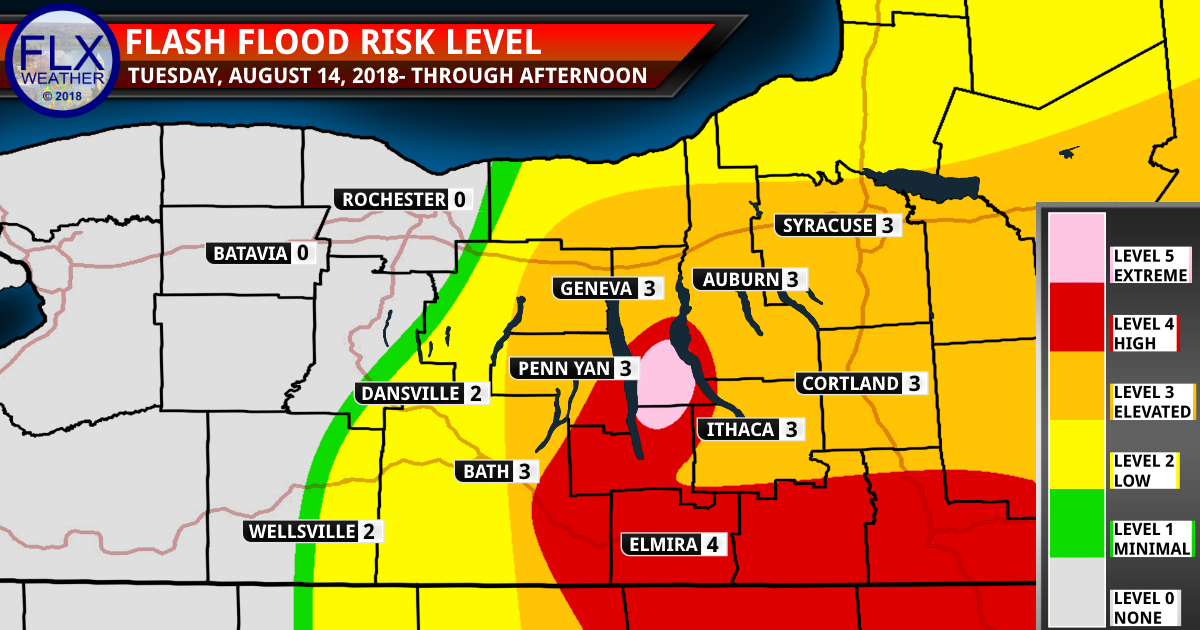 For the latest check out the FingerLakes1.com Weather Center.