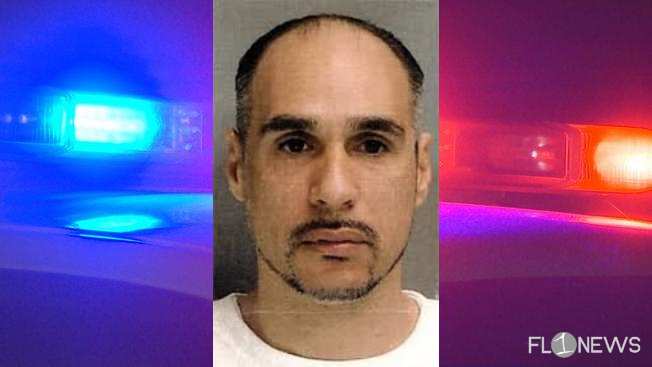 Seneca County Sheriff Tim Luce and Undersheriff John Cleere say that while it took a great deal of effort an Elmira-area parolee was apprehended on Wednesday after he escaped custody at the law enforcement center in Romulus.
How it all happened
Around 7 am investigators assisted New York State Parole Officers with trying to locate 43-year-old Robert Wilson, who was on parole from the Elmira area.
Wilson was wanted for absconding about eight months ago, according to Luce. He says Wilson was released on parole related to a number of charges including first-degree assault, first-degree robbery and promoting prison contraband.
While investigators were in Ovid, they learned that Wilson was possibly at a residence in the Town of Seneca Falls.
Around 8:30 am multiple departments converged on a Green Street address, where he was thought to be located. Luce says Wilson jumped out of the second story window at that address; and was ultimately arrested – after 'violently' resisting.
He was brought under control and escorted to the Law Enforcement Center in Romulus, which is connected to the Seneca County Correctional Facility.
Around 9:50 am he was handcuffed to a bench at the law enforcement center, while officers drew up charges. Luce says Wilson slipped the cuffs he was in, by injuring his own hands and wrists. He then fled the building and entered a nearby cornfield.
Deputies pursued and witnessed the escape, and followed Wilson to the intersection of State Route 96 and Bromka Road in Romulus. A perimeter was established around the cornfield with all available officers from the sheriff's office.
A drone was used to spot Wilson around 10:25 am, at which point he fled and was apprehended by officers at the perimeter. Luce says Wilson again violently resisted arrest – but was ultimately arrested.
He was ultimately charged with two counts of resisting arrest, first-degree escape, and obstructing governmental administration. He was also charged with violating parole.
---
Undersheriff John Cleere provides an update
'Proud and amazed' at the way his deputies conducted themselves bringing the situation under control. Those were his feelings after the day's events unfolded in Ovid, Seneca Falls, and Romulus.
"Every Officer dropped what they were doing and responded. Corrections Officers came out of the facility to help before being asked. The State Police supplied manpower at a moment's notice," Cleere explained. He said that a state police captain happened to be in the area, and immediately provided assistance with establishing a perimeter after the incident at the law enforcement center. "Everyone worked together under the direction of our Criminal Investigation Unit Lieutenant Tim Thompson."
He noted that Thompson's experience and leadership made a big difference as the incident was unfolding. "Sheriff Luce is huge on training and has increased our training hours significantly since being elected," he added.
Today that training paid off.
Undersheriff Cleere said that the 911 Center's role in today's incident was also pivotal. "They are key in keeping the scene organized – similar to what an air traffic controller would do. They often get overlooked int he important role they play."
He noted that a Hyper-Reach notification was started, but not completed due to the quick capture of Wilson. Cleere said that the 911 Center was quick and responsive to getting that information out to nearby residents who could've been impacted by Wilson's escape.
Cleere also said a situation like this one poses challenges for a variety of reasons. "A situation like this is extremely volatile," he added. "The suspect was a dangerous, violent felony offender and the risk to the public was on the back of everyone's mind."
The Undersheriff noted the sheer volume of space in play, given that the corn field bordered State Routes 96, 414, and Bromka Road.
"I always knew our people were good – but today I saw how good," continued Cleere.
The Undersheriff did point out that weaknesses were recognized in Wednesday's incident. "We recognized a weakness in our suspect detainment system before they enter the Correctional Facility. We have come up with some preventive measures to keep this from happening again and will be modifying our restraint systems," he added. "The challenge with a municipal building is that they are designed for people to run out of quick in case of fires."
---
---
For the latest news and information on your smartphone or tablet – download the FingerLakes1.com App from the App Store or Google Play Store