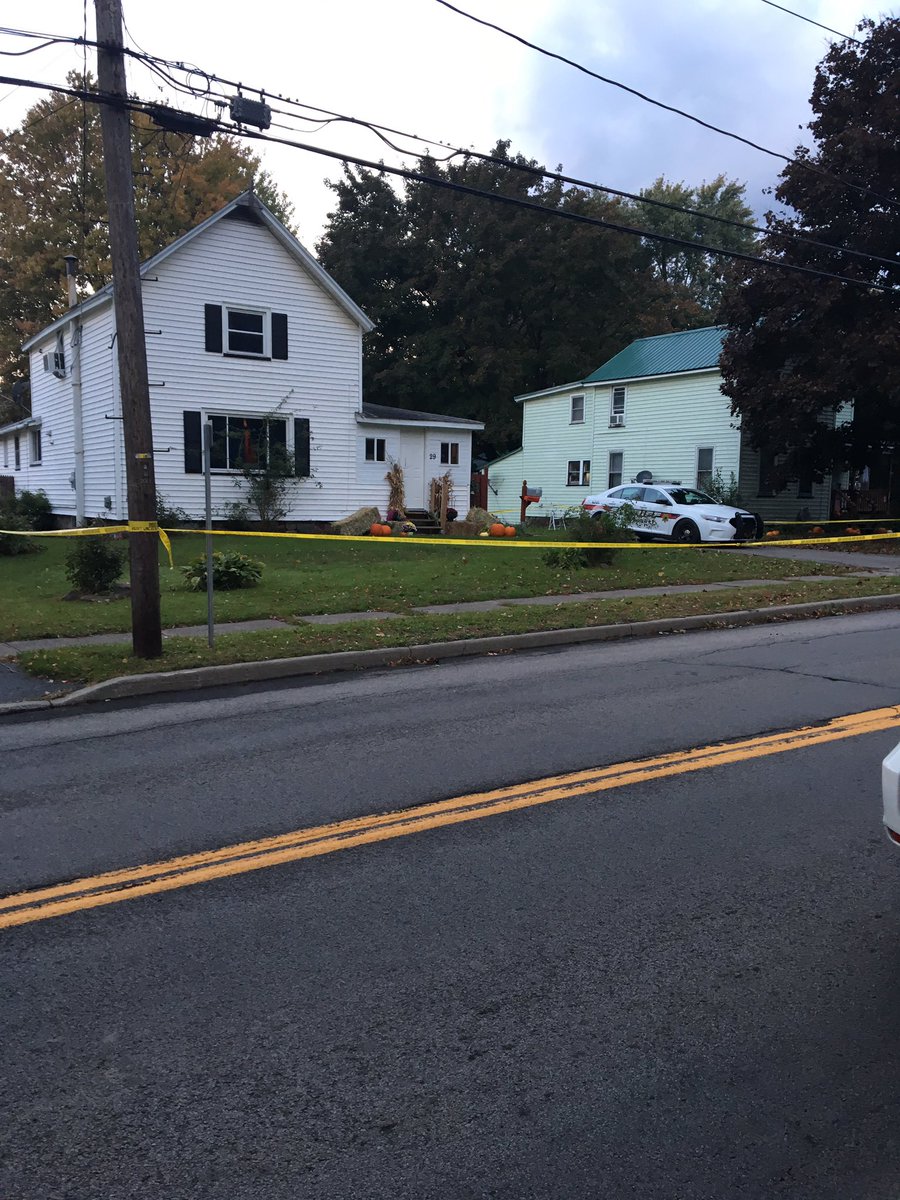 Sheriff Barry Virts reports that the search for the suspect wanted in connection with yesterday's double homicide are being scaled down.
He says deputies do not have anyone in custody at this time.
The investigation and officer presence in the immediate vicinity and in the Village will continue as long as necessary, according to the department, who notes that canvassing efforts will continue.
"The investigation is transitioning into a different phase where investigators continue following leads and have submitted evidence collected at the scene for forensic analysis," the department said in an update.
They say school officials are in close communication with the Sheriff's Office; and that resource officers continue working toward maintaining their existing presence.
Virts asks that the public remain alert and report anything that seems unusual.
The department also says that regular updates will cease; and only updates will be released if new information is obtained.
Follow along below as we update with a complete timeline, as new information becomes available.
Initial reports for a 'shooting' with multiple victims was received by first responders around 2 p.m. on Monday.
The scene was identified as a residence on Carlton St., which was quickly shut down, as residents were told to shelter in place.
Sodus schools were placed on lockdown, but students were returned home by 5 p.m. on Monday.
In an update around 7 p.m. on Monday, authorities said that the gunman remained at-large, and that the search would continue into the night. Residents were told to remain alert and report anything suspicious to 911.
In that same update, authorities confirmed that a man and woman, who had a first grade student with autism in the Sodus Central School District were killed in the violent incident on Monday.
Around 7:30 p.m. State Route 104 was temporarily closed between North Centenary and Pratt roads. It's unclear if that was related to the search for the gunman. Witnesses say they observed a large police presence in that area of Route 104.
On Tuesday, the Sodus Central School District announced that all classes would be cancelled as authorities continued searching throughout Wayne County for the missing gunman.
Around 8:30 a.m. helicopters could be seen in the sky over Sodus, as the manhunt continued for the unknown assailant, who was last seen in a gray hoodie.
Victims in Sodus double homicide were identified by authorities late Tuesday morning as Joshua Niles, 28, and Amber Washburn, 24, both of 29 Carlton Street in the Village of Sodus.
Children in the victim's family are being cared for by relatives. Both Niles and Washburn are natives of Newark; and graduates of Newark High School. Reports indicate that the two had a child together; and had moved to Sodus to start a life together before Monday's double homicide.
The Sheriff's Office continues to follow leads and tips and hopes to allow residents in the Sodus and East Williamson community to assume a relatively normal routine by early afternoon.
This timeline will continue to be updated as the day progresses. Follow along below for more coverage of the investigation, with reports from the ground.
---
More Coverage:
– Two shot dead in Sodus, suspect at large (CNY Central)
– Remembering the victims: Six murdered in Sodus over the last 13 months
– Click here to watch Monday night's press conference in Sodus
– Double homicide investigation underway in Wayne County (Canandaigua Messenger)
– Sodus double homicide: Search continues for male shooter (D&C)
– Man, woman fatally shot in Sodus; shelter in place alert issued for residents (Syracuse.com)
– Two shot dead in Sodus, suspect at large (13WHAM)
– UPDATE: Active search for gunman behind double homicide in Sodus (WHEC)
– Deputies confirm 2 people shot and killed in Sodus (WSYR)
---
Witness: Anthony Mancine lives across the street from Joshua Niles and Amber Washburn. He says he was outside in his yard and saw them both get shot. While Mancine called 911, he saw the suspect sprint down the road. He's not sure if the suspect is a man or a woman @News_8 pic.twitter.com/B5EN67Qi7n

— Jeannie McBride (@jeanniemcbride_) October 23, 2018
Happier times. Amber Washburn, Joshua (Josh) Niles, and their baby son.
Deputies identified Amber and Josh as the victims in Monday's double homicide in Sodus @News_8 pic.twitter.com/Nu3rZ2nJFt

— Jeannie McBride (@jeanniemcbride_) October 23, 2018
Who are the people shot and killed in Sodus? They were both from #Newark. @SPECNewsROC pic.twitter.com/3IfOiX0M3u

— Jim Aroune (@JimAroune) October 23, 2018
The latest from Sodus: Deputies say Joshua Niles and Amber Washburn were shot and killed in a targeted attack. The suspect is still at large; the general public is not in danger. https://t.co/D8P62Dm17S pic.twitter.com/irxSyRLp3b

— news10nbc (@news10nbc) October 23, 2018
Amber Washburn and Joshua Niles. Deputies said both were both shot in the driveway of a home on Carlton Street in Sodus around 2PM. Just spoke with Joshua's brother, "I dont know when anyone is going to be ready to make any kind of statement at this time." @CNYcentral pic.twitter.com/SFzfskqFbX

— Tarrah Gibbons (@TarrahGibbons) October 23, 2018
UPDATE: Friends share photos of Joshua Niles and Amber Washburn, the couple killed in a Sodus double homicide https://t.co/4itMps8f5z pic.twitter.com/m4bnYPjQQw

— 13WHAM (@13WHAM) October 23, 2018
Update: First movement in the air this morning since helicopter was used last night in search for shooter in Sodus double homicide. Schools closed today; neighbors asked to stay inside homes. Helicopter taking small passes in same area. Live updates during GMA on @NewsChannel9. pic.twitter.com/SprYCHKwvk

— Farah Jadran (@FarahJadran) October 23, 2018
Wayne County Sheriff's vehicle outside 29 Carlton St. Sodus, site of yesterday's homicide. pic.twitter.com/68flWoCOMc

— Tina MacIntyre-Yee (@tyee23) October 23, 2018
Parents: We're Working to learn how school will resume as this active search for a shooter in Sodus continues. Stay with @13WHAM for the latest @SodusSchools pic.twitter.com/kHxYST7fES

— Samantha (@SamanthaMM_) October 23, 2018
3 other New York State Police and Wayne County Sheriff's Deputies have arrived at the scene. An officer is now talking to a next door neighbor @News_8 pic.twitter.com/czUEFE0AXa

— Jeannie McBride (@jeanniemcbride_) October 23, 2018
Neighbors tell me they took the young son of the two killed in yesterday's shooting into their home to give him a warm place to stay. The boy has autism and his teacher was a big help knowing what foods he could eat and what he needed. He is now with his grandmother @SPECNewsROC pic.twitter.com/HokPSQ4FK3

— Jillian Parker (@TVJillianParker) October 23, 2018
Suspect in double homicide ran from scene wearing "dark hooded sweatshirt and a green hat," Sheriff's Office says. Confirms double homicide, but no IDs until next-of-kin notified.

— Gary Craig (@gcraig1) October 22, 2018
Witness talks about shooting in #Sodus @news10nbc Confirms A DOUBLE homicide investigation is underway @WayneCoSheriff #breaking https://t.co/cR9hhC92UY
(Via News10NBC) pic.twitter.com/cwGvZDEgNb

— beth cefalu (@whec_bcefalu) October 22, 2018
---
This story will be updated as more information becomes available. For the latest information, including breaking news alerts on your smartphone or tablet – download the FingerLakes1.com App from the App Store or Google Play Store