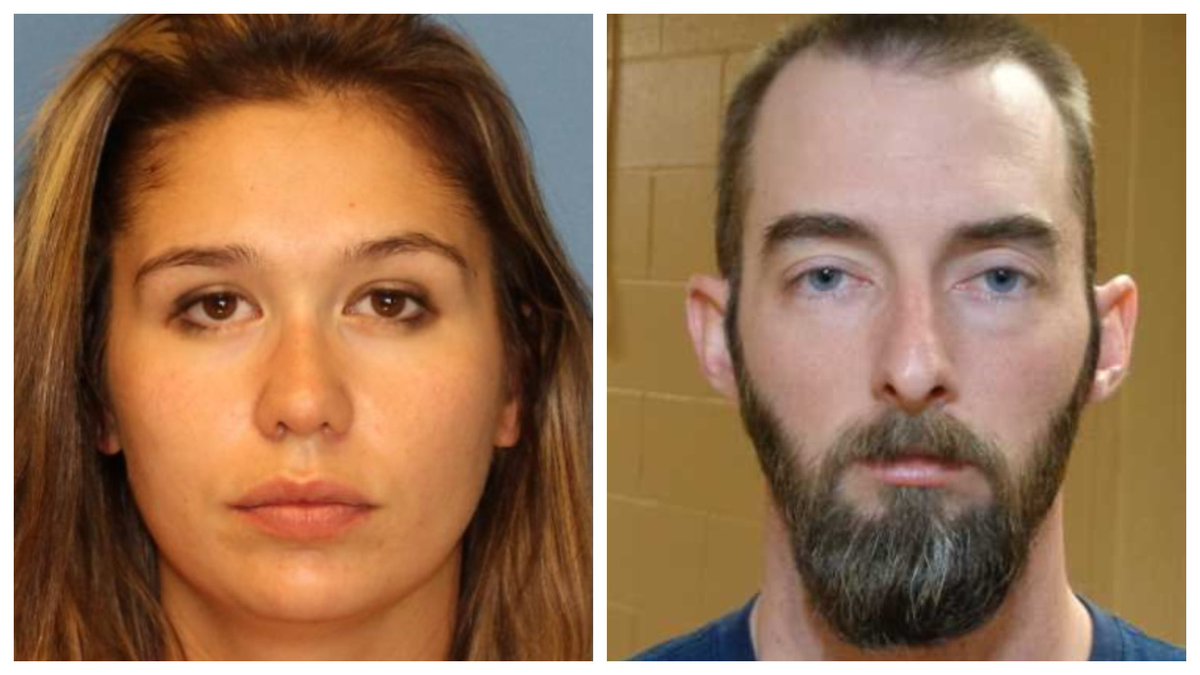 Arrests have been made in the double homicide that rocked the Village of Sodus last month.
In late-October, 24-year-old Amber Washburn and 28-year-old Josh Niles were murdered in broad daylight. Their four-year-old son witnessed the tragedy.
On Monday night at a press conference Wayne County Sheriff Barry Virts announced that Niles' ex-wife, 25-year-old Charlene Childers, and her boyfriend, 32-year-old Timothy Dean had been charged.
Investigators believe the duo planned the killing together; and then Dean pulled the trigger.
Virts confirmed that they believe it had to do with a custody battle that Niles recently won against his ex, gaining custody of their two children.
In addition to the child Niles had with Washburn – the 28-year-old also had two children with Childers, who had moved to Texas, according to reports.
Dean also faces charges in Texas. He was the chief of a small police department, from which he resigned after charges of abuse against a child surfaced.
Childers was arraigned on charges of conspiracy and criminal possession of a weapon. She is being held on $100,000 bail at the Wayne County Jail.
She faces a maximum of 25 years in prison for the conspiracy charge.
Dean on the other hand, faces first- and second-degree murder charges. It could mean life behind bars. "Our deputies worked tirelessly to bring this to the arrest but right now, I need to emphasize this investigation is still ongoing and developing," said Sheriff Barry Virts.
The kids are in the care of a family member, according to Virts.
Childers will appear in court on Tuesday. However, Dean hasn't been taken into custody yet. A warrant has been filed, but it's unclear when he will be extradited back to Wayne County – from Texas.
Sheriff Virts announcing charges against ex wife of Josh Niles, Charlene Childers, with conspiracy and criminal possession of a weapon. Her husband, Tim Dean, has been charged with murder, among other charges, in relation to Sodus double homicide. @News_8 pic.twitter.com/rtQHVgWUfB

— Ashley Edlund (@AshleyEdlund) November 6, 2018
---
More Coverage
– Two facing charges in Sodus double homicide (CNY Central)
– Two charged in double homicide (Canandaigua Messenger)
– Dean, Childers facing charges in Sodus slayings (D&C)
– Wayne County sheriff announces 2 arrests in Sodus double homicide (Syracuse.com)
– Two facing charges in Sodus double-homicide (13WHAM-TV)
– Deputies: Sodus suspects planned killing (WHEC-TV)
– UPDATE: Two charged in Sodus double homicide (WSYR-TV)
– Two Facing Charges in Sodus Double Homicide (Spectrum – Rochester)
---
Press Conference Video