Governor Andrew Cuomo has a 51-43 percent favorability rating among registered voters, up from a negative 45-49 percent favorability rating in November among likely 2018 voters.
The Assembly has a 48-32 percent favorability rating – its best ever – up from negative 40-43 percent in June with likely voters, while the State Senate has a 49-38 percent favorability rating, just shy of its best ever, up from negative 41-45 percent in June with likely voters, according to a new Siena College poll of New York State registered voters.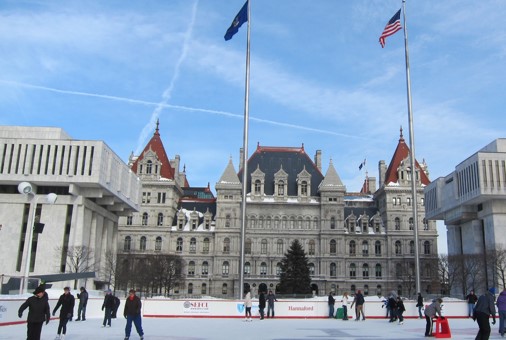 New Yorkers disapprove of the recent decision by the pay raise commission to increase the salary of legislators and restrict their outside income and limit stipends by a 57-35 percent margin. By an overwhelming 80-15 percent margin, voters say the Legislature should not approve the pay commission's recommendation to increase salaries for state leaders. Infrastructure replaces taxes as the top issue voters want the governor to focus on this year. And there is strong to overwhelming support for many initiatives on Cuomo's 2019 agenda.
"As he begins his third term, Andrew Cuomo moves back into positive territory, with a small majority of voters, 51 percent, viewing him favorably, although it's a far cry from the 70 percent favorability rating he had beginning his first term and even the 60 percent favorability rating he had beginning his second term," said Siena College pollster Steven Greenberg. "More than two-thirds of Democrats view Cuomo favorably, while independents are divided and three-quarters of Republicans view him unfavorably.
"Clearly, the Governor's efforts to highlight his opposition to the President and push what he calls 'the most progressive agenda' in state history is resonating with New Yorkers since more now call him a liberal and fewer call him a moderate or conservative than ever before," Greenberg said. "While his job performance rating is up from the middle of last year, it still remains under water, with 43 percent saying he's doing a good or excellent job as governor, compared to 56 percent rating his job performance as only fair or poor."
Legislature Starts the Year with Stronger Favorability Ratings than Governor
"While Cuomo has an eight-point net positive favorability rating, the Senate has an 11-point net positive favorability rating and the Assembly has its best favorability rating ever, net positive 16 points," Greenberg said. "The Senate and the Assembly are each viewed favorably by a strong majority of Democrats and a plurality of independents. But a majority of Republicans views the Assembly unfavorably and an even bigger GOP majority views the Senate unfavorably.
"Both legislative leaders are largely unknown to more than two-thirds of voters. Speaker Carl Heastie has a nearly break-even 14-15 percent favorability rating, while Senate Majority Leader Andrea Stewart-Cousins has a 20-12 percent favorability rating," Greenberg said.
New Yorkers Don't Like Pay Raise for Legislature, Even with Limits on Outside Income & Stipends
"Although Democrats are evenly divided about the pay commission's recent recommendation to raise legislative pay, even as it imposes limits on outside income and vastly reduces the number of legislative leadership stipends, 78 percent of Republicans and 62 percent of independents disapprove," Greenberg said. "Forty-nine percent of New York City voters, 56 percent of downstate suburbanites and 68 percent of upstaters disapprove of the pay raise.
"When it comes to the Legislature approving a raise for the governor and other state leaders, New Yorkers overwhelmingly say you shouldn't do it," Greenberg said. "That includes nearly three-quarters of Democrats and about 90 percent of Republicans and independents."
"Taxes, which was the top issue New Yorkers wanted the Governor focused on at the beginning of last year, dropped to fourth place at the beginning of this year, while infrastructure jumped from the fourth spot to top issue," Greenberg said. "Health care and education retained the second and third spots respectively. Jobs, the top issue four years ago, retains its fifth-place position, while ethics reform and criminal justice continue to round out the bottom of the list."
Half Dozen Cuomo 2019 Initiatives – Some Old; Some Newer – Enjoy Overwhelming Support
"Enacting the Child Victims Act and increasing the waiting period for a gun from three to 10 days are each supported by three-quarters of New Yorkers," Greenberg said. "Republicans support that gun law by 28 points."
"Making the property tax cap permanent, enacting GENDA, banning corporate political contributions, and codifying Roe v. Wade in New York law are each supported by more than 60 percent of New Yorkers," Greenberg said. "Other proposals advanced by Cuomo – including legalizing the recreational use of marijuana, passing the Dream Act and instituting congestion pricing in Manhattan to help fund the MTA – are each supported by a significant majority of New Yorkers, just not quite as strongly as some of the other proposals."
New Yorkers More Optimistic About Direction of State Compared to Before Election Day
"New Yorkers say the state is headed on the right track by a 49-40 percent margin, up from likely voters in November thinking the state was headed in the wrong direction, 47-40 percent," Greenberg said. "Downstaters, particularly those from the City, are more optimistic about the state's direction and upstaters are less pessimistic."