Five Syracuse players scored double-digits Monday night as Syracuse (12-5, 3-1 ACC) stunned No. 1 Duke (14-2, 3-1 ACC) in a 95-91 overtime victory at Cameron Indoor Stadium. The victory is the first for the Orange over a No. 1 ranked opponent since Jan. 19, 2013 when the Orange defeated Louisville 70-68, and the first on the road since Feb. 2, 1999 against UConn.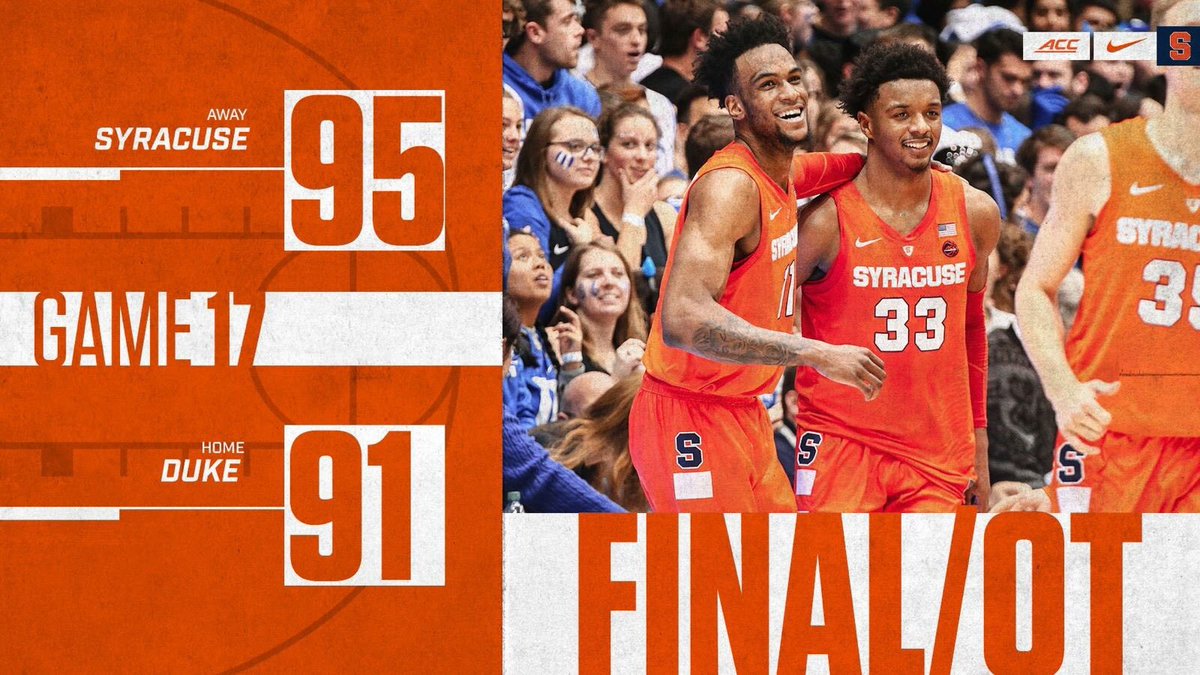 Tyus Battle was dominant with a team-best 32 points on a 12-of-28 shooting performance. Hughes contributed 20 points for the third time this season and his 10th consecutive double-digit scoring game. Frank Howard and Paschal Chukwu came up big for the Orange in the second half with 16 and 10 points, respectively. Chukwu posted a career-high 18 rebounds, marking the most by an individual in the ACC this season.
Duke was led by Zion Williamson's career-high 35 points, the most by a Duke freshman in a single-game. Williamson paired his record shooting performance with 10 rebounds for a double-double.
HIGHLIGHTS:
COACH BOEHEIM POSTGAME:
MORE COVERAGE:
– A look at the plays that led to Syracuse's upset of No. 1 Duke (Daily Orange)
– Syracuse's Elijah Hughes hits a ridiculous full-court shot at Duke (Syracuse.com)
– Superlatives from Syracuse's 95-91 win over No. 1 Duke (Daily Orange)
– Three takeaways from Syracuse's upset win over Duke (NunesMagician.com)
– Best and worst from Syracuse basketball's huge road win at Duke (Syracuse.com)
PLAYER INTERVIEWS:
MORE REACTION:
You were saying?? pic.twitter.com/aNENXV9j4v

— Syracuse Basketball (@Cuse_MBB) January 15, 2019
In the Jim Boeheim Era ('76-77 to present), WINS _AT_ No. 1:
North Carolina 4 (Duke 3x)
UCLA 4 (last in '16)
Villanova 3 (last in '95)
Syracuse 3 ('99 UConn, '13 Lville, tonight Duke). #OrangeNation

— Matt Park (@MattPark1) January 15, 2019
See more photos from SU's stunning win over No. 1 Duke at Cameron Indoor Stadium https://t.co/AMEWxRgrDH pic.twitter.com/i0mjgMG2Vl

— Syracuse Basketball (@syrbasketball) January 15, 2019
We make the impossible possible https://t.co/AttUHl80KH

— Derrick Coleman (@44TheLegend) January 15, 2019
Told everyone all day that Cuse was about to shock the nation tonight and they all laughed…. Who's laughing now 🤷🏻‍♂️ #CuseNation 🍊🧡💙

— Joseph Girard III (@JG3_____) January 15, 2019
---
PREVIEW:
Syracuse has a quick turnaround as it heads to Durham, N.C. to face top-ranked Duke on Big Monday tonight. Tip time is set for 7 p.m. The game will be televised on ESPN and on the Watch ESPN app. Fans can also listen to the live broadcast on the Syracuse IMG Radio Network.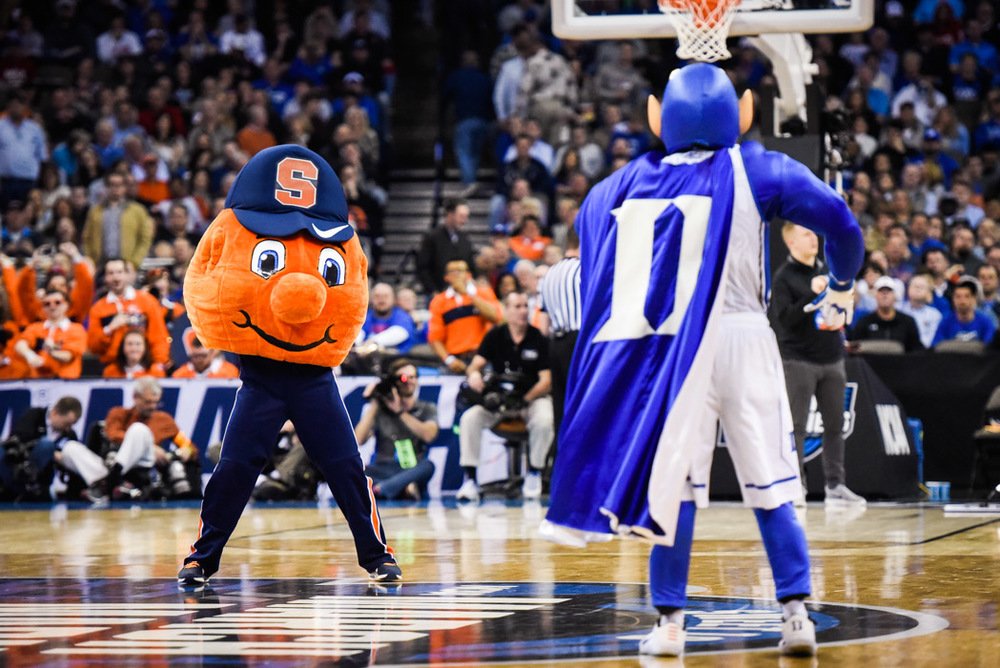 Syracuse had its four-game winning streak snapped in a 73-59 setback to Georgia Tech in the Carrier Dome on Saturday. It was the Orange's first loss in ACC play after winning their first two conference games of the year. Syracuse enters Monday's game with an 11-5 overall record.
Duke needed a last-second 3-pointer to defeat Florida State, 80-78, on Saturday in Tallahassee. The top-ranked Blue Devils extended their winning streak to nine and improved their record to 14-1 overall, 3-0 in ACC play.
– Orange, #1 Duke clash on Big Monday (Cuse.com)
– What channel is Syracuse vs. Duke on? TV, time, live stream (Syracuse.com)
– Syracuse can salvage season in conference play (Daily Orange)
– How does Syracuse prep for Duke after disappointing loss to GTech? (Syracuse.com)
– Q&A: Stephen Wiseman of The News & Observer breaks down Syracuse-Duke (Daily Orange)
– Beat writers predict Duke to handle Syracuse on Monday (Daily Orange)
Syracuse's next opponent: What to know about No. 1 Duke, from @MatthewGut21: https://t.co/7x96lIKzjM pic.twitter.com/mizahcUuJo

— Daily Orange Sports (@DOsports) January 14, 2019
Television, live stream, radio and broadcast information for Syracuse's matchup at No. 1 Duke tomorrow for Big Monday: https://t.co/vLJByhIKtf pic.twitter.com/lq1HBQAQ52

— CuseNation.com (@SyracuseOn247) January 14, 2019
Duke Basketball: What Blue Devils fans should expect from Syracuse https://t.co/YXupIVtg1E

— Joshua Cooper (@AllDukeGang) January 14, 2019
D.O. Sportscast: Beat writers preview Syracuse's trip to No. 1 Duke: https://t.co/MavYnmHRtB pic.twitter.com/U78S1iDLOd

— Daily Orange Sports (@DOsports) January 13, 2019
SCOUTING REPORT: The Syracuse Orange are coming off of a atrocious showing on Saturday against Georgia Tech, but Duke cannot take them lightly

Everything you need to know about the Orange! #HereComesDuke https://t.co/E6Kh0FZSpT

— Ball Durham (@Ball_Durham) January 13, 2019
Monday matchup: @theACC between @Cuse_MBB & @DukeMBB. But before we get there, we spoke w/ @KevinConnelly24 of @Ball_Durham to learn about the 5 things we need to know ahead of this game. Spoiler Alert #Orange fans, you aren't going to like what you read.https://t.co/eIvw84hSb1

— InsideTheLoudHouse (@LoudHouseFS) January 14, 2019
Some of the more notable Syracuse-Duke meetings: Jim Boeheim's final collegiate game: https://t.co/dh5rgb0Hjg

— Billy Heyen (@Wheyen3) January 14, 2019