All eyes are on this weekend's major winter storm. The National Weather Service has issued Winter Storm Warnings for the system, which will dump at least a foot of snow on the entire Finger Lakes.
FingerLakes1.com will provide updates throughout the event. Following along below for the latest information from the National Weather Service.
– Click here for Local Weather Cancellations
Latest Updates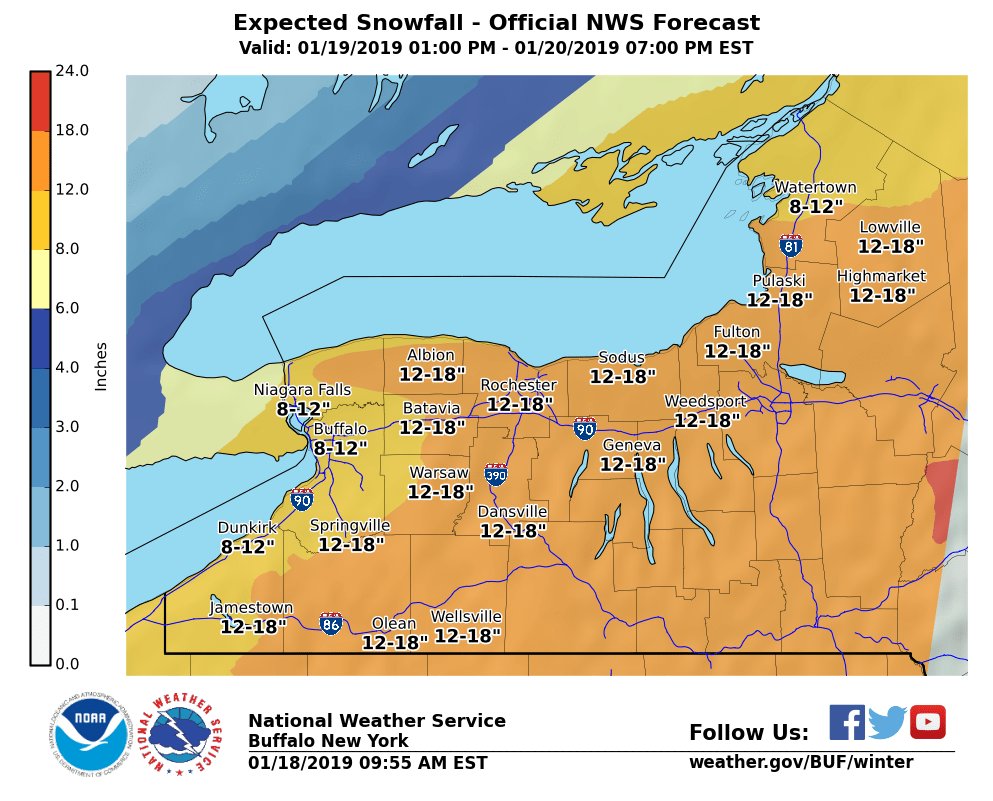 – The National Weather Service has issued a Winter Storm Warning. Travel will be treacherous throughout the region – as 12 to 24 inches of snow is expected. The Warning is active from 12 p.m. on Saturday until 4 p.m. on Sunday.
– New York State Department of Transportation banned travel on all interstates – including the Thruway for tractor-trailers, buses and large commercial vehicles. It begins at 3 p.m. and runs through the duration of the event.
– Snowfall rates of 1-2 inches per hour will be possible as the storm peaks during the overnight and Sunday morning hours.
– Blowing and drifting snow will also be a major concern with this system. Gusts as high as 35 mph on Sunday will mean treacherous conditions – even as the snow slows down later in the day.
– Extreme cold will also be a factor. Wind chills will be well-below zero on Sunday and Monday. This means that road salt will have a tough time working. It also means that exposed skin can become frost bit in mere minutes.
https://twitter.com/AAA_WCNY/status/1086315056072216577
Blueprint of MAJOR WINTER STORM that will continue from Plains through Northeast w/ multiple hazards. It'll be a very effective snow producer for Plains & Northern New England w/ pixie dust like snows in spots. Some significant ICING along the southern fridges esp. New England. pic.twitter.com/LOpUo8BDHw

— Jim Cantore (@JimCantore) January 18, 2019
Snow will pick up in intensity through tomorrow afternoon & early evening. Expect the heaviest snow tomorrow night. Into Sunday, it transitions to lake effect snow, with blowing and drifting snow.

We could see 12"+ of snow by late Sun. / early Mon. pic.twitter.com/SWWMg97gTh

— Marty Snyder 13WHAM (@MartySnyder13) January 18, 2019
Winter Storm Warnings: ALL of Western and Central NY this weekend. Snow begins Saturday morning over WNY and spreads east of Lake Ontario in the afternoon.
***HEAVIEST snow and HIGHEST impact Sat night.
But that's not all! Expect significant sub zero wind chills Sun-Mon. pic.twitter.com/XQMeDVOvPI

— NWS Buffalo (@NWSBUFFALO) January 18, 2019
A strengthening storm system will track east from the Great Plains today and produce widespread hazardous winter weather from the Midwest into the Northeast through the weekend. An outbreak of arctic air will follow on the heels of this system. pic.twitter.com/smS0ePO7OZ

— NWS WPC (@NWSWPC) January 18, 2019
MAJOR WINTER STORM THIS WEEKEND: Latest briefing at https://t.co/r3p1X7W6Bt; details include snow/ice amounts, ranges, + Arctic cold that immediately follows. Meanwhile… some slick roads possible this morning due to light snow (~1-2" from overnight into early today). pic.twitter.com/QaapwIdc0N

— NWS Binghamton (@NWSBinghamton) January 18, 2019
🚨WINTER STORM ALERT🚨
How much snow will happen from the storm?
How cold will the wind chill get by Monday?
Read & RETWEET: https://t.co/FXGYav3a6O pic.twitter.com/ZhmiSjyBMM

— Peter Hall (@PeteWeatherBeat) January 18, 2019
---
Today
Heavy snow. Travel will be treacherous.
High: 19
Low: 12
Sunrise: 7:37 a.m.
Sunset: 5:06 p.m.
---
Extended Forecast
Saturday
Light snow during the morning. Then turning heavy during the afternoon and evening. High near 19. Northeast wind 8 to 10 mph.
Sunday
Heavy snow. High near 13. Northeast wind 6 to 9 mph. Chance of precipitation is 100%.
Martin Luther King Jr. Day
Snow. Areas of blowing snow after 9am. High near 13. Chance of precipitation is 100%.

Tuesday
Snow showers likely. Cloudy, with a low around 23. Chance of precipitation is 60%.
Wednesday
Rain and snow showers likely. Cloudy, with a high near 39. Chance of precipitation is 60%.
Thursday
A chance of snow. Mostly cloudy, with a high near 28. Chance of precipitation is 50%.
See the latest extended forecast, as it's updated over at the FingerLakes1.com Weather Center.