With his fifth double-double of the season, Oshae Brissett highlighted Syracuse's (16-6, 7-2 ACC), 65-56, win at Pittsburgh (12-10, 2-7 ACC) Saturday evening.
Brissett had a game-best 18 points, finishing the night 6-of-9 from the floor. His 12 rebounds narrowly missed matching a career-high of 14. Frank Howard came up big with three 3-pointers on his way to a final stat line that included 15 points, four steals, three rebounds and two assists. Paschal Chukwu rounded out the trio with double-digit point totals, putting up 10 of his own on an efficient 4-of-5 shooting performance. He also made his presence known on the boards, nabbing eight.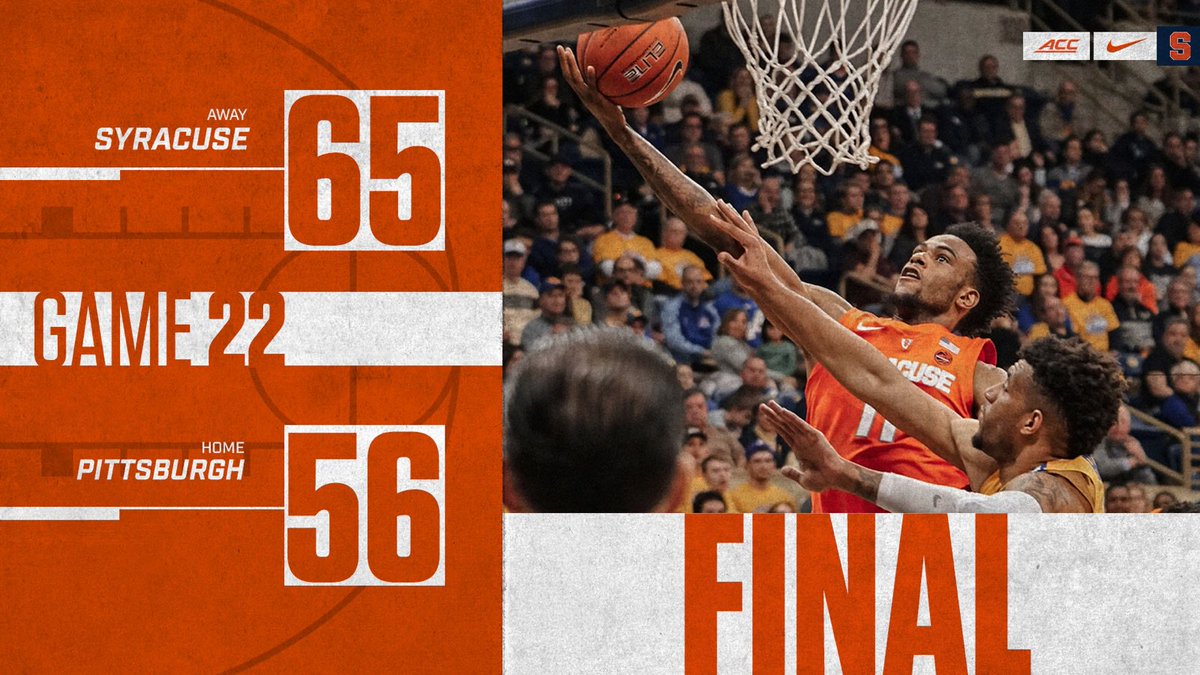 HIGHLIGHTS:
COACH BOEHEIM POST GAME:
MORE COVERAGE:
– Box score: Syracuse basketball at Pittsburgh (Syracuse.com)
– Gallery: Syracuse defeats Pitt, 65-56, to 3-game end road trip (Daily Orange)
– Best and worst from Syracuse's win at Pittsburgh (Syracuse.com)
– Tyus Battle's 6-point showing just a blip in 65-56 win at Pittsburgh (Daily Orange)
– Syracuse escapes, Battle struggles and more takeaways from Syracuse's 65-56 win at Pitt (Daily Orange)
– Three takeaways from Syracuse's win over Pittsburgh (NunesMagician.com)
– The Final Word: Beat writers discuss win and the 5-year anniversary of Tyler Ennis' game-winner (Daily Orange)
Another road dub 👊

5-1 on the other guys' floors this season. pic.twitter.com/YgoSO48Hsr

— Syracuse Basketball (@Cuse_MBB) February 3, 2019
The Pitt dirt sheet on Syracuse. Some major shade and disrespect @OaklandZoo pic.twitter.com/yNKTwdH92y

— James Szuba (@JamesSzuba) February 2, 2019
Road dub ✅ pic.twitter.com/LVQ7x0tE5x

— Syracuse Basketball (@Cuse_MBB) February 3, 2019
---
PREVIEW:
Syracuse and Pittsburgh will meet for the second time in two weeks when the Orange visit the Petersen Events Center on Saturday. Tip time is set for 6 p.m. The game will be televised on ESPN2 and on the Watch ESPN app. Fans can also listen to the live action on the Syracuse IMG Radio Network.
Syracuse defeated Boston College, 77-71, in Chestnut Hill on Wednesday night, improving its record to 15-6, including a 6-2 mark in ACC play. The Orange have now won four of their last five contests and eight of their last 10.  Read more from Cuse.com
– Syracuse vs. Pitt: TV/streaming, time, odds, history & more (NunesMagician.com)
– Beat writers predict Syracuse to beat Pittsburgh by single digits (Daily Orange)
– SU's free throw disparity in ACC play is getting worse (LINKS) (NunesMagician.com)
– Syracuse basketball at Pittsburgh: 10 Things to Watch For (Syracuse.com)
– Syracuse vs. Pittsburgh preview: Five things to watch (NunesMagician.com)
– Syracuse basketball betting line: Orange a small favorite at Pittsburgh (Syracuse.com)