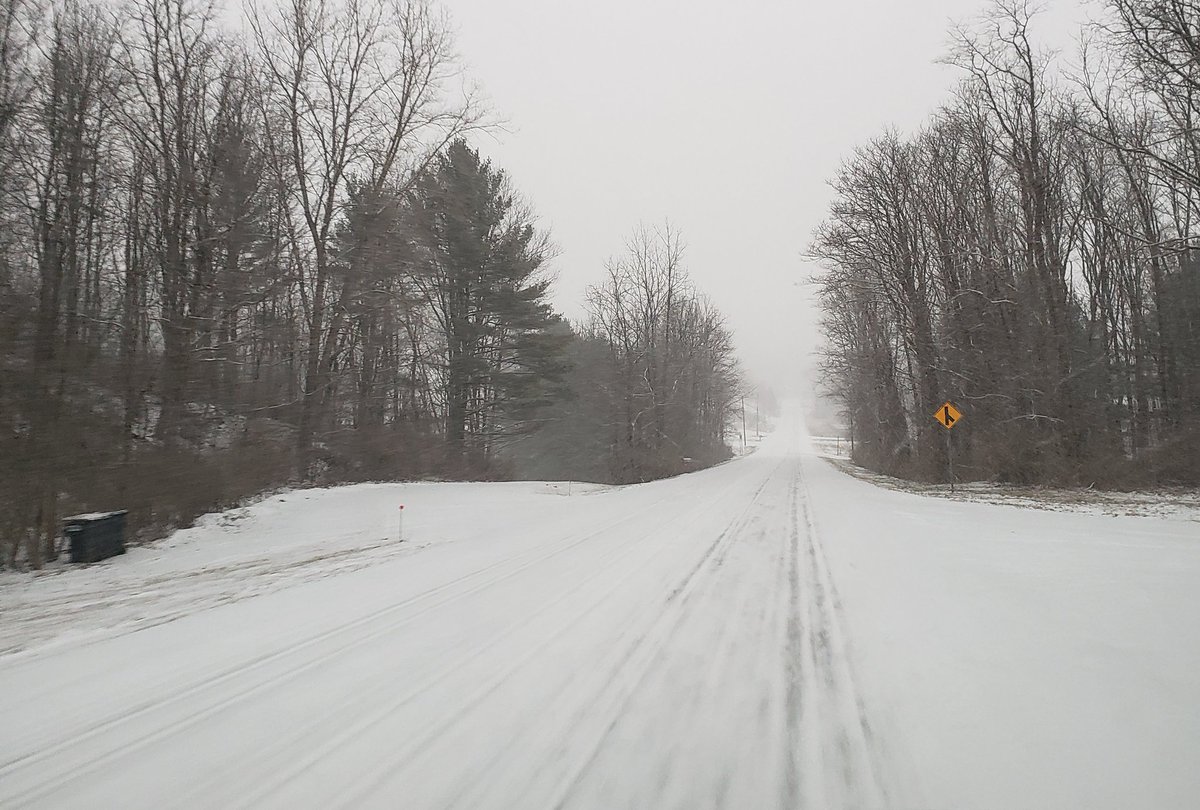 It wasn't the biggest snowmaker of the season, nor was it a duration event that impacted residents for days-and-days.
It was definitely a storm to be taken seriously, though.
As the day progressed – a number of weather-related accidents were reported throughout the Finger Lakes.
The National Weather Service had issued Winter Storm Warnings and Winter Weather Advisories, which remain active until Wednesday morning.
The focus now shifts to winds, which will pick up overnight and produce challenges on area roadways. Another factor that will create difficulty on area roads in the next 12-24 hours will be warming temperatures and the risk for rainfall.
Quick Links
– Winter Storm Warning: Seneca, Yates, Cayuga, Schuyler, Cortland, Tompkins, and Onondaga counties
– Winter Weather Advisory: Ontario, Wayne, and Monroe counties
– Latest Cancellations & Delays: Local activities cancelled due to weather
---
Weather Related Stories
– Traffic temporarily snarled on NYS Thruway near Waterloo (photos)
– Crews work to free ATV from Sodus Bay after apparent rescue on Tuesday (photos)
– Tractor-trailer rolls over, involved in crash with another vehicle near Weedsport on Rt. 31 (photos)
– Tractor-trailer overturns on County Road 48 in Ontario County (photos)
---
Weather Related Stories
Conditions will continue to be treacherous through the evening commute. Avoid travel if necessary. #DontCrowdThePlow pic.twitter.com/RWjLqBoS6L

— NYSThruwayAuthority (@NYSThruway) February 12, 2019
#snow continues falling across the state causing treacherous driving conditions in places. If you are out on the road, use extra caution and adjust speed to the conditions.

Our plows are out there. Please give them room to work. #DontCrowdThePlow pic.twitter.com/jvhp92UOo4

— NYSThruwayAuthority (@NYSThruway) February 12, 2019
Filling the tow plow back up before heading back on the road. The tow plow is a plow truck that has a swinging tow that can clear up to 2 lanes at once. #DontCrowdThePlow pic.twitter.com/8OFtD0TTPV

— NYSThruwayAuthority (@NYSThruway) February 12, 2019
While our plows are out on the road, here's a helpful reminder: Avoid blind spots and remain at least four car lengths behind our trucks. We're out there to make the roads safer; please give our operators room to work. #DontCrowdThePlow. 👷🏾‍♀️👷🏽❄️ pic.twitter.com/FWDQDIzifX

— NYSDOT CapitalRegion (@NYSDOTAlbany) February 12, 2019
Changing over to freezing rain. Noon.
Roads are a challenge! Please drive safe pic.twitter.com/y36tVyP8J9

— Ed Traphagen (@Trapper51) February 12, 2019
Crews out on the runway at @ROCAirport dealing with some nasty weather conditions. Wind, snow & freezing rain not making things easy! @13WHAM pic.twitter.com/ZLnW0XiUGl

— Andrew Banas (@AndrewWHAM) February 12, 2019
This is the view our operators are experiencing today. As #snow continues to fall, impacting the evening commute, please use extreme caution and maintain a safe distance between other vehicles. Please avoid travel, if possible.#DontCrowdThePlow pic.twitter.com/2pTLwfi9mw

— NYSThruwayAuthority (@NYSThruway) February 12, 2019
---
Earlier Live Updates from Winter Storm