Despite Syracuse scoring a season-high regulation 85 points, #5 North Carolina topped Syracuse, 93-85, Tuesday evening in Chapel Hill. Syracuse (18-10, 9-6 ACC) was led by Tyus Battle's 29 points, a season-high in regulation, that included four 3-pointers. Additionally, the junior guard dished out five assists and led the Orange with five rebounds.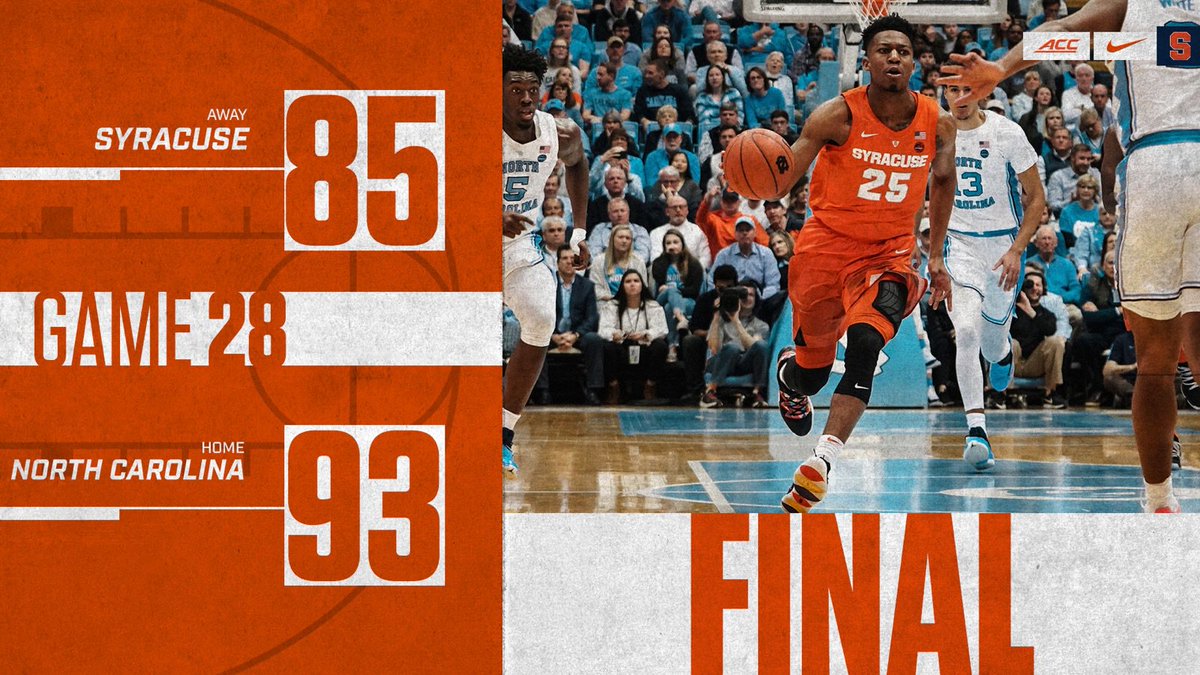 Battle and the three additional Syracuse players who notched double-digit points – Elijah Hughes, Frank Howard and Oshae Brissett, accounted for 65 of the Orange's 85 points. Hughes had 15 points, all of which came in the first half, while Howard and Brissett contributed 11 and 10, respectively.
Syracuse was unable to halt Coby White's career night that included 34 points and a perfect 10-of-10 performance at the free throw line.
HIGHLIGHTS:
COACH BOEHEIM POST GAME:
MORE COVERAGE:
– 3 takeaways from Syracuse's loss to No. 5 North Carolina (Daily Orange)
– Best and worst from Syracuse basketball's loss to North Carolina (Syracuse.com)
– Box score: Syracuse basketball at North Carolina (Syracuse.com)
---
PREVIEW:
Syracuse will face its third consecutive ranked opponent when it travels to Chapel Hill, N.C. to face No. 5/5 North Carolina. Tip off in the Dean E. Smith Center is set for 9 p.m.
The game will be broadcast on Raycom Sports, including WSTQ in Syracuse. Click here for a list of affiliates carrying the game. Live video will also be available on www.theacc.com as well as ACC Network Extra (subject to blackout). Fans can also listen to the radio call on the Syracuse Sports Network From Learfield IMG College.
Syracuse (18-9, 9-5) is coming off a 75-65 loss to then No. 1 Duke on Saturday in front of an NCAA on-campus record crowd of 35,642. The game featured seven lead changes and five ties. The Orange led by five, 34-29, at halftime, but the Blue Devils rallied in the second half for the victory. Read More
Syracuse vs. North Carolina: TNIAAM predictions & poll https://t.co/XtR1FXXyv2

— NunesMagician.com (@NunesMagician) February 26, 2019
MORE GAMEDAY LINKS:
– Syracuse vs. UNC: TV/streaming, time, odds, history & more (NunesMagician.com)
– Opponent preview: What to know about No. 5 North Carolina (Daily Orange)
– Syracuse basketball at North Carolina: 10 things to watch for (Syracuse.com)
– Syracuse vs. UNC preview: Five things to watch (NunesMagician.com)
– Syracuse's Howard Washington reveals chilling story: 'I had a stroke' (Syracuse.com)
– Syracuse vs. North Carolina Q&A with Tar Heel Blog (NunesMagician.com)
– Beat writers split on Syracuse's game at No. 5 North Carolina (Daily Orange)
– Syracuse vs. North Carolina: TNIAAM predictions & poll (NunesMagician.com)
– Orange open as big road underdog against North Carolina (Syracuse.com)
– Unpeeling Syracuse basketball: Orange vs. UNC preview (NunesMagician.com)
– Jim Boeheim, Roy Williams preview Syracuse vs. North Carolina (NunesMagician.com)