The Midlakes Lady Screaming Eagles had their quest for back-to-back sectional titles in serious jeoproday at halftime of the Section V Class B1 Girls title game at Caledonia-Mumford High School on Friday night. They trailed top seed Batavia 32-24 at halftime in front of a jam packed gymnasium at Cal-Mum. Much like they have done several times in the past, Midlakes would explode out of the locker room in the third period behind full court pressure and a took a 54-41 lead heading into the final quarter. The Screaming Eagles really stepped on the gas in the final eight minutes to finish with 55 second half points. The final score was 79-66 and the celebration was on for Nate Rich and company as they recorded their second straight Sectional Championship.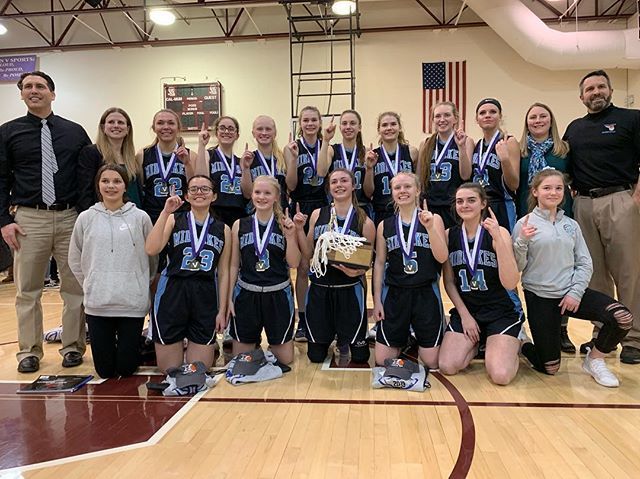 Alaina Forbes was absolutely fantastic in the second half finishing with 35 points and tournament MVP. Cara Walker was impressive as well hitting teammates with laser-like passes in transition and finishing with 13 points. Macy Kisner had 12 and joined Walker on the all-tournament team and senior Sydney Passalaqua scored 10.
Batavia was led by Ryann Stefaniak who finished with 35 while Bryn Wormley scored 14.
Next up for the Class B1 Champion Midlakes is the Class B2 winners, Dansville, on Tuesday for a berth as Section V's Class B representative in the Far West Regional of the NYSPHSAA tournament.
Head coach Nate Rich spoke to Jadon Ceravolo of the Daily Messenger after the game:
"It's something that's never been done in school history on the girls side. No one has even won back-to-back titles," Rich said. "So, that's a very cool thing for us to have accomplished this year. This team had big goals to start the season. First one was a league title, second one was a Sectional title, and we definitely want to get back to that state tournament. But we know Dansville's going to be very tough for us to get back there."
Click here to listen to FL1 Sports live coverage of Friday night's game with Dave Barnick & Jerry Anderson on the call and watch for FingerLakes1.com's live video replay of all the action on Sunday morning.
Midlakes Cara Walker with a nice drive to the hoop pic.twitter.com/jxUfufujWE

— Tyler Howell (@HowellT_DandC) March 2, 2019
🏀CLASS B1 FINAL | #1 @BHSScores vs #2 Midlakes – @SecVGBasketball

Batavia 37 Midlakes 37 | 3:53 3Q

•Game is tied and Forbes is fired up #SectionV #GirlsBasketball pic.twitter.com/CYWujvan8H

— Alex Brasky (@AlexBraskyBDN) March 2, 2019
Easy breakaway lay-up for Midlakes leading scorer Alaina Forbes to tie the game at 14. pic.twitter.com/ENUvoerNLs

— Tyler Howell (@HowellT_DandC) March 2, 2019
🏀CLASS B1 FINAL | #1 @BHSScores vs #2 Midlakes – @SecVGBasketball

Batavia 37 Midlakes 35 | 5:00 3Q

•Midlakes finding an offensive rhythm as they've cut into the deficit #SectionV #GirlsBasketball pic.twitter.com/80mTmHrn70

— Alex Brasky (@AlexBraskyBDN) March 2, 2019
🏀CLASS B1 FINAL | #1 @BHSScores vs #2 Midlakes – @SecVGBasketball

Midlakes 49 Batavia 39 | :58 3Q

•Alaina Forbes has put her stamp on this one, she has owned this quarter as Midlakes has pulled ahead #SectionV #GirlsBasketball pic.twitter.com/gIHqfzCNmn

— Alex Brasky (@AlexBraskyBDN) March 2, 2019
Congratulations to Midlakes on their Sectional Girls Basketball Championship.
Finger Lakes Proud😀

— Pal-Mac Athletics (@palmacsports) March 2, 2019
10 point lead 3rd qrt https://t.co/xdwACXsO10

— John Lombardi (@MidlakesAthletx) March 2, 2019
Congratulations to all tourney team! Nice representation from Finger Lakes @palmacsports pic.twitter.com/BOMWO9fovY

— John Lombardi (@MidlakesAthletx) March 2, 2019
B1 Sectional Champs- Midlakes @SecVBBasketball pic.twitter.com/A96U4ViKfL

— Tyler Howell (@HowellT_DandC) March 2, 2019
Alaina Forbes: It's an amazing feeling but I couldn't be where am I without all my teammates and all my coaches. I just can't take it all in at the moment. #SectionalChamps #MidlakesPride @DandC interview pic.twitter.com/sITLPqfmhN

— MidlakesSchools (@MidlakesSchools) March 2, 2019
Photo gallery from Midlakes semifinals win. https://t.co/ajBWrhDuPU @MidlakesAthletx @SecVAthletics

— Jack Haley (@jackhaley42) February 27, 2019
Midlakes (@MidlakesAthletx) girls basketball, led by Alaina Forbes, made history on Friday night in the Class B1 title game. The Screaming Eagles put on a clinic in the second half to top Batavia in route to their second straight Section V title.

My story:https://t.co/0GP2yPeD6J

— Jadon Ceravolo (@Jadon_Ceravolo3) March 2, 2019