One extensive feature on race, diversity and equity; the circulation of racist flyers around campus; and a letter from Interim President of Hobart and William Smith Colleges Patrick A. McGuire L.H.D. '12 has the campus community coming to terms with a new truth: Racism is alive and well on college campuses across the board, and needs to be addressed decisively.
Hobart and William Smith Colleges 'The Herald', published a special section to it's publication on race, diversity, and equity at the colleges on Friday, April 26th. The Herald referred to the major, 14-page section, as an 'historic issue' for the organization; and left few stones unturned – seeking out direct student input in the piece.
The piece was broken down into 'viewpoints', and this is what the Herald said about it:
"The viewpoints examine all aspects of campus life and come from students spanning across different socioeconomic, sexual, international, religious, and educational backgrounds. We did not discriminate on any basis and were accepting new names for viewpoints up until the print deadline – in fact, viewpoints were submitted to us via email as well for publication on the website after the publication deadline passed."
On Thursday, May 2nd, a "Letter to the Campus Community" was sent to students, faculty, and support staff at the colleges from Interim President Patrick A. McGuire L.H.D. '12.
The letter followed the circulation of flyers on campus that embedded an image McGuire referred to as 'reprehensible' and 'painful'. Here's what McGuire said about the flyer in that letter, which can be read in-full at the bottom of this story.
"The issue of the Herald was followed yesterday by the circulation of flyers that embedded a reprehensible image from a past yearbook into a current photo of campus. The image is a painful and ugly part of the Colleges' past and of our nation's past, and these flyers have caused intense pain, justifiably eliciting anger and fear," McGuire said in the letter. "For me personally, it is an image that is difficult to look at and not feel horrified and ashamed of this history."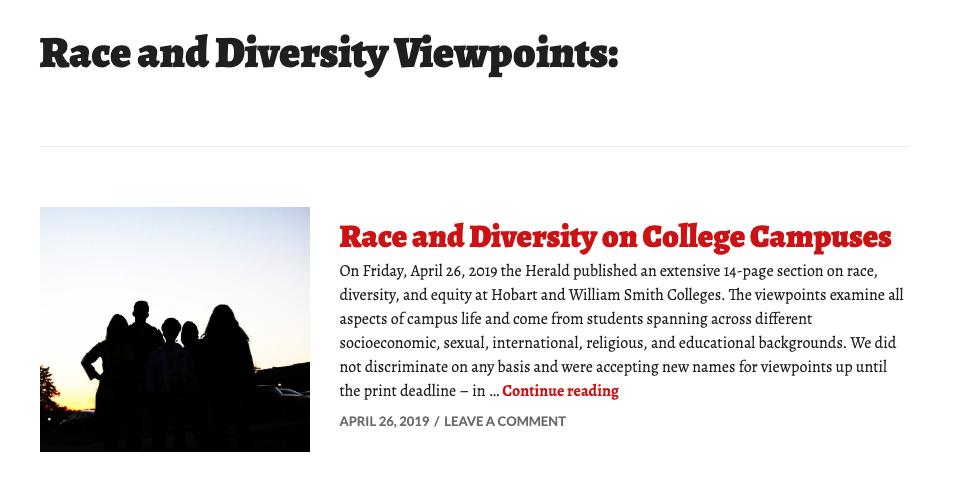 McGuire says the person or persons who created and distributed the flyer have not identified themselves or their intentions. "The point, I believe, is that the racism that existed on our campus decades ago reverberates today," McGuire continued. The letter also does not identify what the flyers contained, or said. Nor does it say how the flyers were circulated.
The Interim President said that the Herald story, which featured direct experiences by those who were willing to share – point to a failure of the current administration to address the needs of students, faculty, and staff.
"In my sincere desire to ensure that a Chief Diversity Officer join our campus as quickly as possible to guide our dialogue, I now realize we spent too much time absorbed in the hiring process and not enough effort focused on ensuring that the work of inclusion continue unabated," McGuire continued in the letter. "I am profoundly disappointed and saddened that there has been a failure in outreach, dialogue and empathy. For this, I sincerely apologize."
McGuire said Deans Khuram Hussain and Lisa Kaenzig along with Vice President for Campus Life Robb Flowers to work with students to identify short- and long-term opportunities for dialogue and action. This is an effort to avoid the loss of momentum to create change, as the semester draws to a close.
"It is clear that we must build on the important efforts our community has made in the past to address inclusion and we must do more. We must affirm the guiding principles of the Strategic Diversity Plan, the student organizing of the Race and Racism Coalition and We the Unheard, as well as the everyday efforts of faculty, students and staff to bring light to issues of difference and diversity on our campus," McGuire added. "We must commit to building on past efforts and to use this issue of the Herald as a catalyst. In the coming weeks, months and years we must commit to working with student leaders to support conversations on race and diversity. We must commit to working with faculty and staff to address policies and practices that support every student's full participation in all dimensions of campus life. We must take action."
McGuire concludes the letter noting that for as much progress as has been made in nearly 200 years of history – significant work remains ahead to fully-realize the values the school holds.
---
A Letter to the Campus Community
Dear Members of the Hobart and William Smith Community,

I write to commend the Herald for its in-depth issue titled "Race and Diversity on College Campuses" and to address the terrible events of the past days.

For some time, the campus has watched the quality of the Herald's reporting grow, and this issue, in particular, is an admirable representation of how student journalism has the capacity to enact change. I want to acknowledge the 23 students of color who shared their powerful lived experiences with race and diversity in our community. I am humbled by your resilience and grateful to learn from you. Through the Herald, our students have invited the entire HWS community into a conversation, and I therefore urge all of us to read the issue in its totality and to talk with one another about it.

The issue of the Herald was followed yesterday by the circulation of flyers that embedded a reprehensible image from a past yearbook into a current photo of campus. The image is a painful and ugly part of the Colleges' past and of our nation's past, and these flyers have caused intense pain, justifiably eliciting anger and fear. For me personally, it is an image that is difficult to look at and not feel horrified and ashamed of this history. Although the person or persons who created and distributed the flyer have not identified themselves or their intentions, the point, I believe, is that the racism that existed on our campus decades ago reverberates today. Certainly, the Herald proves that point. As I reflect on my own actions this year, I think those flyers also point to a failure of my interim presidency to address the needs of our students, faculty and staff. Let me explain.

In my sincere desire to ensure that a Chief Diversity Officer join our campus as quickly as possible to guide our dialogue, I now realize we spent too much time absorbed in the hiring process and not enough effort focused on ensuring that the work of inclusion continue unabated. I am profoundly disappointed and saddened that there has been a failure in outreach, dialogue and empathy. For this, I sincerely apologize.

Although we are in the last days of the semester when the intellectual and emotional pressures on faculty and students are especially high, I do not want the momentum for change to dissipate. I have therefore asked Deans Khuram Hussain and Lisa Kaenzig along with Vice President for Campus Life Robb Flowers to work with students to identify short- and long-term opportunities for dialogue and action, as they have in the past. In the meantime, my door is open, as are the doors of the Deans and the Student Affairs staff, to listen closely and to learn.

It is clear that we must build on the important efforts our community has made in the past to address inclusion and we must do more. We must affirm the guiding principles of the Strategic Diversity Plan, the student organizing of the Race and Racism Coalition and We the Unheard, as well as the everyday efforts of faculty, students and staff to bring light to issues of difference and diversity on our campus. We must commit to building on past efforts and to use this issue of the Herald as a catalyst. In the coming weeks, months and years we must commit to working with student leaders to support conversations on race and diversity. We must commit to working with faculty and staff to address policies and practices that support every student's full participation in all dimensions of campus life. We must take action.

For as much progress as the Colleges have made in their nearly 200 hundred-year history, there is more work ahead of us to realize our values.

With Respect,

Patrick A. McGuire L.H.D. '12
Interim President
---
---