An early offensive surge was too much for the streaking Doubledays to overcome. In the first of the three game set, the Doubledays (13-15) fell to the first place Lowell Spinners (19-8) 5-3, halting a two game winning streak.
Auburn drew first blood on Saturday night in Lowell. LF Jake Randa doubled as the first hitter of the game, and the two-hitter, 2B David Masters, was the one who drove him in. Following Masters' RBI single to left, Auburn was ahead of the tops in the NYPL 1-0.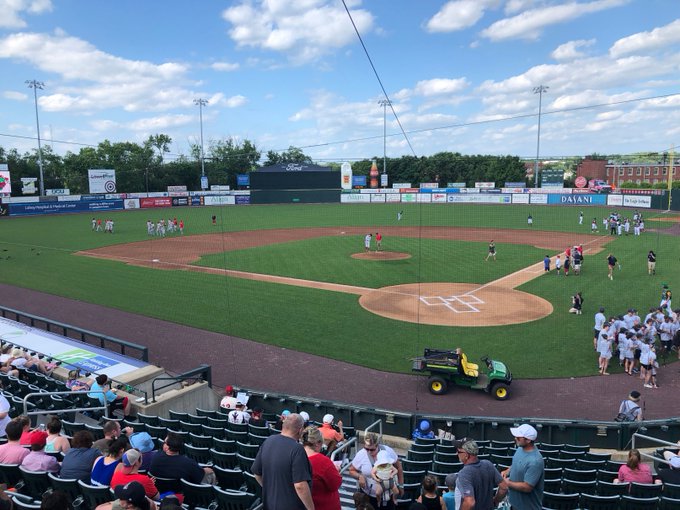 When the Lowell attack came, it wasn't a drizzle; it was a complete monsoon. The Spinners plated all five of their runs on Saturday in the bottom of the third inning on just two balls in play. The opening blow came from Elih Marrero, who ripped a 2 RBI single to center, plating Alex Erro and Stephen Scott.
The hardest punch was landed by Nick Decker, who battered a baseball over the right center field wall for a three-run shot. He plated Marrero and Nicholas Northcut, who singled immediately following Marrero.
The Doubledays had some fight in them in the following frame, spearheaded by RF Caldioli Sanfler. The 21-year old belted a laser beam of a home run to right field, cutting the deficit to three runs. After Sanfler, SS Jose Sanchez singled to left field with two outs, and 3B J.T. Arruda doubled to bring Sanchez home and tie a bow on the scoring in the bottom of the fourth.
Even though Auburn outhit Lowell 10-7, the Spinners held on to that 5-3 lead for the remainder of the contest thanks to strong relief outings by Jeremy Bleich (1.0 IP, H, 2 K) and Osvaldo De La Rosa (2.0 IP, H, BB, K).. The win moves Lowell to 19-8 on the year, which is the best mark in the New York-Penn League.
LISTEN: Both bullpens were , but a five-run third inning was the difference for the Lowell Spinners in a 5-3 win over the Doubledays. @JDRaucci brings you all the highlights from LeLacheur Park in Massachusetts. https://t.co/GyJrAFXbii

— Auburn Doubledays (@Doubledays) July 14, 2019
Randa, Sanfler, and 1B Albert Carrillo all had multi-hit days for Auburn (Sanfler went 3-4). Saturday's starter for the Doubledays was RHP Rafael Gomez, who lasted 4.0 IP, and allowed six hits and five earned runs while striking out five.
On Sunday, Auburn searches for the key to revenge in Game Two of the three-game set with the Spinners. RHP Jackson Rutledge, the Nationals' first round selection this year, gets the ball for tomorrow's game at LeLacheur Park. First pitch is set for 5:05 p.m.
If you won't be in northern Massachusetts tomorrow, you'll be able to listen to the radio broadcast on FingerLakes1.com Radio, with J.D. Raucci on the call.
By Jack McMullen / Auburn Doubledays