The Syracuse men's basketball team passed its first test of a four-game exhibition exam of Italy, defeating All-Star Varese, 69-59, on Monday.
Redshirt junior Elijah Hughes led the Orange with 18 points. Sophomore Buddy Boeheim and freshman Brycen Goodine each added 11 points. Bourama Sidibe led all players with 10 rebounds and contributed eight points and three blocked shots.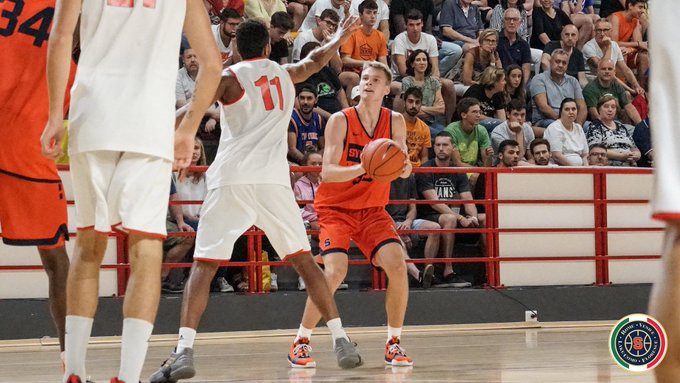 The game was contested in a four-quarter format. The Orange led after the first period, 21-14, and held the advantage after the second period, 33-30.
Syracuse jumped on All-Star Varese out of the intermission and led by 15 points at one stage, 49-34. The hosts fought back and by the end of the third quarter, the Syracuse margin had been sliced to six, 53-47. The Orange rebuilt their margin to double digits in the fourth period and a last-minute, baseline 3-pointer by freshman Joseph Girard III helped secure the victory.
Game Recap: Cuse.com | Syracuse.com
NEXT GAME:
Wednesday, August 14 at 1:00 p.m
Syracuse vs. Oxygen Bassano
Location: Palazzetto Dello Sport via Goldoni 12
REMAINING SCHEDULE:
Saturday, August 17 at 6:00 a.m
Syracuse vs. Siena Summer Select
Location: Palaestra Viale Achille Sclavo
Sunday, August 18 at 1:00 p.m
Syracuse vs. Team Virtus Roma
Location: Palatellene via Aldo Fabrizi
The Orange starting 5 vs. All Stars Varese:

5 Jalen Carey
35 Buddy Boeheim
33 Elijah Hughes
1 Quincy Guerrier
34 Bourama Sidibe pic.twitter.com/AWUgAA0g8s

— Syracuse Basketball (@Cuse_MBB) August 12, 2019
Elijah Hughes was named MVP for his game-high 18-point performance. pic.twitter.com/pKbCUXYWqr

— Syracuse Basketball (@Cuse_MBB) August 12, 2019
Grazie to our hosts, @wegotgameASD pic.twitter.com/SWBWgdnWKo

— Syracuse Basketball (@Cuse_MBB) August 12, 2019