Andrew Hammond stopped all 28 shots he faced to pick up his first shutout of the season and six different goal-scorers provided all the offense as the Rochester Americans (6-3-1-1) dominated from start to finish on their way to a 6-0 rout of the first-place Utica Comets (8-2-0-0) Saturday night at the Adirondack Bank Center.
With tonight's road win, the Amerks have earned 16 out of a possible 24 points through their first 12 games of the season. Additionally, Rochester has picked up points in seven of its last nine games overall.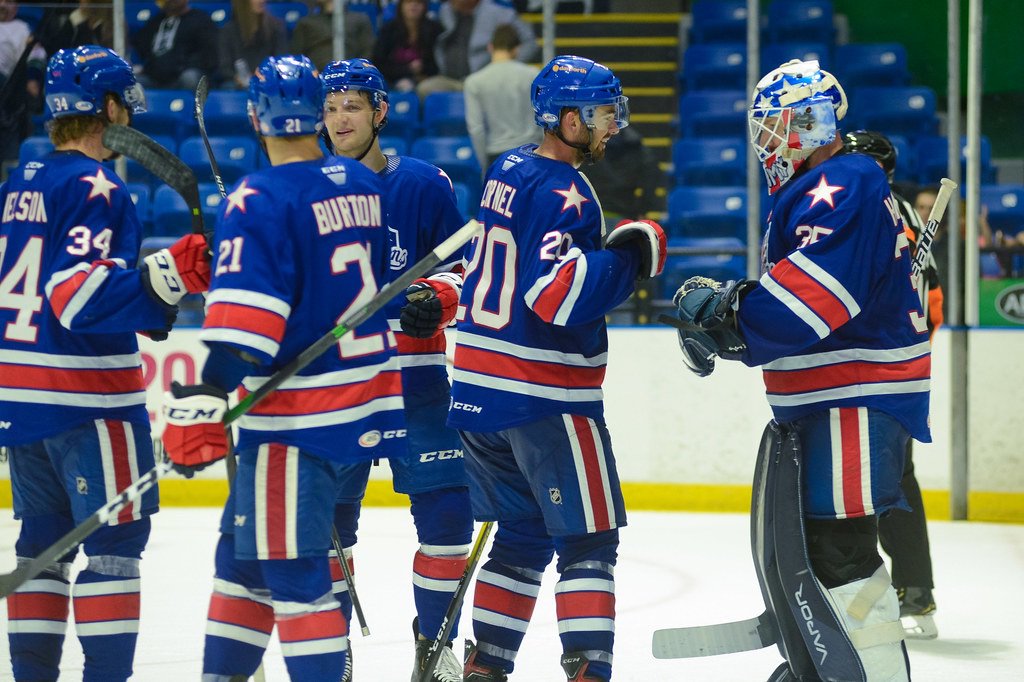 Tage Thompson recorded a goal and an assist for his third multi-point outing of the season while Casey Fitzgerald, Kevin Porter, Remi Elie and Casey Nelson all chipped in a pair of assists to help Rochester improve to 11-4-2-3 against Utica dating back to the start of the 2017-18 campaign. Scott Wilson and Curtis Lazar each scored a shorthanded goal for their third markers of the slate while Rasmus Asplund and Brett Murray each tallied their first and second goals of the season, respectively. Jarrett Burton completed the scoring as he netted his first goal as an Amerk. In his second appearance in as many nights, Hammond earned the win in the goal crease to improve to 5-1-1 on the season.
HIGHLIGHTS:
With @brettmurrayy's goal he extends his point streak to 3⃣ games!

🍎 @AOglevie
🍏 Captain Ports pic.twitter.com/ZSvJdmbOJg

— Rochester Americans (@AmerksHockey) November 2, 2019
.@smiltztwo3 with a shorty to put the #Amerks up by 2⃣!

🍎 @CaseyFitz97 pic.twitter.com/TeTVLzb8CE

— Rochester Americans (@AmerksHockey) November 2, 2019
.@CaseyFitz97 starts it and @raasmusaasplunf finishes it! 🚨#UnitedWeROC pic.twitter.com/SmCOhd2lri

— Rochester Americans (@AmerksHockey) November 2, 2019
Anddd @CurtisLazar95 snipes a shot up top! 🚨

🍎 @Remi_Elie
🍏 Casey Nelson pic.twitter.com/gzJw3xAZN7

— Rochester Americans (@AmerksHockey) November 3, 2019
Tage Thompon with goal 5⃣ of the season and the #Amerks 5⃣th of the night!#UnitedWeROC pic.twitter.com/lVOn7XuAjs

— Rochester Americans (@AmerksHockey) November 3, 2019
Off the body of @jarrettburton90 for his first marker of the season! 🚨

🍎 Casey Nelson
🍏 @Remi_Elie pic.twitter.com/6BXYLAJvIe

— Rochester Americans (@AmerksHockey) November 3, 2019