Canandaigua pulled away early Friday night and right into the Class A high school football state tournament semifinals.
The Section V champions scored two touchdowns in the first quarter and held down a high-scoring Buffalo South Park team to win 24-6 during the Far West Regionals at The College at Brockport.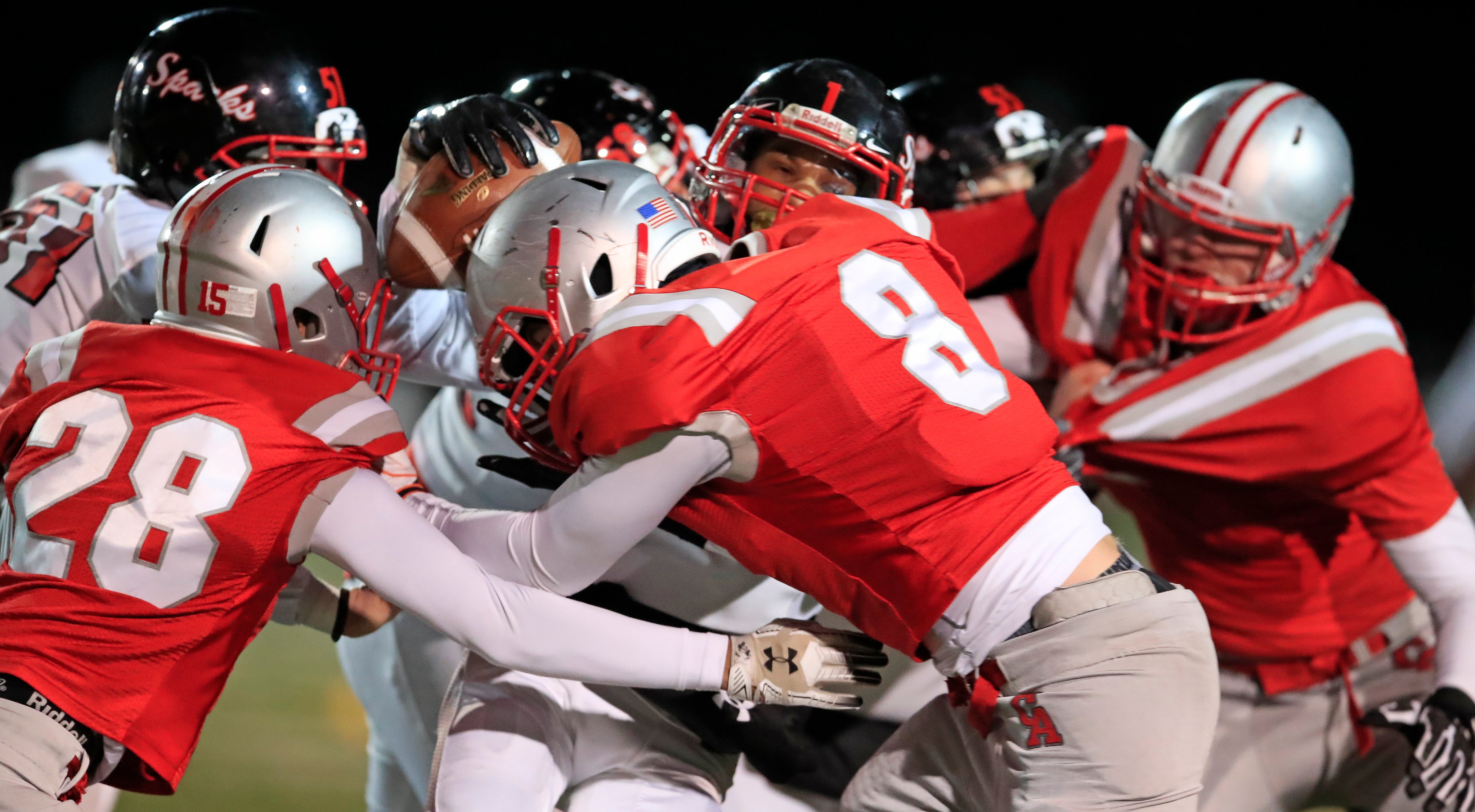 Canandaigua is in the state final four round for the first time since 1999, when that team won the New York State Public High School Athletic Association championship.
Sophomore quarterback Bryan Boldrin connected with a wide-open Joey Urlacher for a 29-yard touchdown pass play in Canandaigua's first possession. Buffalo South Park failed to get a first down in its second drive and punted the ball back to Canandaigua.
Braves Win!!!!

The Braves @CABravesFB are on to the state semi-finals with a 24-6 win over South Park (section VI)!

Canandaigua plays Carthage at Cicero- North Syracuse High on Friday, 11/22 at 8 p.m. ?

Let's go Braves! #canandaiguaproud #onebravesfamily @CABravesSports

— CanandaiguaCSD (@CanandaiguaCSD) November 16, 2019
Canandaigua stuns high-scoring South Park to advance Class A Final Four https://t.co/nn1kSDbt8a

— Democrat & Chronicle (@DandC) November 16, 2019
Canandaigua Academy 24@SPARKSFOOTBALL 6 Final #preptalklive pic.twitter.com/nNYKKmx5NY

— Harry Scull Jr (@hsjrphoto) November 16, 2019
GAME HIGHLIGHTS:
4th down touchdown for @CABravesFB. Great play call Joey Urlacher was wide open for the score. @CABravesSports 7, South Park 0. @DandC @jjDandC 8:00 1Q pic.twitter.com/4MIbeVg93n

— S. Johnson (@StevieJ_ROC) November 16, 2019
Canandaigua driving with a chance to go up 3 scores but South Park picks off the pass in the endzone. @CABravesSports 14, South Park 0. 1:20 1Q @DandC @jjDandC pic.twitter.com/s9oToTX2SJ

— S. Johnson (@StevieJ_ROC) November 16, 2019
Braves hold on D & force a punt. They take over around the 40 with 18 seconds left in half.

1st pass is incomplete & half ends with this play to Vierhile.

Braves lead 14–0 & will receive ball to start 2nd half. pic.twitter.com/q97356bx5F

— Bob Chavez (@MPN_bchavez) November 16, 2019
TD!! Wantuck gotta eat. Strong run from 5 yards out makes it a 21-0 CA lead with 8:21 left in Q3. pic.twitter.com/qne38gKYfa

— Bob Chavez (@MPN_bchavez) November 16, 2019
.@CABravesFB forces the huge turnover with South Park driving. Could be the nail in the coffin. Less than 6 minutes left. @CABravesSports 24, South Park 6. @DandC @jjDandC pic.twitter.com/FvmJ9eRuga

— S. Johnson (@StevieJ_ROC) November 16, 2019
Final: @CABravesSports 24, South Park 6 @DandC pic.twitter.com/qDaa0jpyHa

— S. Johnson (@StevieJ_ROC) November 16, 2019