The Ithaca College football team defeated SUNY Cortland 32-20 the 61st Cortaca Jug game Nov. 16 at MetLife Stadium in East Rutherford, New Jersey. The game broke the attendance record for a Division III football game with 45,161 people. It is the Bombers' third Cortaca Jug win in a row.
It was a sunny and cloudless day in East Rutherford, but the temperature was a chilly 41 degrees. MetLife stadium was packed with fans of all ages sporting Bomber blue gear or Red Dragon red. The Jumbotrons showed footage of both teams shot by students over the past several months in preparation for the biggest Division III football game in history.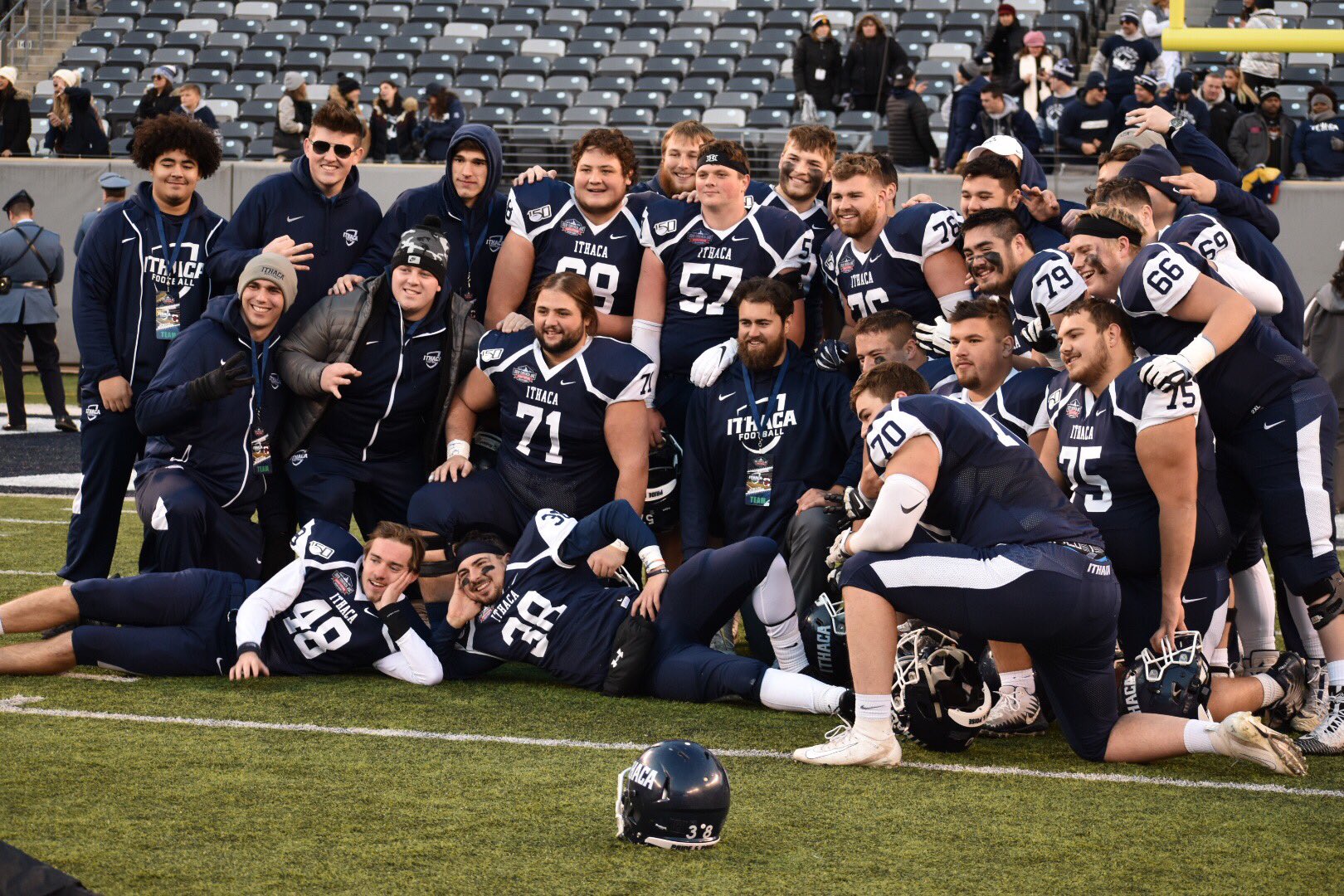 The Bombers maintained control in the first half, possessing the ball for 21:33 of the possible 30-minute half. They scored on their first possession of the game with an 80-yard drive. Senior quarterback Joe Germinerio rushed in for a 1-yard touchdown and freshman Nick Bahamonde completed on the extra point to give the Bombrers a 7–0 lead with just under nine minutes remaining in the first quarter.
Cortland were able to secure two first downs on their first drive, but senior quarterback Brett Segala fumbled the snap, and it was recovered by the Bombers' senior defensive end John Hadac on the 40-yard line. However, the South Hill squad was plagued by penalties after the recovery and was pushed back as far as the 49-yard line. After Germinerio made an 11-yard rush on 3rd and 27, freshman kicker Nick Bahamonde took a 48-yard field goal attempt on fourth down, but he came up short for the first time all season when the kick missed wide right.
The official tally is in.

The 61st Cortaca Jug Game has set the Division III Football record with 45,161 in attendance! #Cortaca2019 #Cortaca #d3fb pic.twitter.com/bUsPcuwDKb

— Bombers Radio Network (@BomberRadioNet) November 16, 2019
FINAL: Ithaca 32, Cortland 20.
Record attendance for a D3 ? game!! #Cortaca #CortacaJug #Cortaca2019 @IthacaCollege @BomberSports @AxcessSports pic.twitter.com/IhIaNfL2tx

— Axcess Football (@axcess_football) November 16, 2019
More than a team. Family.#Ithaca #d3fb #Cortaca pic.twitter.com/XWBxDrFzbu

— Paul Brecht (@12brecht) November 16, 2019
This is not your average D3 football game. #Cortaca #d3fb pic.twitter.com/e8cycNSQxt

— Paul Brecht (@12brecht) November 16, 2019
"I knew from the first snap that we were back"- Head coach Dan Swanstrom talking about his team in their #cortaca victory. Joining coach Swanstrom are seniors Will Gladney, Nick Garrone and John Hadac from left to right. pic.twitter.com/a8g01TITVR

— Dan Passante (@DannytheMannyP) November 16, 2019
GAME HIGHLIGHTS:
Joe Germinerio punches in his second touchdown run of the day in front of a boisterous Ithaca crowd!

Currently 13-6 Bombers over the Red Dragons here at MetLife Stadium. #Cortaca2019 #Cortaca #d3fb pic.twitter.com/K2XEvnSice

— Bombers Radio Network (@BomberRadioNet) November 16, 2019
Will Gladney's teammates show him some love after he hauls in a beautiful pass for another Bombers touchdown.

Ithaca extends their lead to 26-6 over the Cortland Red Dragons at the midway point in the third quarter. #Cortaca #d3fb #Cortaca2019 pic.twitter.com/lDbmuEw2mN

— Bombers Radio Network (@BomberRadioNet) November 16, 2019
Cortland's Tripodi punches in his second touchdown of the day to get the C-State crowd back into it. Ithaca leads 26-13 with 1:18 left in the 3rd quarter.

Tune into @BomberRadioNet and @WICB or https://t.co/vdjrGjEIGl for exclusive coverage! pic.twitter.com/1Yafa3jWpw

— Paul Brecht (@12brecht) November 16, 2019
Tripodi. Again. 3 touchdowns on the day for Cortland's workhouse RB and all of a sudden it's only a 26-20 Ithaca lead with just under 7 minutes to go.

Tune into @BomberRadioNet and @WICB or https://t.co/vdjrGjEIGl for the exciting finish! #Cortaca #d3fb pic.twitter.com/PQzIXJfQgG

— Paul Brecht (@12brecht) November 16, 2019
Andrew. Vito. Touchdown.

The New Jersey native with a 46-yard touchdown catch, sending IC fans into a frenzy. Ithaca up 32-20 with 3 minutes to go here at the 61st annual #Cortaca Jug.

Catch the end on @BomberRadioNet and @WICB or https://t.co/vdjrGjEIGl!

(?: @DannytheMannyP) pic.twitter.com/EC0f2vCgw4

— Paul Brecht (@12brecht) November 16, 2019