The National Weather Service has issued a Winter Weather Advisory for a couple counties in the region – ahead of some wintry weather, which should arrive during the overnight hours.
The Winter Weather Advisory is active for Wayne and Northern Cayuga counties and runs from 7 a.m. Thursday until 6 p.m. on Friday.
"Plan for slippery road conditions," the National Weather Service said in an update. "Areas of blowing snow will significantly reduce visibility. The hazardous conditions could impact the Thursday morning and or evening commutes."
What Is, What Will Be: A tale of two seasons here along Lake Ontario at Sodus Point, NY. Won't be long before winter's wrath gives way to springtime serenity. @spann @JimCantore @StephanieAbrams @StormHour @wxbywilliams @ReedTimmerAccu #NewsNation #NexstarNation #DigitalFirst pic.twitter.com/yr2Nm0CPtZ

— John Kucko (@john_kucko) January 15, 2020
Periods of snow will result in snow covered roads and limited visibilities, according to the Weather Service, who says that even those in unadvised areas will see some accumulation.
However, it's not expected to be a major snowfall. Even in the advised areas should see a manageable accumulation of 3-6 inches of snow.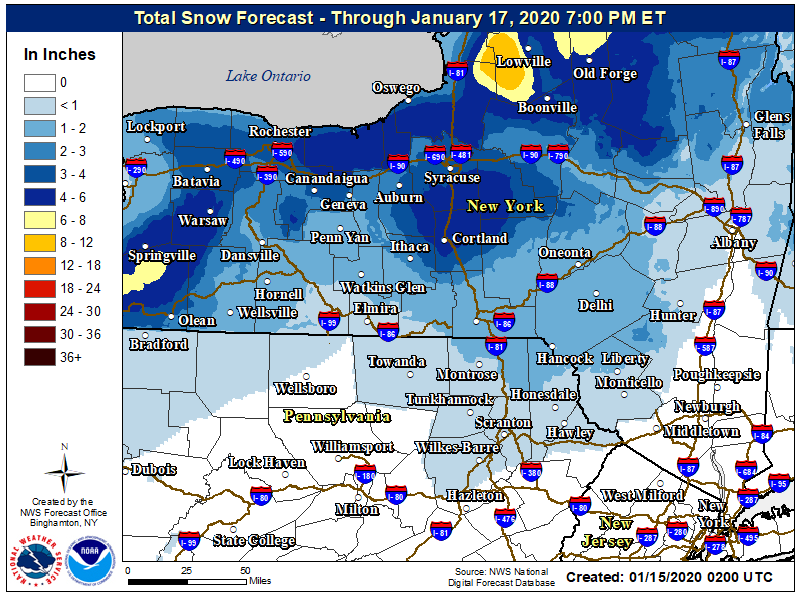 ---
To have the latest delivered to your smartphone or tablet – download the FingerLakes1.com App for Android and iOS. Follow the links below to download the app now! – Android (All Android Devices) – iOS (iPhone, iPad)