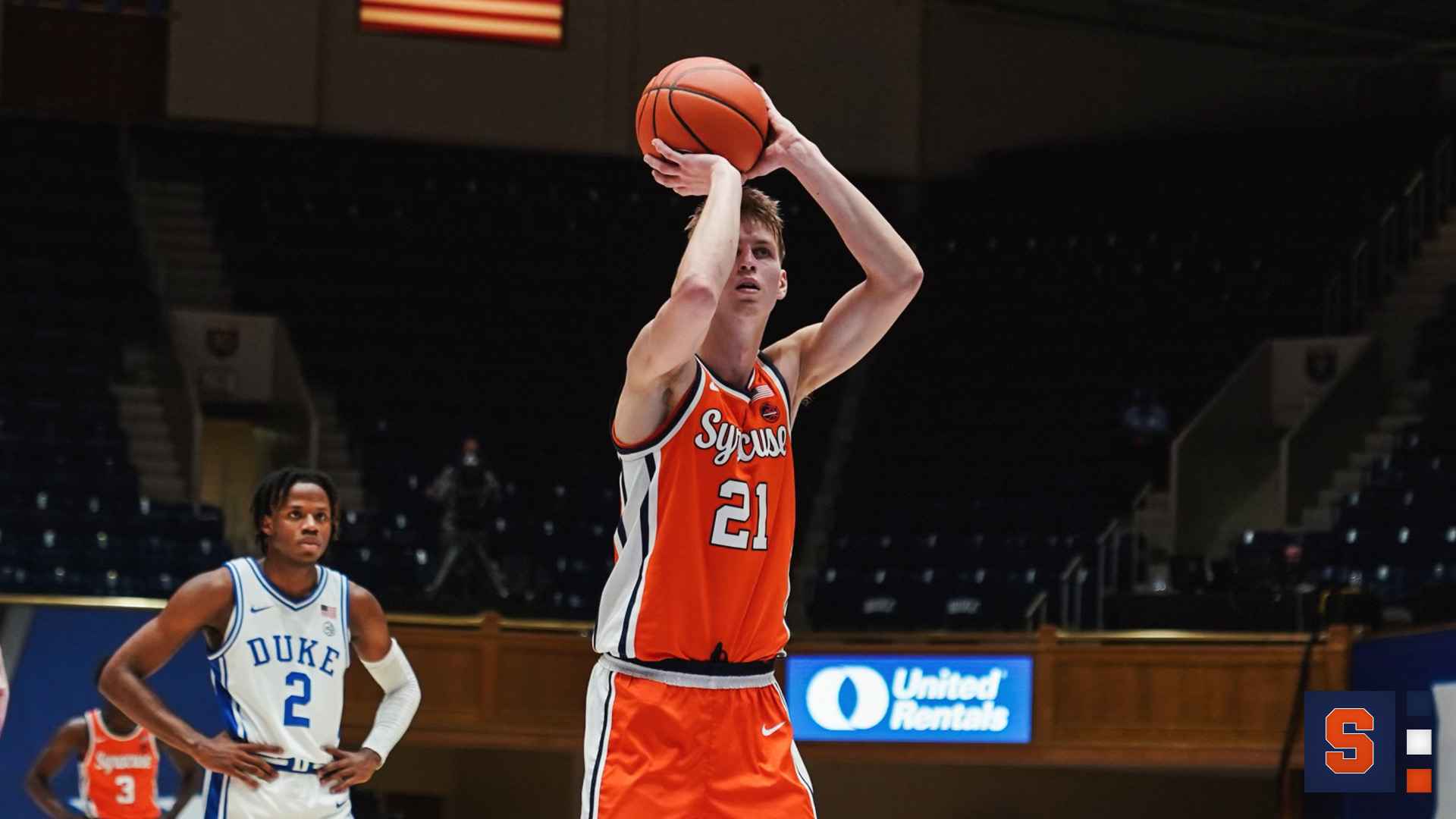 The Syracuse Orange had an opportunity against the Duke Blue Devils to pick up a huge resume boosting win on the road at Cameron Indoor Stadium. However, Duke rained a barrage of threes against the Syracuse zone to open up a huge lead that the Blue Devils wouldn't relinquish. Duke had all of the offensive momentum it needed to run away with a 85-71 win over Syracuse.
Buddy Boeheim led the Orange with 21 points, his second-consecutive 20+ point performance. Kadary Richmond followed closely behind with 15 points, finishing one point shy of matching his career high 16-point performance against Niagara. Boeheim and Richmond were joined in double figures by Marek Dolezaj (13 points) and Alan Griffin (11 points). Griffin and Quincy Gurrier tied for the team-lead on the glass with eight boards.
GAME RECAP LINKS:
GAME HIGHLIGHTS:
JIM BOEHEIM'S POSTGAME PRESS CONFERENCE:
MEDIA:
Syracuse has been blown out four times this season. SU has dropped six of its last seven to Duke and drops to 5-11 on ESPN or ESPN2 over the last two seasons.

— Matthew Gutierrez (@MatthewGut21) February 23, 2021
Final from Durham. pic.twitter.com/5hb8S5z156

— Syracuse Basketball (@Cuse_MBB) February 23, 2021
First 20 📸 pic.twitter.com/bU2UlayINx

— Syracuse Basketball (@Cuse_MBB) February 23, 2021
---
GAME PREVIEW:
Syracuse visits Cameron Indoor Stadium on Monday night for a matchup with the red-hot Duke Blue Devils. Duke has won three straight games, including most recently an upset over No. 7 Virginia.
The environment for Monday night's game will be nothing like the one for last year's matchup, when 31,000 fans packed the Carrier Dome. There are no Cameron Crazies this year due to COVID-19, removing much of the mystique behind a signature college basketball venue.
In the Dome last year, Syracuse kept it tight with Duke in the first half, entering halftime trailing by four. Fans cheered for Joe Girard III's 3s and Elijah Hughes'rejections. But the Blue Devils put together a consistent, strong second half to pull away and win 97-88.
Duke center Vernon Carey Jr. led the way with 26 points and 17 rebounds, dominating the interior of SU's zone. Marek Dolezaj (22 points) and Hughes (21) responded, but Duke won the rebounding battle and shot 57% from the floor.
GAME PREVIEW LINKS:
MEDIA:
Big Monday 🍊👊 pic.twitter.com/zY6Vuy3s5Q

— Syracuse Basketball (@Cuse_MBB) February 22, 2021
Tonight's stage: pic.twitter.com/xeiu45WxX7

— Syracuse Basketball (@Cuse_MBB) February 22, 2021
Locking in. 🔒 pic.twitter.com/BXIJYfvW4N

— Syracuse Basketball (@Cuse_MBB) February 22, 2021
And it's on to the next one… pic.twitter.com/DmPHJCmURE

— Syracuse Basketball (@Cuse_MBB) February 22, 2021